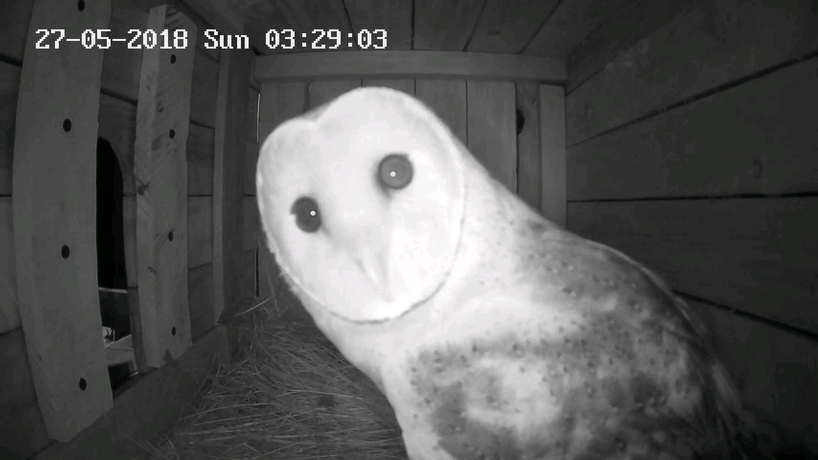 In May 2018 we blogged about one of our owl conservation projects. The main objective of this project is to release owls into the wild that have been hand raised or rehabilitated. The most common reasons for owls needing human intervention are collisions with vehicles and eating poisoned rodents. The owl release project is a collaboration between the Kariega Foundation,  Kariega Game Reserve and the Caring Owl Rehabilitation Centre. The first owls to be released was a pair of barn owls.
Barn Owls Arrive as First Guests
An enclosure for the owls was constructed on the reserve. This included a nest box as barn owls prefer a closed nesting area unlike larger owl species, such as spotted eagle owls, who like a more open nesting platform. We introduced a pair of barn owls at the beginning of May 2018. 
The plan was to keep the pair in the enclosure for approximately three months to get them used to the area, the sounds, smells and weather conditions before we released them. The owls were fed daily and their enclosure was cleaned regularly. During the first few weeks the pair of owls were seen mating inside the nest box a few times. This give us hope that perhaps we may release some chicks too.
Barn Owl Release
After discussion with the team from the Caring Owl sanctuary, we decided to release the pair of barn owls on 21 June. Both owls had been hand-reared from the day that they hatched, and neither had been out in the wild on their own. 
We opened the hacking enclosure's top door to give the owls the freedom to come and go as they pleased. We also followed the soft release option, which means we still fed the owls every night to make sure that they didn't go hungry while they adjusted to hunting for themselves. Both of the owls left the enclosure during the first night once the cage had been opened. We were pleased that they had headed out and hoped for the best.
Unfortunately life doesn't always go as we would like it to sometimes. A week after the release we found the female barn owl in a very bad condition. She was very thin and weak. We assessed her and tried to give her some electrolytes, but she was too weak and she passed away. We have not seen the male again after the release. We hope that he is making his way as a healthy wild owl.
Barn Owl Facts
Barn owls mostly eat shrews, rats and mice
Barn owls swallow their food whole
All meat is digested but bones and hair are coughed up in a pellet
Barn owls screech and do not hoot
Barn owls have super soft feathers, which help to keep them silent when they fly to hunt
A wild barn owl usually eats around four small mammals a night. That is around 1,460 per year!
Thank You For Your Help
The Kariega Foundation is very grateful to every Kariega Game Reserve guest who becomes our community and conservation partner via the Kariega Foundation conservation and community levy. All adult guests staying at Kariega pay a compulsory levy of R130 per person per night in addition to accommodation and other costs. These funds are invested directly into our community and conservation projects, which play an immediate role in the betterment of local livelihoods and conservation efforts.
Kids Corner: Owls
Kariega offers fun and educational Kids on Safari activities for children staying at our family-friendly Main Lodge. The dedicated staff member often makes masks with children. Click on the following link to make a barn owl or barred owlet mask. You can also print and colour in owls from this owl colouring page.