UK Safari Guests Travel Responsibly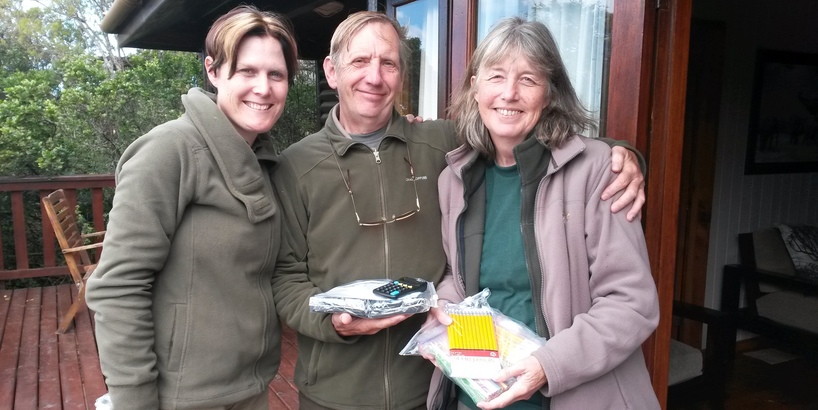 Chris and Rob Clarke from the United Kingdom made their trip to Kariega more than just a safari. They used the opportunity to bring school supplies for needy children at the local junior school. Our sincere thanks to Chris and Rob, pictured above with Kariega ranger Jone.
Kariega is Committed to Responsible Tourism
The Kariega Foundation, a non profit trust, was born out of Kariega's commitment to responsible tourism. The Foundation focuses on local community upliftment projects and conservation initiatives. A key community projects is supporting the teachers and children at nearby Farmerfield School.
Chris and Rob found out about the needs at the school on the Kariega website and via the partnership with Pack For a Purpose, an international initiative encouraging people to make a difference when they travel. The couple used some of their suitcase space to bring stationery, rulers and calculators. A comprehensive list of needs at Farmerfield School is available on the Pack For a Purpose website.
Pack for a Purpose Helps Communities and Safari Travellers
Pack for a Purpose focusses on communities in need around the world and are supported by top safari lodges in South Africa. The organisation helps to ensure that safari guests know the specific items needed and can choose what they would like to bring. We are very grateful to this wonderful organisation for the support they provide.
Read more: