Top 10 Nearby Attractions and Activities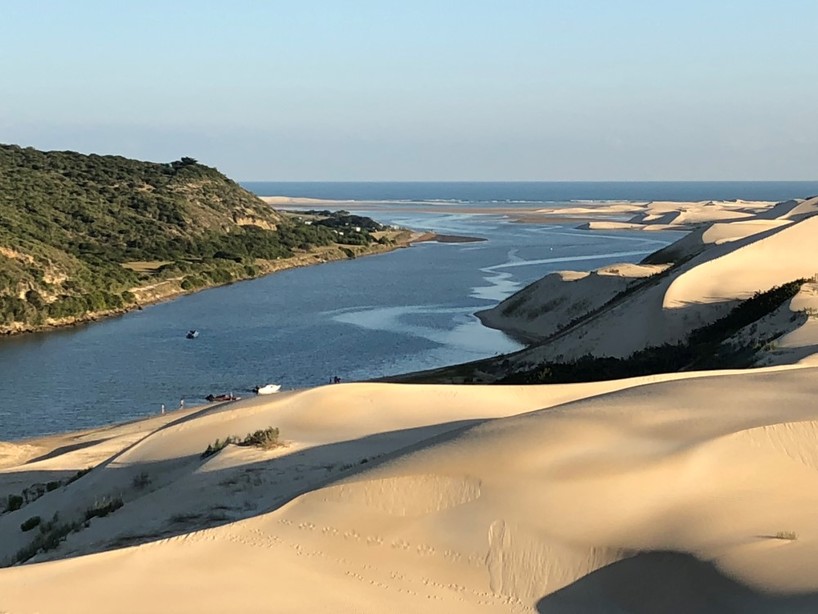 We are often asked by guests about the top 10 nearby attractions and activities to compliment a safari experience at Kariega Game Reserve. Our family has lived in the area for many generations and are passionate about guiding people to enjoy the best that our area has to offer.
Kariega Game Reserve is regularly the highlight of a South African holiday and has become one of the most popular safari attractions in southern Africa. Our expansive 10,000 hectare wilderness area incorporates two majestic rivers and a kaleidoscope of diverse flora and fauna, including the Big 5. We are a family-owned and operated private game reserve situated in the malaria-free Eastern Cape region of South Africa at the end of the Garden Route and near to Cape Town.
Although many guests only visit one or two of Kariega Game Reserve's five luxury lodges and enjoy a superb safari experience there are many interesting and adventurous experiences in the area around the reserve. Here are our top 10 nearby attractions and activities you should consider adding to your Kariega itinerary to make your safari experience even more memorable.
1. The Aloes Community Tour and Visit to Meshack's Ceramic Studio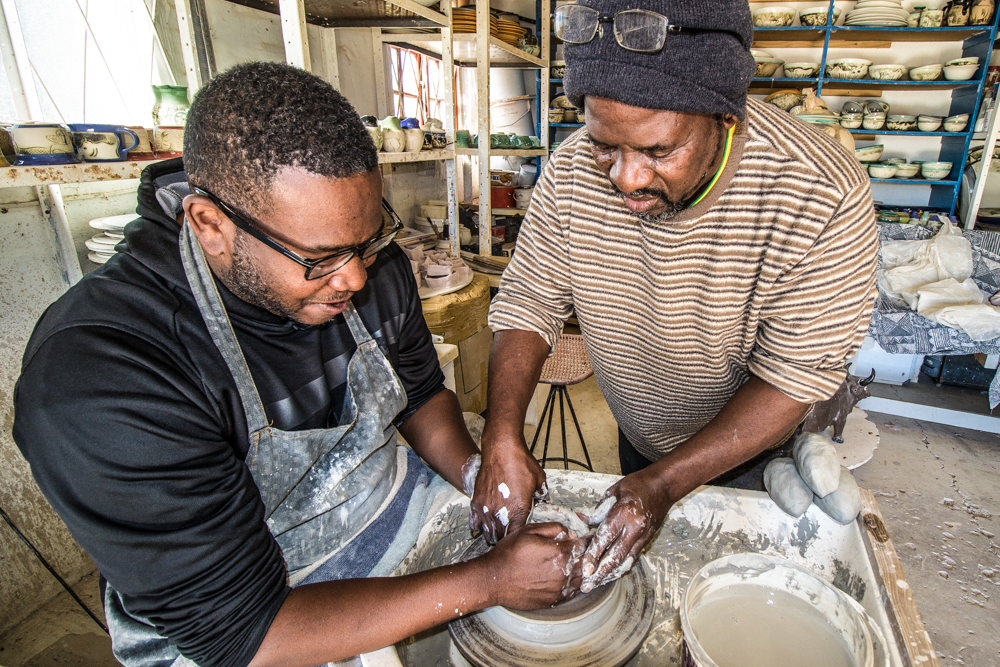 The Aloes, a group of young entrepreneurs from nearby Ekuphumleni township, offer a fascinating community tour connecting you to their Xhosa culture and township life. The walking tour can be either two or three hours long depending on whether lunch at a local tavern is requested. The tour is available to guests staying at Main Lodge, Ukhozi Lodge and the Homestead. Book the Aloes Tour through reception and enjoy the added bonus of stopping off at Meshack's ceramic studio along the way.
Meshack Masuku is a master potter and artist who not only creates beautiful ceramic pieces but is working hard at empowering his community by transferring his skills and passion for ceramics. Make sure you leave space in your suitcase as you will definitely want to take one of Meshacks pieces home with you. If you feel inclined, and if have time you may decide to sign up for a pottery class with Meshack or one of his protégé's. Many a guest has raved about this experience, including Derrick Martin who is pictured with Meshack above.
For details or to book this top 10 nearby activity please email our Kariega Foundation on foundation@kariega.co.za.
2. Golf at the Royal Port Alfred Course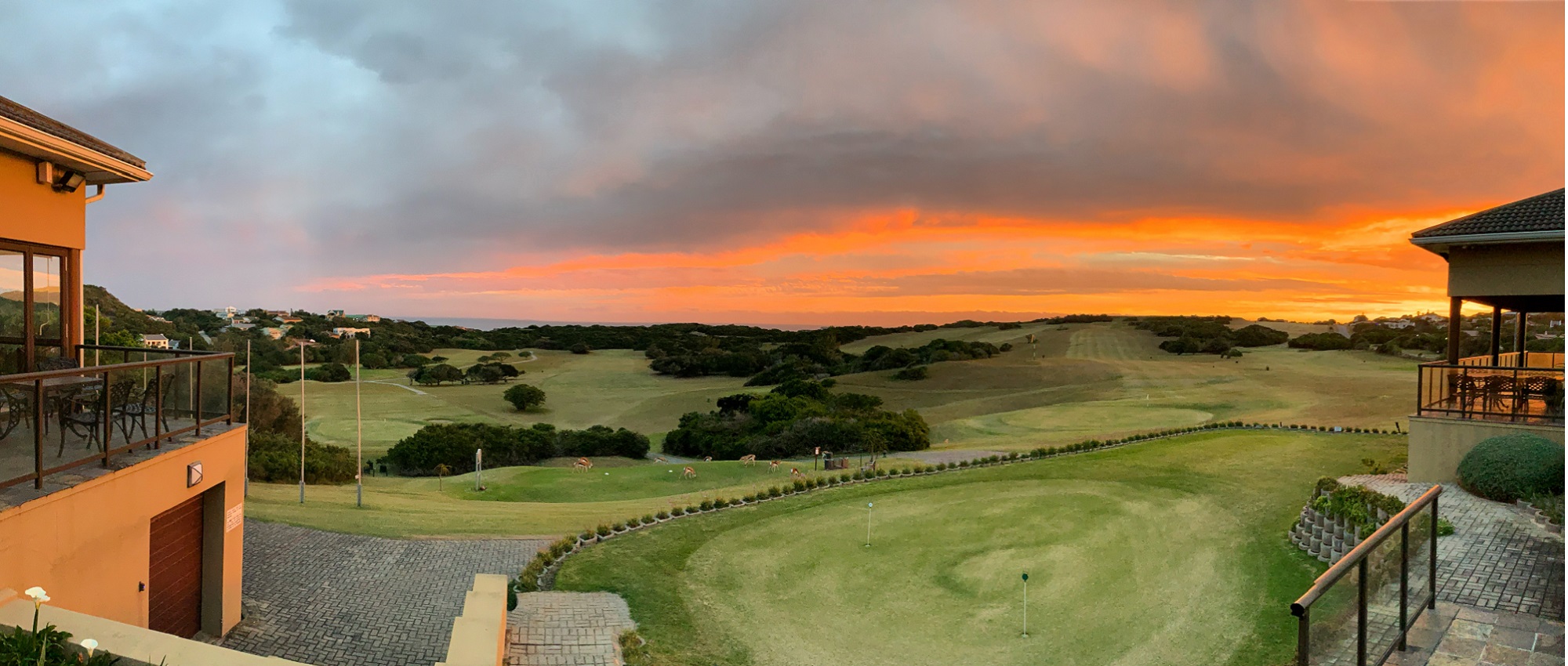 Port Alfred is a small coastal town a 25 minute drive from Kariega Game Reserve. If you are a golf lover, the Royal Port Alfred Golf Club is worth the drive (pun intended)!
The Royal Port Alfred golf course is one of only four golf clubs in South Africa that have been granted the right to use the "Royal" prefix and the club has a rich history dating back to its humble origins in the late 1890's. It was the visits of Her Royal Highness Princess Alice of Connaught, the wife of the Governor General and Queen Victoria's grand-daughter, between 1921 and 1923 that resulted in the "Royal" status being bestowed on the club by King George on 6 February 1924. Prince Arthur of Connaught, Princess Alice's husband commented that "the links surpassed anything that ever I had ever expected".
The modern day course snakes its way through thickets of pristine coastal forest and over hilly dunes, always with the smell and sounds of the Indian Ocean close by. Many of the fairways offer panoramic views onto the blue ocean. In true links tradition every slope, mound and dip remains untouched, demanding creative shot making and deft reading of angles.
Adding to the allure and charm of the course is its resident wildlife. Normally shy bushbuck will continue grazing contently as you walk by while springbok and impala can pronk with delight. The blesbok, fallow deer, duiker and giant tortoise peer at the golfers with suspicion and there is bird life in abundance.
For further information or to book this top 10 nearby activity, please contact the Royal Port Alfred golf club team.
3. Beaches at Nearby Kenton-on-Sea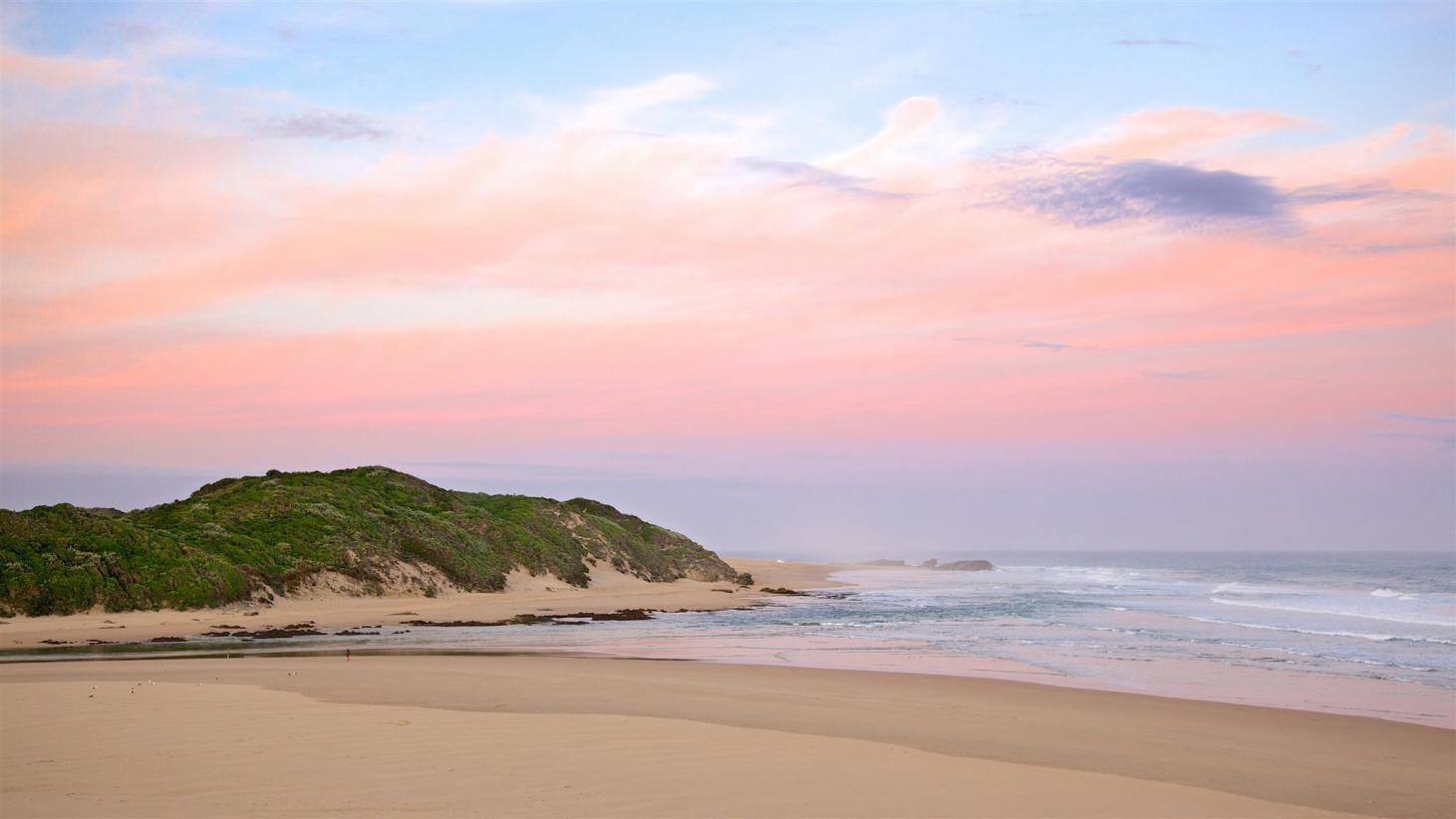 The golden beaches of Kenton-on-Sea are less than 15 minutes drive from Kariega Game Reserve. If you plan your trip well, you can be thrilled by combining Big 5 game viewing, river fun and beach beauty!
Guests at our River Lodge have the option of a daily river trip to the beaches at Kenton-on-Sea. This can also be requested by guests at Settlers Drift and the Homestead. Guests start the trip at the lodge and travel along the Bushmans river by boat to the river mouth at Kenton. There is often excellent birdwatching along the way and of course, the option to enjoy a walk on the white sand beach or a swim in the Indian Ocean. Contact us to enquire or book.
If you have your own vehicle (or request local transport) you cam visit the nearby village of Kenton-on-Sea is situated between two tidal rivers, the Kariega and the Bushmans (which also flow through Kariega Game Reserve). There are numerous beach options to choose from including Middle Beach (aptly named for being in the middle of the two rivers), Kariega's blue flag beach (a sea beach with a river lagoon), the tidal sandy beaches around the Bushmans river lagoon, the interesting rock formations and natural swimming hole at Mermaid's Pool and Shelly Beach, a secluded turquoise bay over the dunes. 
The nearby beaches at Kenton-on-Sea offer one of the best beach destinations in South Africa. A perfect location for couples, families or a group of friends.
Ask us for assistance if you would like to visit the beach during your stay or find out more about nearby places to stay.
4. Visit Historical Church in Salem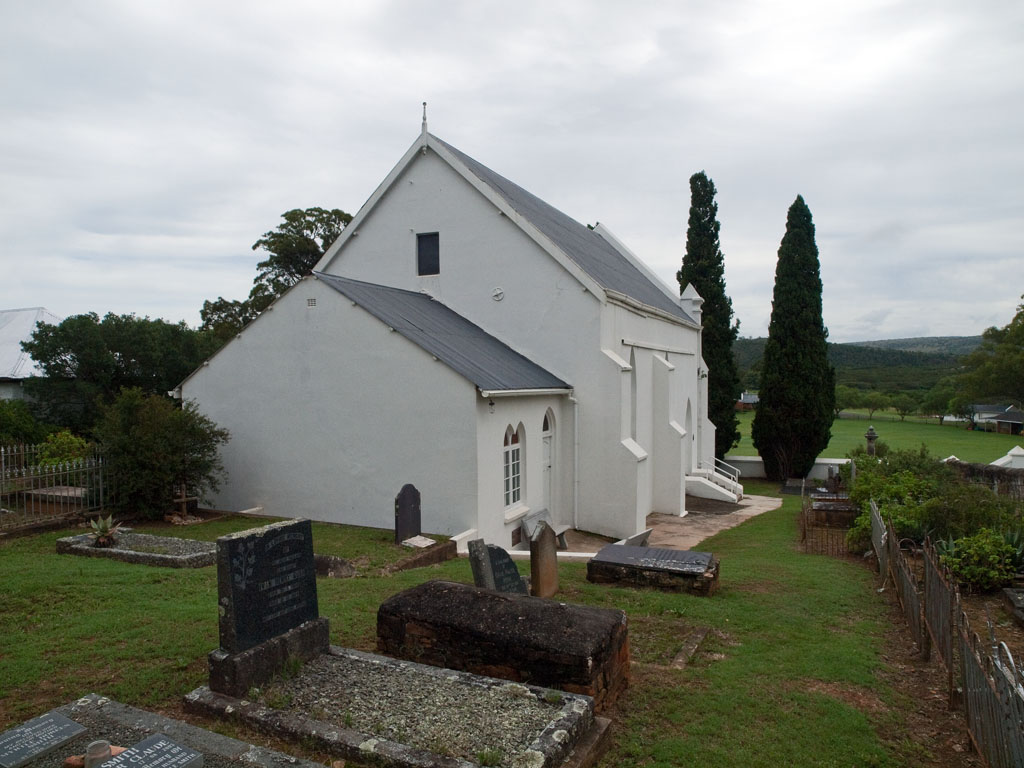 Kariega Game Reserve is situated in the heart of 1820 Settler Country and offers guests the opportunity to visit local towns rich with history and packed with monuments, some of the nearby attractions being Grahamstown, Salem and Bathurst.
The nearest historical attraction is the Salem church, a gem for history lovers. Located approximately 20 km from the reserve in the direction of Grahamstown the tiny town of Salem is so small that you will miss it if you blink! The tell tale signs that you have arrived are the cricket pitch and the church!
Salem was founded as a 1820 settler settlement. Families travelled in three parties from Port Elizabeth, the last arriving at the Salem on 23 July 1820. The settlers were from England and were taken inland by ox wagon. They were left to act as a buffer against the local Xhosa people. The name, Salem, is of biblical origin and means 'peace' which gives an insight into the hostile mood of the time.
The original church was consecrated in 1824 and built from mud blocks and thatch. It was replaced by a stone structure in 1832. The church often served as a refuge for women and children during the Frontier Wars. Several settler houses in the village were built in the Georgian style and have been preserved.
The the cricket pitch is regarded as the oldest cricket pitch in the country.
5. Have a Swig at the Pig & Whistle: South Africa's Oldest Licensed Pub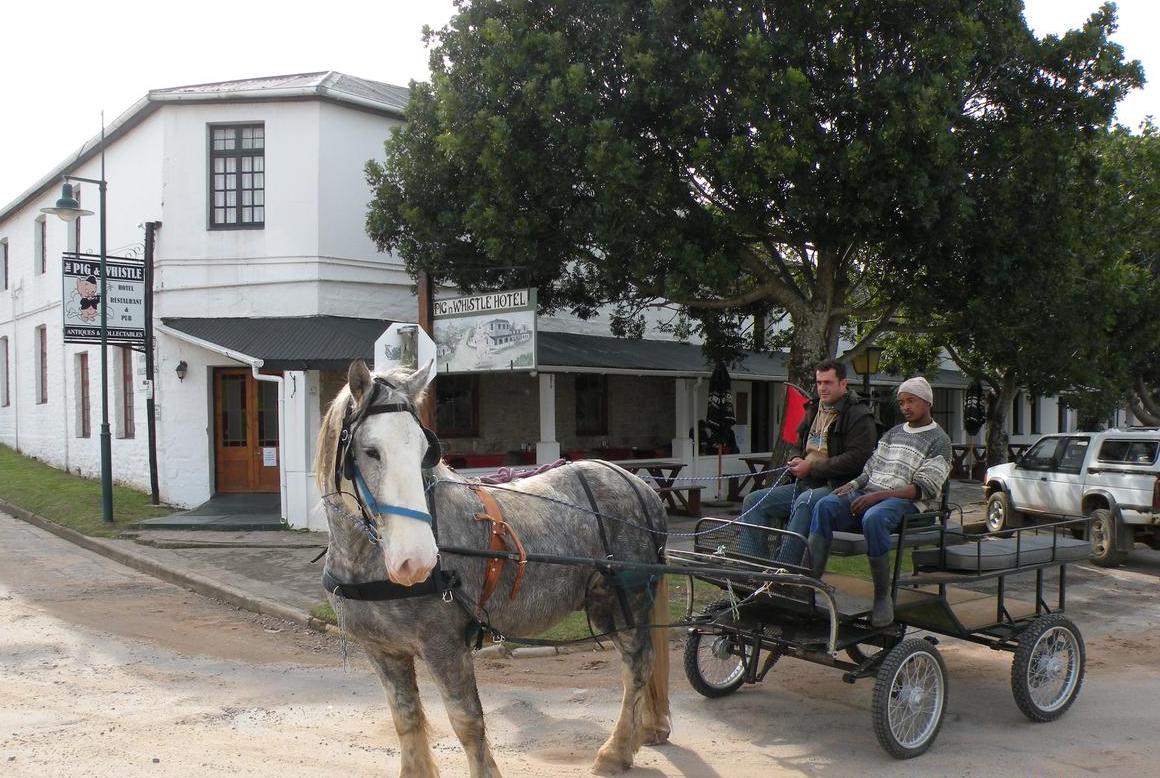 Bathurst, another quaint 1820 Settler town a short distance from Kariega Game Reserve, boasts the oldest continuously licensed pub in South Africa, the Pig and Whistle. The pubs old stone walls are steeped in history and memorabilia and many of the locals are animated story tellers. It is well worth popping in for a cold beer and watch the Bokke (the colloquial name for the South African national rugby union team more commonly known as the Springboks) or the Proteas (South Africa's national mens cricket team) in action. A truly local South African experience!
Read more about the history of the Pig and Whistle and find out more about the pub, restaurant, accommodation, antiques and surrounding area on the Pig and Whistle's website.
6. Beach Horse Rides & Multi-Day Trips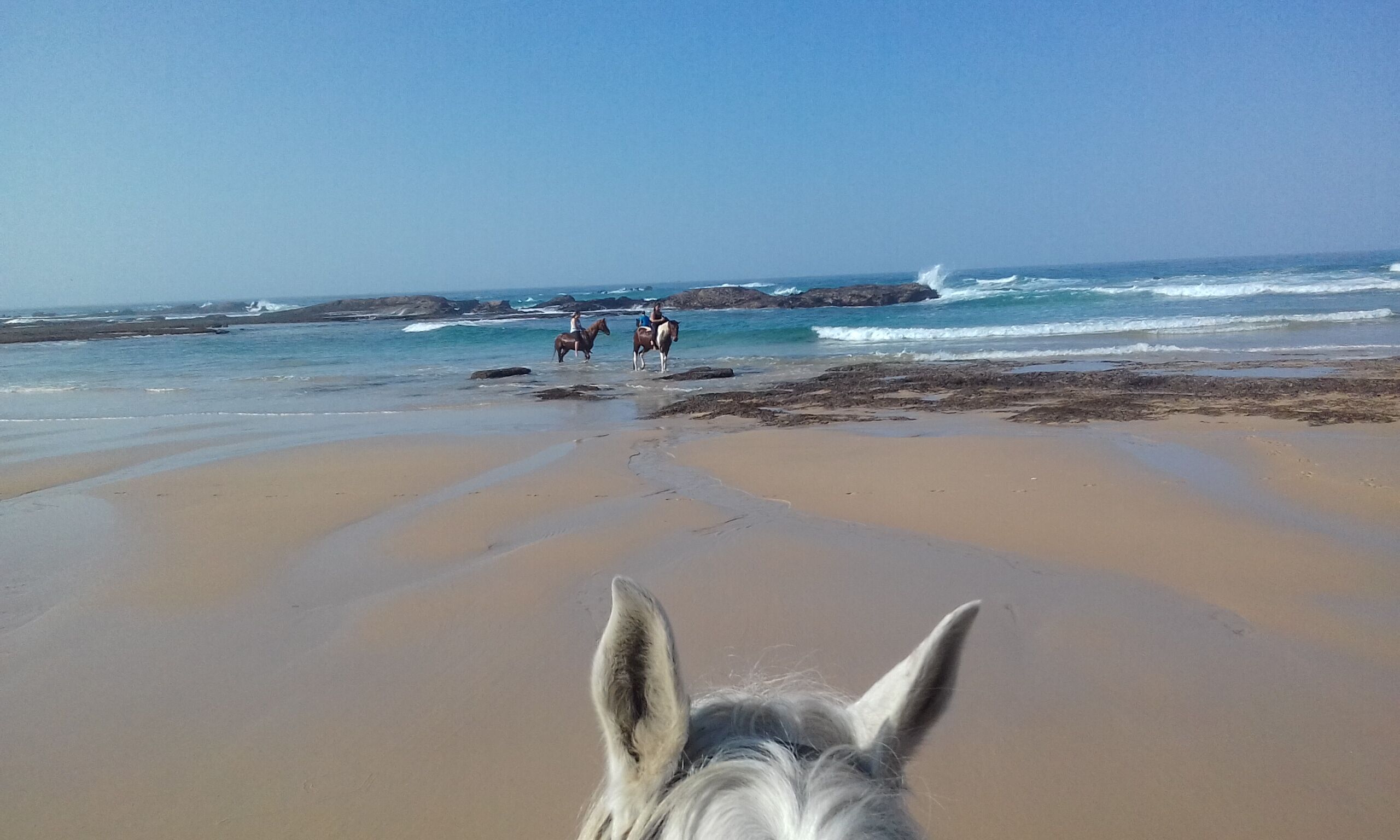 Horse riding is done off the reserve with Beachcombers Horse Trails at an additional cost. Beginner, intermediate and advanced riders are welcome and a picnic lunch can also be arranged. 
Beach horse rides offer a combination of beautiful beaches, picturesque rocky outcrops, dune fields and rivers. Nothing beats the feeling of galloping through the shallow wash of the waves, with the smell of the ocean and the wind in your face…
If you are interested in beach horse riding you can arrange it with your guide while you are at Kariega or contact Beachcombers Horse Trails to find out more about this top 10 nearby activity.
7. Addo's Alexandria Hiking Trail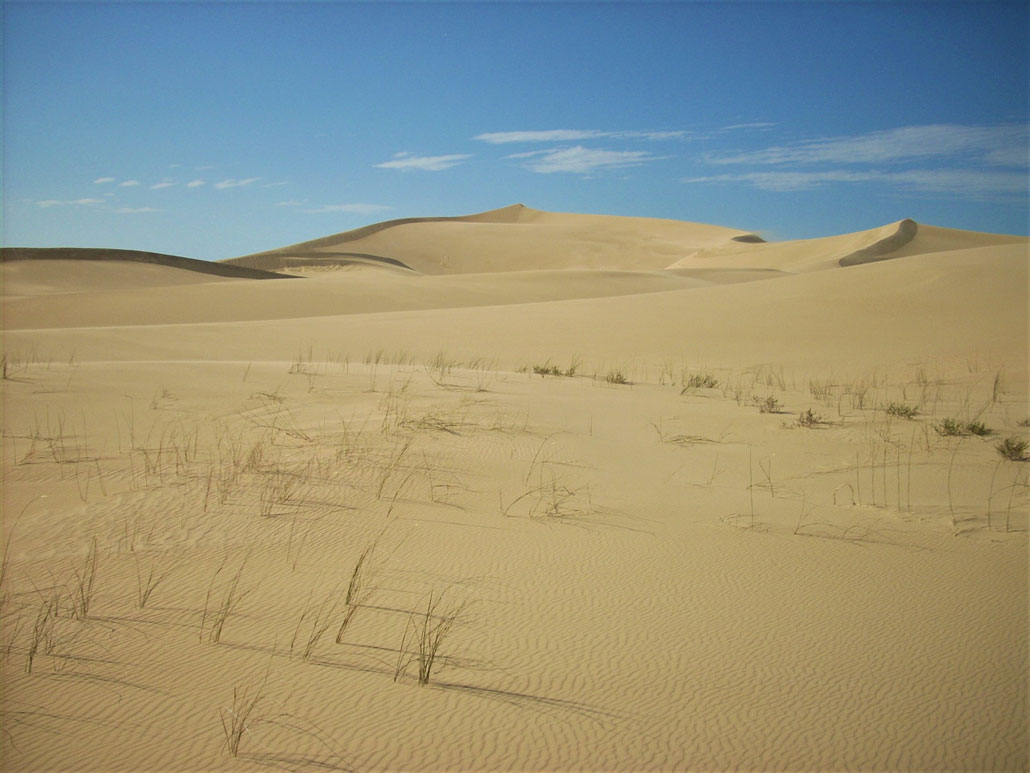 Energetic travellers may like to add a hiking trail onto their itinerary and a popular South African trail, the Alexandria Hiking Trail just happens to be on Kariega's doorstep.
The two-day 36 km circular trail begins in the Woody Cape section of the Addo Elephant National Park an offers hikers the most unforgettable experience that traverses through three distinctly different environments ranging from forest to coastal dunes, to seashore. Highlights include ancient, enormous yellowwoods, spectacular coral trees, prolific birdlife, dramatic cliffs, pristine coastline and traversing the sand dunes of the largest coastal dune field in the southern hemisphere.
Hikers will require a moderate to good level of fitness. There is a shorter and less strenuous 7km Tree Dassie Trail Hiking Trail for a more relaxed hike through the forest.
The Alexandria Trail is situated in the nearby Addo Elephant National Park and bookings are administered through Camp Matyholweni. Contact matyholweni@sanparks.org.
8. Sandboarding at Sundays River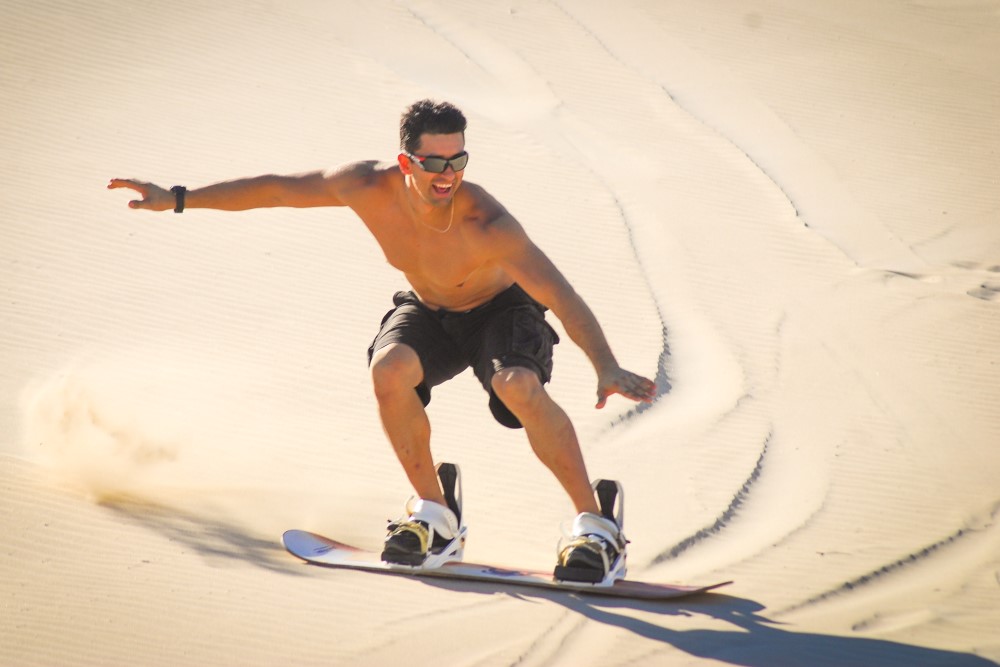 Safari seekers traveling to Kariega Game Reserve from Port Elizabeth will cross over the Sundays River at Colchester about 45 minutes after leaving the city. If you are the adventurous type it is worth stopping for a few hours for a fun, action-packed sandboarding excursion!
This adventure starts with a short boat ride on the Sundays River to the Alexandria dunes. Here your guide will help beginners to seasoned sandboarders move down the dunes like a pro! The tour is two or three hours which is enough time to learn some new skills. If you don't feel confident on the stand-up board you can sit down or try a belly-board ride down the dune.
Visit Sundays River Adventures for more information or to book this top 10 nearby activity.
9. Canoe on the Kowie River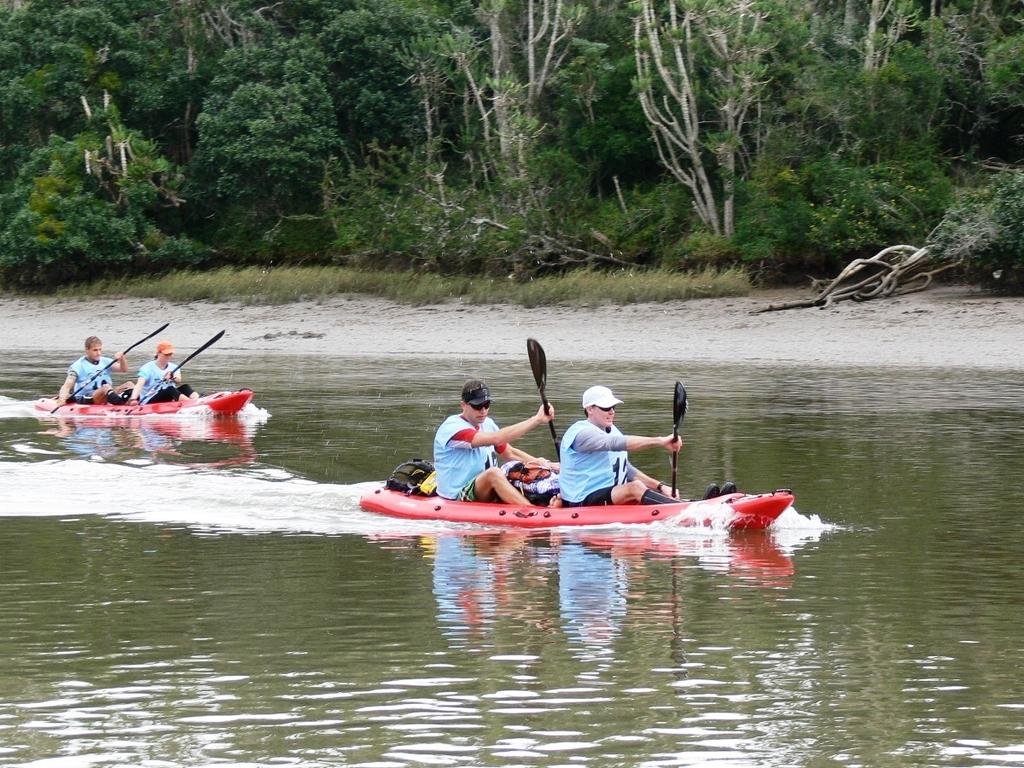 Keen paddlers can while the time away exploring the nearby Kowie river by canoe (doubles or singles) or paddle ski. There are also kiddies canoes available and the high tide creates a safe confined area or 'kiddies beach' which is a wonderful place for kids to learn about the water and canoeing in safety.
The Kowie Canoe Trail is a river and camping experience where you can spend either one or two nights canoeing and hiking. Two nights is more relaxing and will give you ample time to enjoy the tramping trails, but many people do only one night. It should take you roughly four hours to reach the campsite from the start at the small boat harbour at the Port Alfred marina. There is also a picnic site (Windy Reach) en route as a resting place for the weary.
To find out more or book this top 10 activity contact the team at Kowie Canoe Trails.
10. Enjoy Africa's Largest Arts & Culture Festival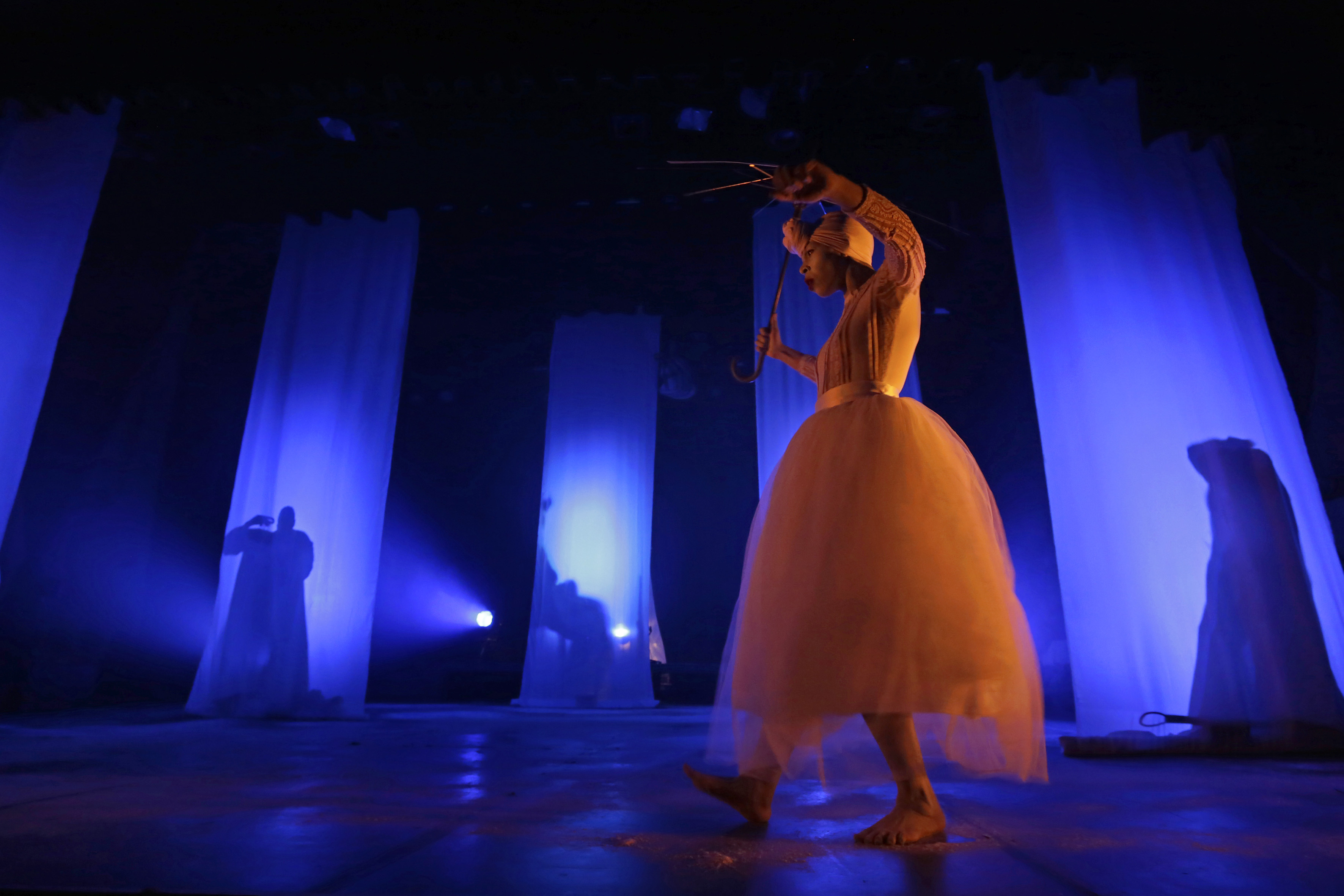 The annual National Arts Festival takes place in the nearby town of Makhanda (formerly Grahamstown) approximately 30 minutes drive from Kariega's main gate. The festival runs for 11 days from the last week of June to the first week of July every year.
This event is a highlight on the South African cultural calendar, and the biggest annual celebration of the arts in Africa. Expect to be delighted by performing arts (theatre, dance, stand-up comedy and live music), visual art exhibitions, films, talks, workshops, food, crafts and historical tours.
The festival takes place in approximately 60 venues as well as in various outdoor locations. Many of the events take place in the evenings and we recommend staying in Grahamstown to enjoy the full festival atmosphere.
For more information and details on festival bookings visit the National Arts Festival website.
Top 10 Nearby Attractions and Activities
Kariega Game Reserve and our surrounding area provides a wonderful variety of top attractions and activities for travellers who are looking to connect with nature, wildlife, culture, art, history, people and enjoy truly South African experiences.
We would love to assist you to plan and book your South African malaria-free safari at Kariega Game Reserve. Our private reserve offers five safari lodges to suit all needs. Experience close up game viewing of the Big 5 - lion, elephant, rhino, buffalo and leopard - as well as multitudes of other South African wildlife from the comfort of an open game drive vehicle driven by superb safari guides.
View our safari special offers, check availability and rates online, book via our secure online system or contact us via email on reservations@kariega.co.za for more information. 
We also offer assistance with South Africa tours to include the top 10 nearby attractions and activities. We can put you in touch with experienced and trusted tour specialists. Contact us to plan your South Africa safari tour today!
Images thanks to Royal Port Alfred golf club, Daniel Mouton, Pig & Whistle, Beachcombers Horse Trails, Hiking South Africa, Sundays River Adventures, Kowie canoe trails and the National Arts Festival.