Thank You from Kariega Save the Rhino Fund
Young Conservationists Donate to Kariega Foundation Save the Rhino Fund
Two young boys (and their siblings) from Mitchells Plain in Cape Town were inspired by the story of Thandi's survival. Matthew Rosen (Grade 2) and his friend Adon Johnson (Grade 3) learned about rhino in class at Muizenberg Junior school. After finding out about the poaching crisis and need to protect rhino they set about raising funds with great enthusiasm. Matthew and Adon asked their mothers to help them bake muffins for them to sell and they also made posters to raise awareness. The muffin sale was a success and these two boys contributed all their takings to the Kariega Foundation Save the Rhino fund to help us protect our rhino.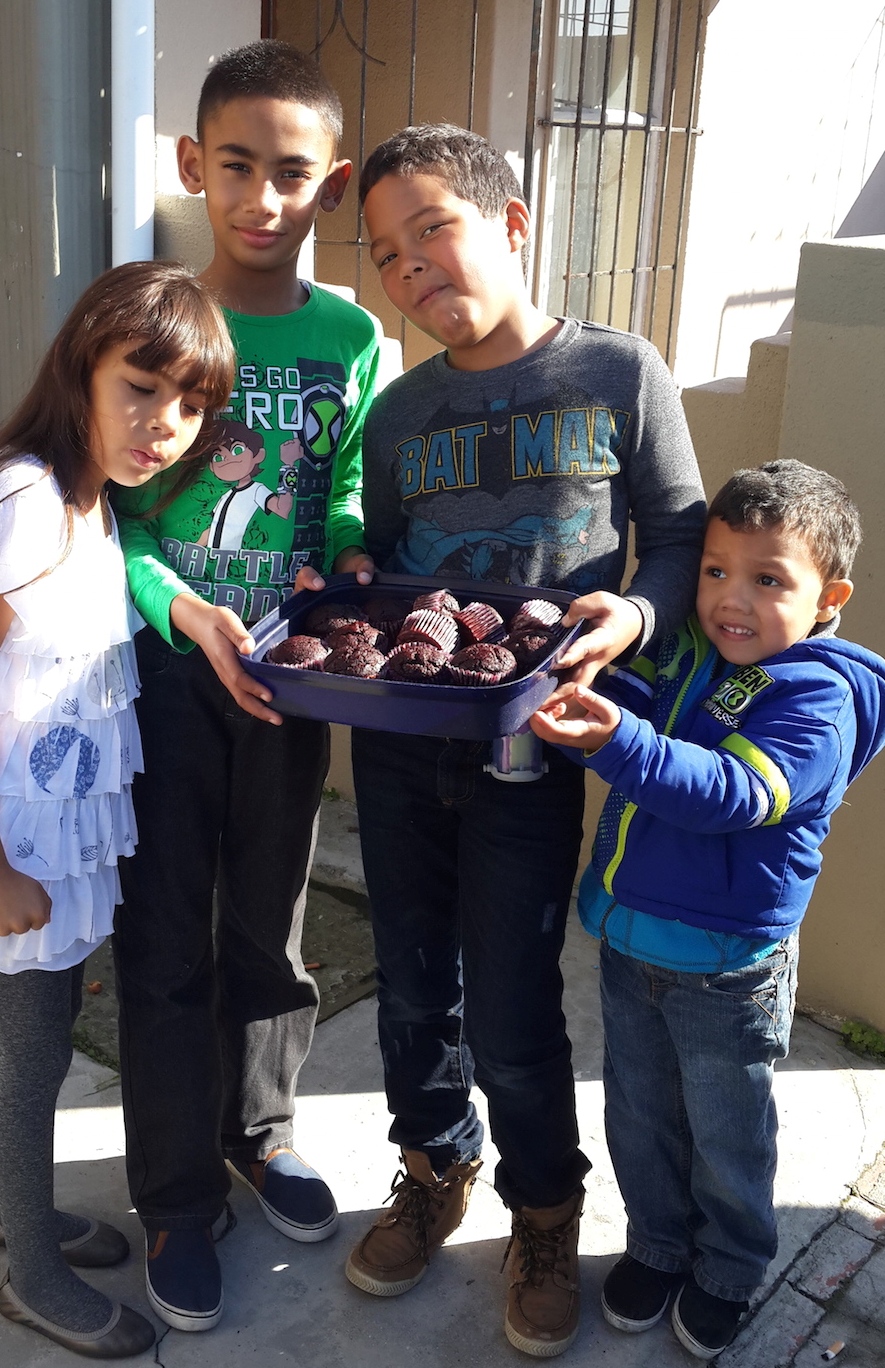 Zoe, Adon, Matthew and Mason are pictured above with the muffins.
Kariega Save the Rhino Fund
The Kariega Foundation Save the Rhino fund was set up after the brutal poaching of three of our rhino in 2012 in order to provide triumphed in the face of this hardship. In January 2015 she gave birth to a female calf, Thembi (meaning Hope in Xhosa). It is our hope that through this story many more people will be encouraged and inspired to help conserve and save rhino. Follow this link to read more about Thandi's story.
The story of Thandi has inspired and motivated people across the globe to action. We are continually amazed by the generosity and kindness shown by people of all ages and walks of life. We recently received a cheque from a pensioner in the UK who wanted to contribute in some way towards saving these beautiful animals. Each contribution is greatly appreciated and 100% of each donation goes towards the efforts to save rhino. Most funding is channeled directly to Kariega's rhino and anti poaching efforts, we have also focused our efforts on raising awareness wherever we can and supporting anti poaching organizations and initiatives that need help and which are efficient and effective.
How Can You Help Save the Rhino?
If you wish to contribute to our efforts in caring for Thandi and protecting our rhino, you can make a contribution in one of the following ways. Any size donation will help, and is hugely appreciated.
1. Direct deposit/EFT to the Kariega Foundation bank account:
KARIEGA FOUNDATION TRUST
First National Bank
Account no: 62275606526
Branch:Newton Park
Branch code: 261050
Swift: FIRNZAJJ
Reference: Thandi
2. Request a credit card authorization form from bronwen@kariega.co.za.
If you have any enquiries, questions or comments, please feel free to email bronwen@kariega.co.za. Read more about the Kariega Foundation Save the Rhino fund.