Safari Guest Becomes Rhino Conservationist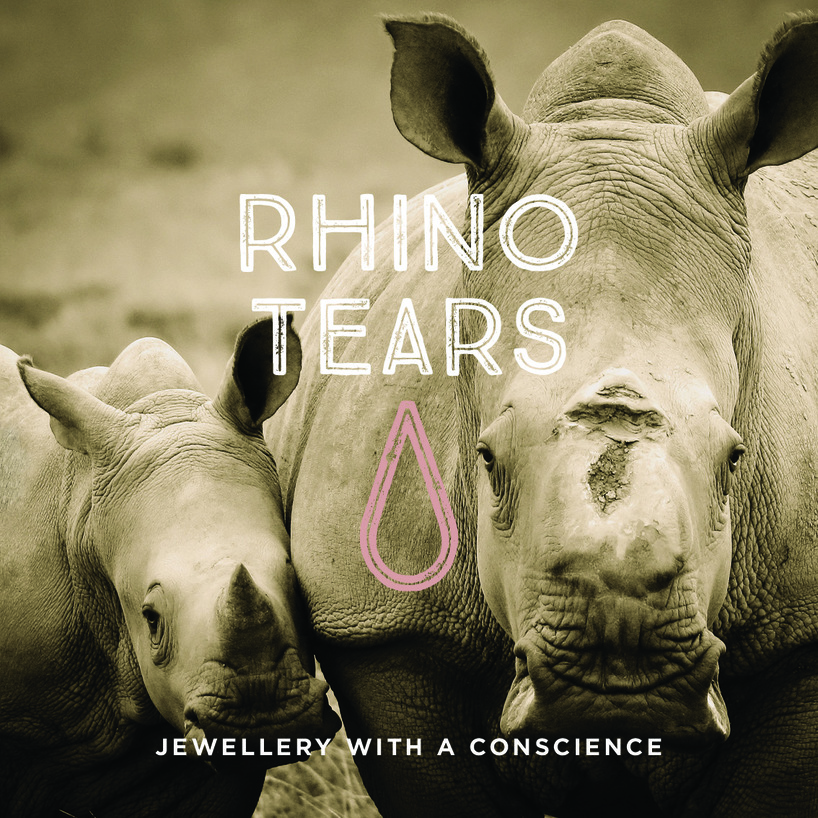 Today, in celebration of Thembi's 22 month birthday, we share an inspiring story of a Kariega guest whose life changed dramatically after her encounter with Thandi and Thembi. Sarah Cobden Ramsay visited Kariega Game Reserve with her family in December 2015 and this trip expanded her life from a mother-of-two, part-time teachers assistant and dedicated housewife to include passionate and energetic rhino conservation!
Rhino Tears Conceived During Kariega Safari
Rhino Tears - Jewellery with a Conscience - was conceived on the final morning of Sarah's three day safari to Kariega Game Reserve. Sarah and her family had been introduced to a plenitude of wild animals during their stay but had taken a particular interest in rhinos Thandi and Thembi and their story of tragedy, courage and hope.
Sarah describes their field guide Daniel as: "extraordinary and inspirational". Over breakfast on their final morning Daniel encouraged Sarah to act on the compassion she felt for Thandi and Thembi and help raise awareness for the plight of rhino.
Jewellery Hobby Becomes Fundraiser for Rhino
After mentioning her interest in jewellery making to Daniel, the idea of creating and selling silver or gold drop pendants called 'rhino tears' was born. Sarah returned to the UK and sprang into action, carving the tear shape, casting it in silver and then collaborating with a graphic designer to produce the Rhino Tears Jewellery marketing material, website with online shop and social networking channels via Instagram and Facebook to facilitate orders and sales.
70 Rhino Tears Sold and Many More on Order
Sarah says that support from family and friends has been overwhelming and with their help she has managed to sell 70 rhino tears so far and orders are coming in all the time. The Rhino Tears Jewellery project keeps her busy everyday. It has been a long process that has required much of her time, energy and focus. Sarah keeps a photo of Thandi in her bedroom, which she looks at everyday to draw inspiration and the conviction to continue.
Give a Gift With a Conscience this Christmas
Sarah is expanding her range for the Christmas season to include rhino tear cufflinks and earrings. Giving a gift with a conscience is an awesome idea so why not place your order now and support the Rhino Tears project. Wearing a beautiful piece of jewelry can save Thandi, Thembi or any one of the rhino in the Kariega crash.
Rhino Tears to Donate Funds to Kariega Foundation
Sarah is planning to return to Kariega in February 2017 to donate the funds raised through the sale of her Rhino Tears jewellery to the Kariega Foundation Save the Rhino Fund. This fund was established after the triple poaching that Thandi survived in 2012. Rhino protection is a costly endeavor and the fund was established to ensure that Kariega could employ all measures to ensure the safety of our rhino and grow the size of our crash.
Sarah is collaborating with TESA (Thandi's Endangered Species Association), an organsation created by Angie Goodie, Kariega volunteer turned rhino conservationist, who is yet another incredible woman inspired by Thandi's story. 100% of the profits generated by Sarah's Rhino Tears are donated through TESA to the Save The Rhino fund.
Kariega Foundation Grateful Beyond Words
There are no words that can sufficiently express our gratitude to Sarah. Her story embodies the same courage and determination that Thandi has displayed and the hope that Thembi represents. Sarah is a shining example of how every one of us ordinary people can do extraordinary things that make a big and positive difference in the world. Thank you Sarah.
Buy your Rhino Tear now! It is the best gift you can give to Thembi on her birthday!