Rhino Thembi Reaches 20 Month Milestone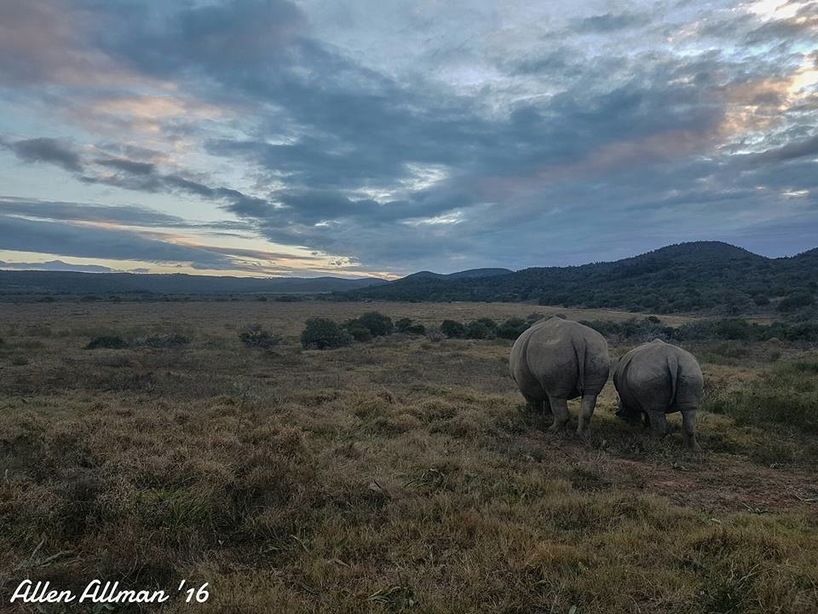 Rhino calf Thembi is 20 months old today. We celebrate this milestone with a spectacular photo taken by ranger Allen Allman capturing the peace and tranquility of Thandi and Thembi in their home at Kariega Game Reserve.
African Awakens your Heart and your Senses
Many of our Eastern Cape safari guests have sat in awed silence watching Thandi and Thembi graze on the African plains. The experience is overwhelming (in the best way).  
Kariega guest known as "Leeu Meisie" on Facebook left this lovely comment when we posted the image on our Kariega Facebook page. She describes Thandi and Thembi's home so beautifully. "... from the wide open spaces, to the jungle near the river, to the butterfly valley near Settlers Drift, to the deafening sounds of the crickets, to the incredible sound of silence, to the sunsets, to each and every animal, however huge or small, to the smell of Africa, to the feel of Africa - all of it I will carry in my heart always." 
Kariega Staff and Guest Helps Preserve Thembi's Home
We have all played a role, big or small, in Thandi's fight for life that culminated in her giving birth to Thembi and being protected together within the greater Kariega wilderness. Today we pause to acknowledge this amazing achievement and say thank you to every single Kariega staff member and guest, because we are all cumulatively responsible for creating, maintaining and protecting this wilderness haven for Thandi, Thembi and their future offspring.
Have you watched Thandi and Thembi graze on these plains? Tell us your story.