Rave Ranger Reviews for Eastern Cape Safaris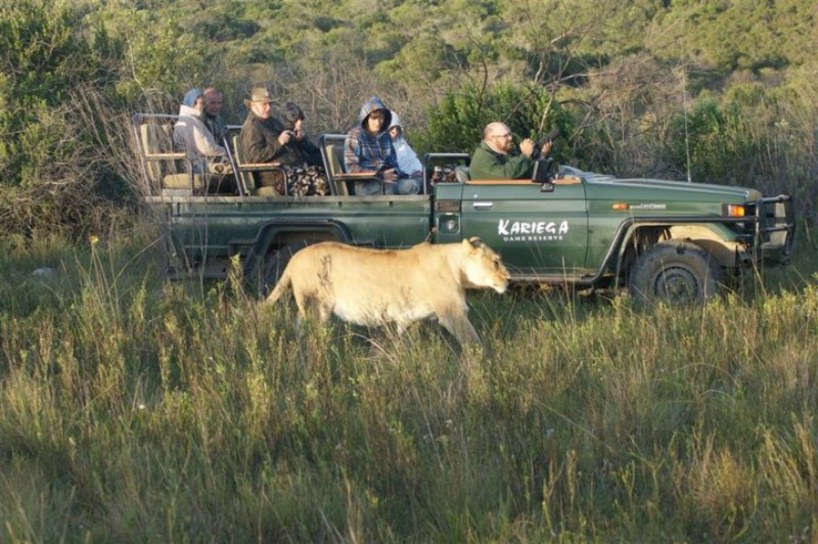 Kariega Game Reserve takes great pride in our team of passionate, energetic and warm-hearted field guides. Our rangers are consistently committed to giving our guests first class service with a healthy dash of Eastern Cape friendliness to ensure they enjoy a superb safari they will never forget. It is truly gratifying when the feedback we receive from our guests reflects that we are delivering on our own expectations.
Eastern Cape Safari Guests Reviews
It gives us great pleasure to share this compilation of comments and feedback received from guests via Facebook and TripAdvisor. We are so proud that the comments reflect so positively on the expertise and friendliness of our field guides and the quality of the Kariega Eastern Cape safari experience.
"Fantastic friendly game reserve with very knowledgeable rangers. We just spent three nights at Ukhozi with 6 great game drives including a river boat ride. Thanks to our ranger Rosie."
"Myself, my husband and 4 children recently stayed at Kariega and had a great time. Our ranger Daniel was extremely knowledgeable and we could tell he had a real passion for the animals which made it so enjoyable. We got to see so many animals and even saw 2 male lions! Thank you so much!"
"Settlers Drift is beyond five star, we have never had the treatment we received here in any other five star accommodation. The safari was amazing and our guide vicky was so knowledgeable, friendly and attentive. Her love for the animals, birds, plant life was infectious! We will definitely be back. It was an unreal experience!"
"Zolani, you made our experience amazing! Thank you so much!"
"We stayed at both the River Lodge and the Main Lodge and we have had the best holiday ever!! Our ranger Allen at the Main Lodge was super!!! His knowledge about the animals was impressing! We will recommend this to all our friends. Thank you for the best holiday ever!!!" 
"A fantastic 3 days. Thomas, our ranger, made each drive one to remember. The whole experience was superb throughout."
"An amazing 3 days, a truly unforgettable experience. Wish we were still there. Excellent staff and our ranger Jone was just the best. This was our first safari and it exceeded all expectations. Thank you!"
"Absolutely fantastic! We stayed for 3 nights at Ukhozi Lodge as part of our honeymoon - from arrival everything was perfect. The accommodation, food and staff were faultless. Our ranger was Rosie and her knowledge and willingness to find amazing sights for us was incredible - a once in a lifetime experience - many thanks!" 
"Not only were we pampered from 6am to midnight but the rangers really knew their stuff as well as being great fun! Our ranger Wayne was brilliant and the other rangers we met were equally welcoming. Very informal which helps."
"The drives were beyond expectations. Every drive was different. After seeing the 'basics' on the first few drives, we hunted for the difficult things including Lions that had just had a nice meal, Elephants, Springbok, Cape Buffalo, etc. We saw everything that we hoped to see even with less than perfect weather. We got to see amazing animals, amazing views, and stars unlike any we've seen before. Temba was beyond proficient and answered every question we threw at him."
Eastern Cape Safari Guides Achieve Highest Average Qualifications
After reading these comments it is not surprising that the Kariega guiding team received an award earlier this year for having the highest average guiding qualifications of any reserve in the Eastern Cape. We are very proud of our guides and love that they share their passion and knowledge with every one of our guests.
Thank you to all guests who take the time to add their comments and reviews Facebook and Trip Advisor. Please keep adding your comments as we love hearing from you.