Kariega photo competition winner Alexandra Roberts shares her safari experience
Alexandra Roberts won the Kariega Game Reserve photo competition with her image of a black rhino running through the bush. We asked her to tell us more about the photograph and her experience on safari at Kariega. Find out more about her winning photograph here.
Tell us more about when the photograph was taken
I captured the photograph during an early game drive in mid-January 2013. As we drove around a bend looking for elephants, a black rhino rushed into the middle of the trail in front of our open vehicle and thrust his horn into the air. We were as surprised to see him, as he was to see us. He stopped, looked around, and ran to the left in front of us, disappearing into the thickets. I listened motionless to his heavy breathing and footfalls as he broke through the brush. The thundering quickened and he reappeared. Our eyes met, and my breathing stopped as I marveled that such a massive animal could move so swiftly. I was able to snap a picture as he charged toward us before unexpectedly veering to the right and around a large tree behind our vehicle. The surrounding plants shook in his wake, the leaves fanning his musty scent into the air. I felt I would have been able to reach out and touch his thick, dark, and armor-like hide. A second black rhino emerged in pursuit of the first. I watched the two chase each other around the tree, rub horns, and struggle to climb on each other's backs—their way of demonstrating dominance. I was awestruck at the display of power by these ancient creatures.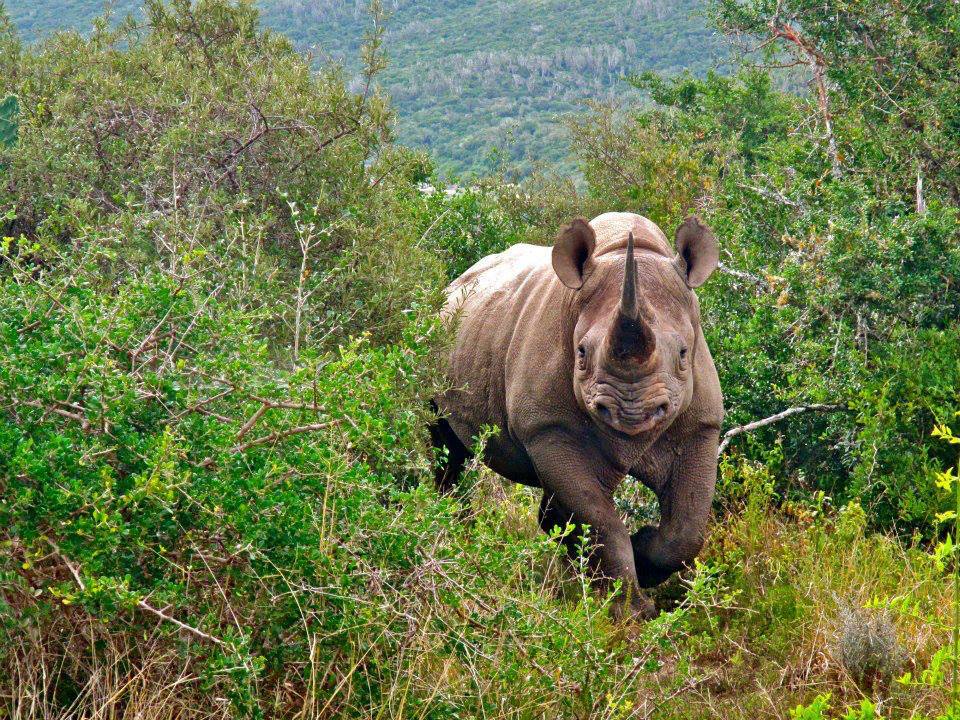 Any details about your camera and settings?
I used a Canon PowerShot D20 to take the picture. It was set on auto, with the flash in the off mode. As soon as we heard movements in the brush near our vehicle, I had my finger on the shutter release pressed halfway to keep focus as I held my breath.
How did it feel to see and capture this photo of a black rhino?
I was thrilled not only to see a black rhino, but also to witness a rare, intimate interaction between two of them.
Tell us more about your interest in photography
I love photography. I always have a camera with me and I am always looking for the perfect photo opportunity wherever I go. I took photographs for my high school's yearbook and in college my photographs have been published in Eckerd College's award-winning newspaper, The Current.
Tell us more about where you live and what you do
I am a student at Eckerd College in St. Petersburg, Florida, USA. I will receive my degree in International Business in December 2013, with minors in French and Journalism. I earned my Certificate of Hospitality from Cornell University in Ithaca, New York, USA in 2013. I plan to pursue a career in tourism and hospitality.
How did you react when you found out you had won the competition?
I have followed developments on Kariega's Facebook page since I returned from my visit in January 2013. The night I won, I was unable to sleep so I was catching up with a friend on the phone and I happened to look at my "news feed." I saw Kariega's post congratulating a photo winner, and for a long moment I just stared as I realized it was my photo under the post! Tears of excitement and disbelief ran down my face as I asked my friend to check the post herself to confirm. My trip to Kariega had been a life dream come true, and the thought of returning could not have made me happier. Thank you so much for this opportunity; I am so excited to see you all again.
Tell us more about your stay at Kariega
My visit to Kariega was arranged by Eckerd College as part of its international education program to instill environmental perspective. Our group stayed at the Kariega River Lodge for three nights. There were 20 of us altogether, including our professor and his wife.
Tell us when you might be able to come back to take up your prize and who you will bring
I am anxious to return, hopefully in 2014 or 2015, and I will be bringing someone very special. In the meantime, I have already begun to save for airfare. I would like to thank Kariega Game Reserve, our game ranger Jaybe, my parents, my family, my friends, Eckerd College, Professor Brooks, Canon, and two black rhinos for this incredible adventure.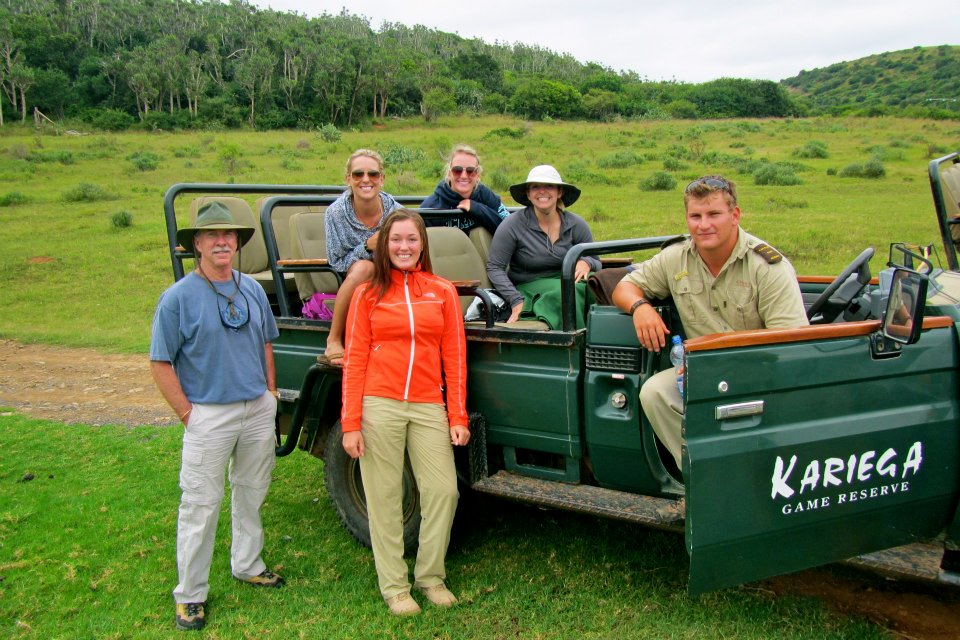 Pictured here from left to right: Eckerd College Professor Gregg Brooks, Kaleigh Humphrey, Alexandra Roberts, Lindsay Biggs, Samantha Rolfe (all Eckerd College students) and Kariega game ranger Jaybe Nieuwoudt.
If you would like to share your story about your Kariega experience, please email lisa@kariega.co.za. Please also share your photos for our current competition on our Facebook page. The competition closes at the end of April 2014.