New Dog Joins Anti-Poaching Unit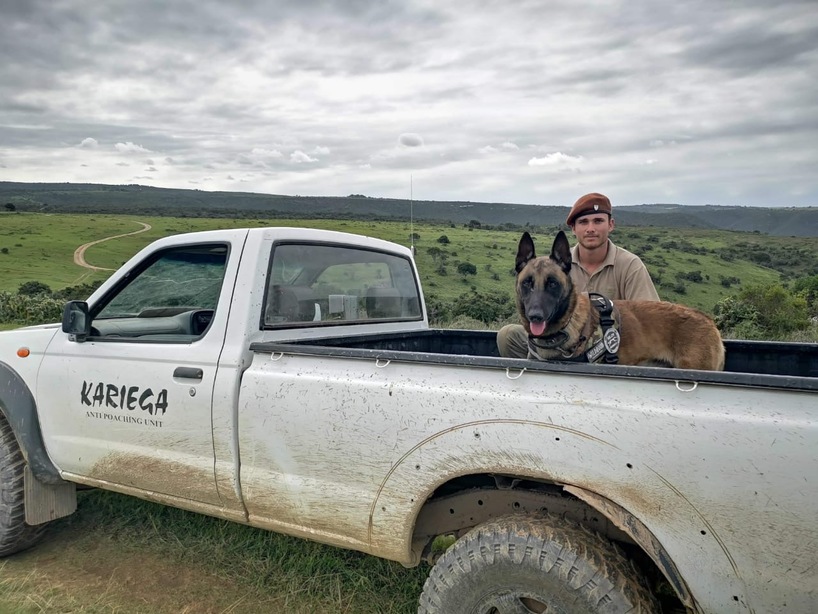 The use of trained dogs has been proven to offer highly effective support to anti-poaching units (APU) with their arduous task of protecting South Africa's endangered species, primarily rhino. Dogs have an excellent sense of smell and can be trained to use this innate ability to track down poachers and detect concealed weapons, ammunition or rhino horn hidden in vehicles or the bush.
Earlier this year Kariega Game Reserve's anti-poaching unit welcomed Cyrus, a tracking and attack dog. APU manager Daniel is Cyrus's handler and with dedicated, disciplined and on-going training and practice, they make a formidable team.
Cyrus has recently been joined by a new dog called Takula who is a male Belgian Malinois. Both dogs bring valuable skills to our anti-poaching unit.
Takula: New Anti-Poaching Unit Dog
Takula is a trained protection and detection dog. He was trained by Chrisjan Visser at Kilo9 Kennels, a training facility in Hoedspruit in the greater Kruger area. Kilo9 are experts in training anti-poaching dogs for protection work, tracking and substance detection. Their valuable work is funded by Swedish based non-profit organization, the Wildhood Foundation, who are equally dedicated to fighting poaching and trafficking of threatened species in Africa and Indonesia.
In addition, the Wildhood Foundation have made it possible for Takula to join the Kariega APU and cover all costs pertaining to Takula's on-going care and well-being. Kariega Game Reserve and the Kariega Foundation are deeply grateful to both Kilo9 and the Wildhood Foundation.
Takula's protection training is a great backup for his handler Wian when he needs to approach a suspect. His detection skills, which are focused on firearms and ammunition, are also a very valuable asset for all the reserves in our area.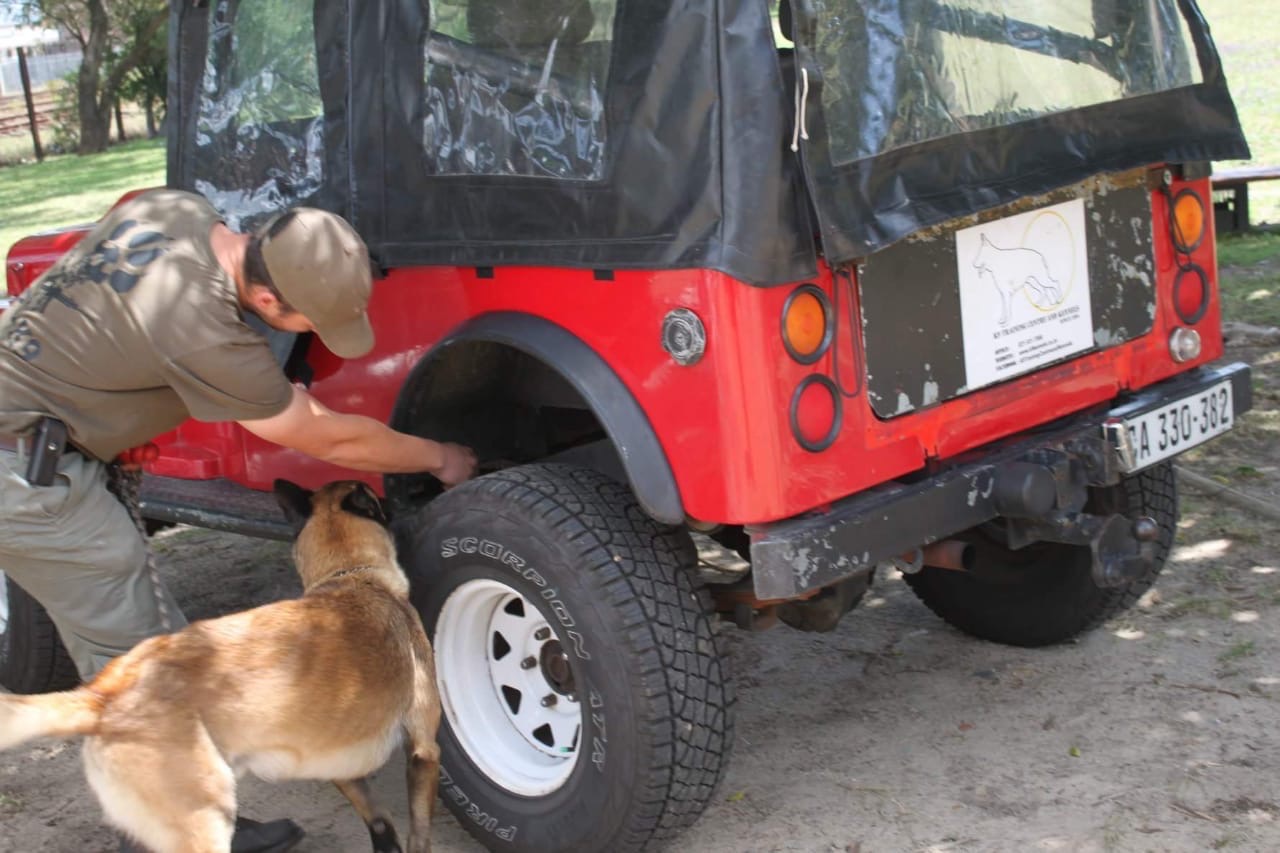 Dogs Benefits All Eastern Cape Game Reserves
Takula's skills as a detection dog are a benefit to all of the Eastern Cape game reserves that are members of the Indalo collective conservation association.
Indalo is a collaboration of ten neighbouring private game reserves who support biodiversity based eco-tourism, strive for sound ecological management and commit to the promotion of positive socio-economic upliftment. The Indalo reserves form a protected environment spanning 68,075 hectares.
As a collective, Indalo members work together to combat threats to the environment and eco-tourism. These include anti-poaching efforts (with a focus on rhino) and opposing fracking and mining exploration and the establishment of wind farms in ecologically sensitive areas.
Canine anti-poaching units are relatively new to the game reserves in this group. The Indalo collaboration has enabled important K9 skills to be brought our area. Most of the dogs, like Cyrus, are trained to track human spoor in the field and to apprehend suspects with bite work and Ella, a cold scent tracker dog, is able to follow a spoor which is a couple of days old. The skills of a detection dog have been missing and Takula fills this gap.
He can be deployed to any of the Indalo reserves after a poaching incident to help find casings, ammunition and firearms which is crucial for the crime investigators to get a lead on the suspects. Takula is also extremely helpful during routine road blocks when the local police are looking for ammunition and firearms that may be hidden in vehicles. These skills offer significant contributions to local anti-poaching efforts and to the safety of our communities.
Canine Units Require Time and Dedication
The success of a canine unit rests heavily on the handlers relationship with their dog, and maintaining a disciplined training regime which takes time and dedication. Takula and his handler Wian have recently completed a one month intensive training course. They continue to solidify their partnership and hone their skills through daily training and practice, along with Daniel and Cyrus.
We are extremely grateful to Daniel, Wian, Cyrus and Takula for their hard work and commitment to the anti-poaching cause and proud of the important role they play in our greater community.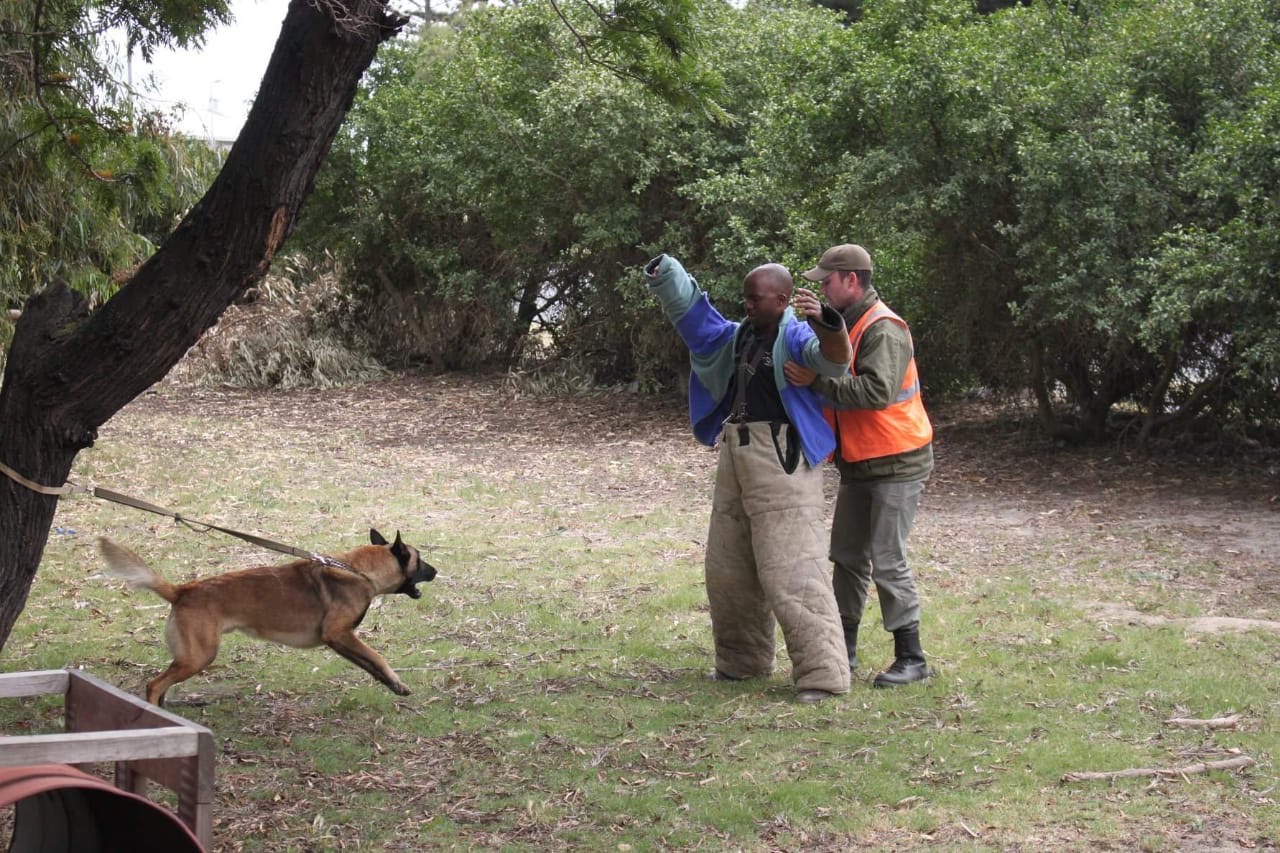 If you would like to find out about more about our Anti-Poaching Unit and our Save the Rhino project managed by our Kariega Foundation please contact foundation@kariega.co.za. We would love to hear from you if you would like to find out how you can help or get involved.
You can also follow Kariega Game Reserve on Facebook, Instagram, Twitter and YouTube for updates on our anti-poaching efforts and other wildlife news. Subscribe to our blogs to make sure you never miss our articles and stay up to date with what is happening at Kariega Game Reserve.