Last Chance: Join Virtual Safari Events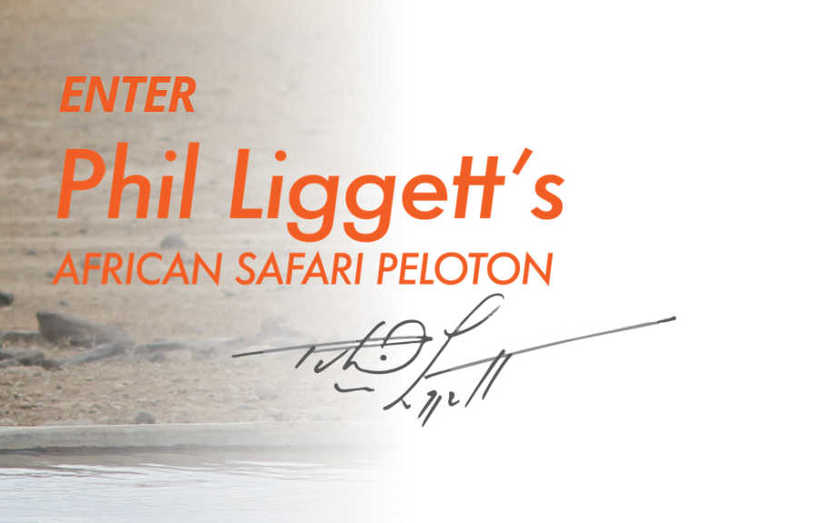 While we wait to fully re-open, we have been busy creating new and fun ways to connect people with our majestic Kariega landscape, wildlife and people. We have created a series virtual safari cycling events to help reignite your safari memories and help us raise funds to protect and preserve wildlife.
This is your last chance to join us for the final two virtual safari cycle events on Saturday 12 and Sunday 13 June 2021. These events are hosted on Zoom by Phil Liggett, the voice of cycling and one of the world's most iconic sporting commentators.
There are only a few days to enter by making a minimum donation of US$40 (R550) for both rides. Make a donation to receive the Zoom links and event details.
What is Phil Liggett's African Safari Peloton?
Phil Liggett's African Safari Peloton is an exclusive opportunity to join Phil and Trish Liggett, Kariega Foundation director Lindy Sutherland and other special guests on a virtual safari ride and join interactive discussions about conservation and cycling.
The rides were filmed at Kariega Game Reserve, our breathtakingly beautiful Big 5 safari destination in the Eastern Cape of South Africa. Cycling is not usually permitted on the reserve.
The events are open to both cyclists and spectators. This is an exclusive opportunity to virtually ride on our game reserve or simply enjoy a virtual safari and interactive discussions with special guests from around the world live on Zoom.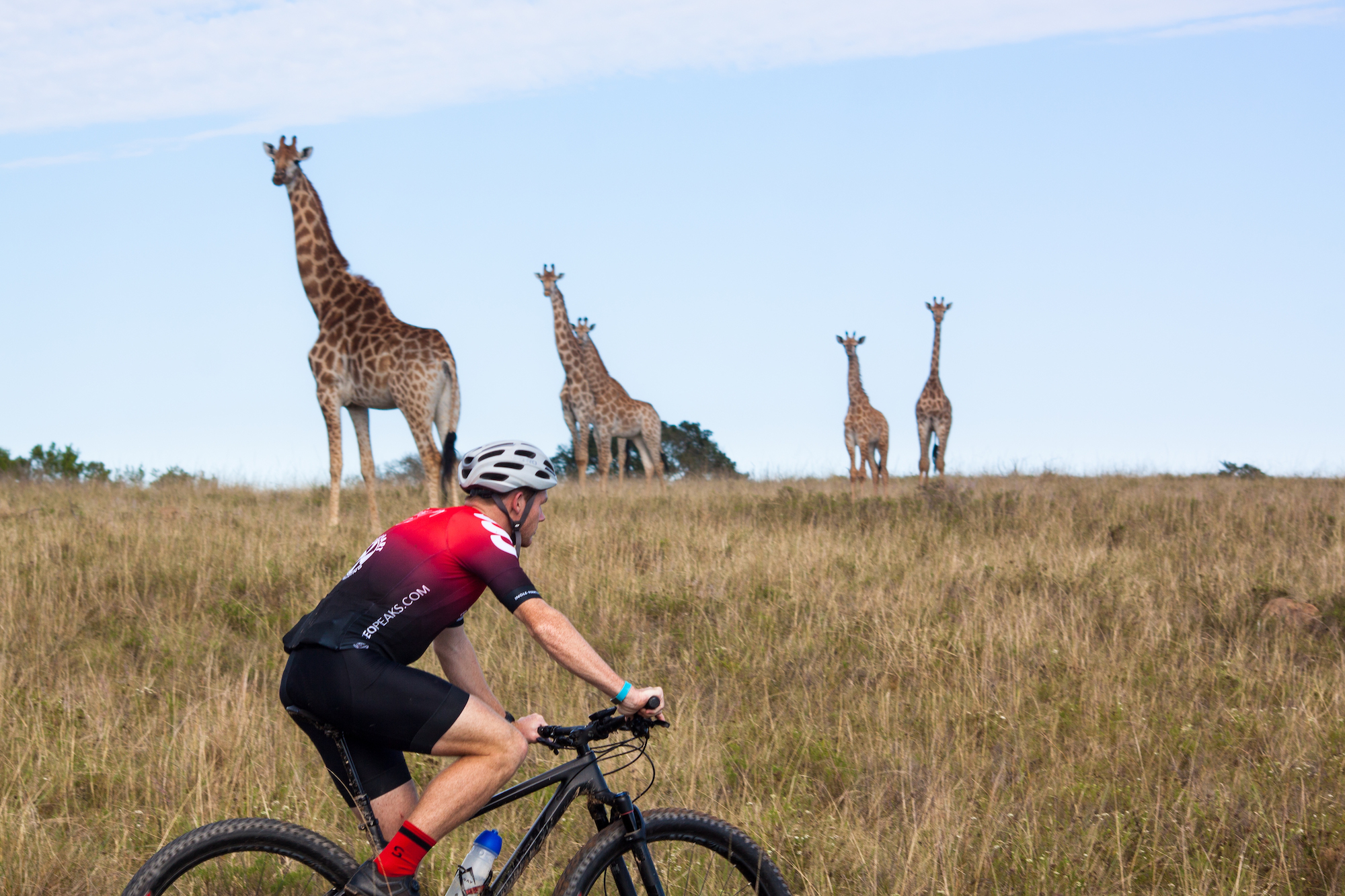 Virtual Safari Cycle Stage 3 & 4 Event Details
VIRTUAL SAFARI CYCLE 3: PLAINS LOOP. Saturday, 12 June 2021
Zoom Start Time (Time Zones): 8am (PDT), 11am (EST), 4pm (BST), 5pm (SAST), 11pm (AWST), 1am Sunday (AEST)
Distance and Description: 31.66km. 529 elevation gain. Starting on the Blesbok Plains keep an eye out for three sleeping rhinos on your right not long after you start. This ride has the most amount of climbing in our safari series. The steepest climb is known as Lancedale, which you will tackle towards the end of the ride before looping back around to Blesbok Plains to finish.
Zoom Discussion: PRESERVATION – Rhino translocations, habitat expansion and genetic preservation. Habitat expansion and restoration is essential to the survival of many wild and endangered species and the current focus for many conservationists. Kariega Game Reserve has recently received the donation of a critical piece of habitat carrying significant conservation benefits for elephant and rhino in particular. Funds are required to facilitate the translocation of a crash of rhino to the new habitat.
VIRTUAL SAFARI CYCLE 4: RIVER ROUTE. Sunday, 13 June 2021
Zoom Start Time (Time Zones): 2am (PDT), 5am (EST), 10am (BST), 11am (SAST), 5pm (AWST), 7pm (AEST)
Distance and Description: 14.6km. 251m elevation gain. A relatively flat ride which begins in the open plains before moving into a forest. You will follow some animal tracks back to the Bushman's river before circling back around to River Lodge. The thatched River Lodge connects the Big 5 game reserve with the Indian Ocean and offers ten luxury suites.
Zoom Discussion: EDUCATION – Environmental education is a critical element of sustainable conservation efforts. While protection is essential in the short to medium term, environmental education and reconnecting people to nature is essential to the long term survival of many species and our planet. The Kariega Foundation is committed to changing the hearts and minds of the youth in our neighbouring communities and encouraging them to join our conservation efforts, through immersive and inspiring wildlife and ecology camps.
We have tried our best to cover multiple time zones, but we understand if the times don't work for you. We don't want anyone to miss out, so we will send an email the Monday following these two events with a private YouTube link to watch the Zoom at your leisure.
Last Chance: Support Conservation via Virtual Safari Events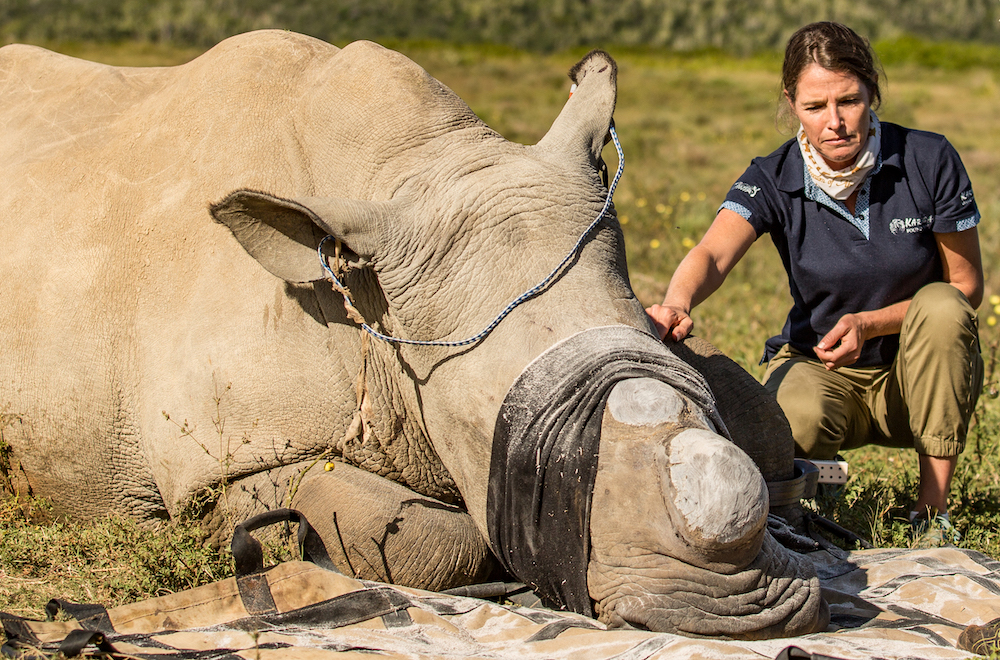 The beneficiary of Phil's African Safari Peloton is the Kariega Foundation, a non-profit trust working in partnership with Kariega Game Reserve to deliver on its conservation mandate. All funds raised support projects with the core motive to protect, preserve and educate so that we may reform that which threatens our natural world and build a greater conservation community that works collectively to rejuvenate our planet, people and wildlife.
For further information please email Lindy Sutherland, Kariega Foundation director on foundation@kariega.co.za or Trish Liggett, founder of Freedom to Roam Adventures on trish.ftra@gmail.com.
Enter Virtual Safari Events with Incredible Safari Give-Backs
The rides in Phil's African Safari Peloton are dedicated to raising funds for specific Kariega Foundation conservation projects with a set fundraising target of US$35,000. If this target is achieved, all participants who donated more than US$120 to join Phil's exclusive peloton will be entered into a lucky draw to win a complimentary all-inclusive four night safari for two people sharing in one luxury suite at Kariega Game Reserve's Settlers Drift.
The safari prize is valued at US$7,000 and is fully inclusive of accommodation, all meals, selected beverages, morning and evening game drives and other game activities. Airfares, road transfers and the Kariega Foundation conservation & community levy are not included.
And…
All participants will receive a 15% discount code to book a Kariega safari trip for up to four people before 18 December 2022. The code is valid for direct booking made via the Kariega website only.
Last Chance to Join Virtual Safari Events
This is your last chance to join Phil's virtual safari peloton. Cyclists and spectators should ENTER NOW with a minimum US$40 donation.
Once you have donated, you will be emailed the Zoom links to join Phil's once-off live discussions as he hosts the final two virtual rides in a Big 5 wilderness area.
For those cycling, the confirmation email will reveal the ride channel in FulGaz. Riders with a bike and smart trainer should visit the FulGaz website for details. The entry includes a 30-day free trial with FulGaz.
We hope that you can join us for Phil's legendary insights, inspiring discussions with celebrity riders and interviews with conservationists who will shine the light on the Kariega Foundation projects that the event is supporting. We look forward to meeting you!