Kariega supports the Rhino Run
Rhino poaching at Kariega inspires Rhino Run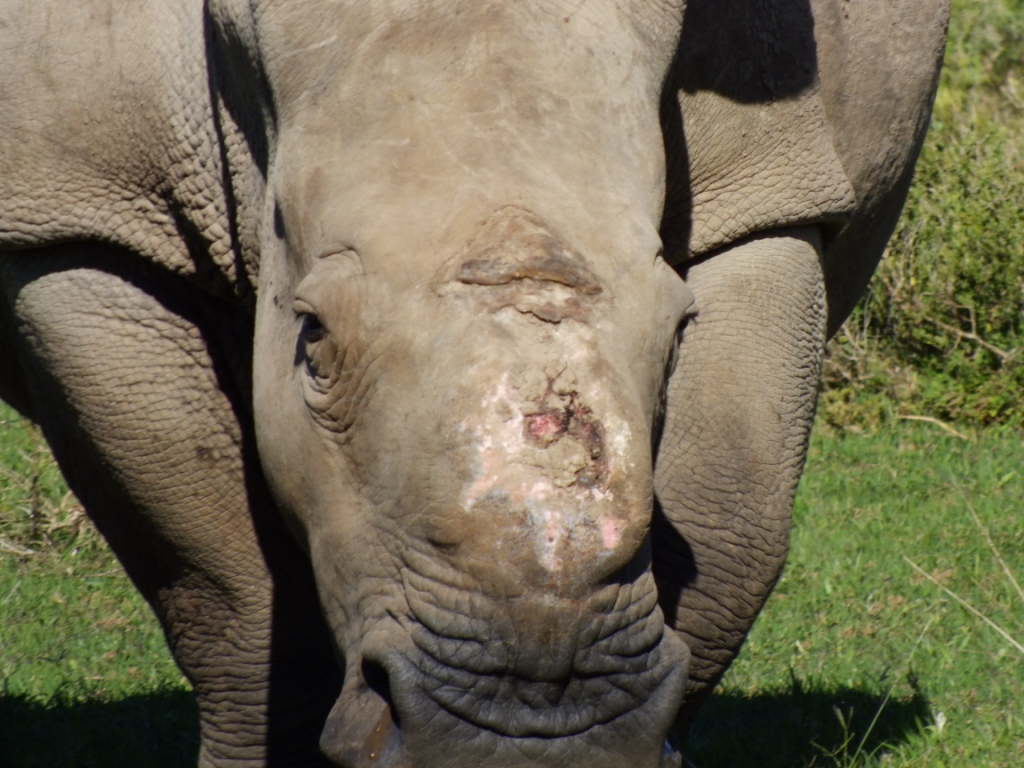 The poaching of three rhinos at Kariega Game Reserve in March 2012, their amazing courage and Thandi's (pictured above) incredible survival inspired trail runner Sian O'Keeffe to take action. He decided to start a trail run, called the Rhino Run, to raise funds and awareness for the plight of our rhino. 
Run to raise funds for rhino on 28 September 2014
On 28 September 2104 the event will be held for the third time. This year runners can choose between seven locations across South Africa, plus one international event in Desoto National Forest, Saucier, Mississippi. Join Dr William Fowlds, the wildlife vet who treats Thandi, and some of the Kariega team at the Kenton-on-Sea Rhino Run.
In just two years the event has raised R255,000 for three beneficiary funds. Some of this funding has gone directly to help Thandi's recovery and to assist with the protection of rhino at Kariega. 
Enter by 20 September 2014 and win a weekend at Kariega
Due to popular demand the online pre-entries have been extended until midnight on Saturday 20 September 2014. 
We are proud to sponsor a weekend away for 2 people at Kariega River Lodge. All pre-entries will go into the national lucky draw and have a chance to win this prize. Worth entering for this alone!
Enter online via the Rhino Run website and find out details about the events there too. You can also connect with the Rhino Run on Facebook. .
Well done Sian and the Rhino Run team. We are proud to join you and thousands of others to take action, raise funds and create more awareness of the war on rhino poaching.

Rhino Run beneficiaries
The Chipembere Rhino Foundation - www.chipembere.org
The Chipembere Rhino Foundation is a privately run, non-profit organization committed to assisting in the protection and conservation of Africa's rhino. Chipembere have shown unwavering commitment to our Kariega rhino since March 2012. They have supplied numerous VHF and GPS satellite collars to the value of R53,000. We have also received significant assistance from wildlife vet and Chipembere trustee Dr William Fowlds. Chipembere is a Kariega Foundation Save the Rhino partner. 
Forever Wild: Rhino Project – www.foreverwild.co.za
This project is run by the Wilderness Foundation and manages the Rhino Injection Fund which was started by Dr William Fowlds after he treated Thandi. The funds are used to help treat rhinos that survive poaching attempts. Kariega actively supports this project.
OSCAP – www.oscap.co.za
Outraged SA Citizens Against Poaching was a Facebook group that was started in mid 2011 when the Rhino poaching problem in South Africa reached epidemic proportions. Within the first couple of months membership soared and various initiatives were undertaken to bring about worldwide attention to the poaching crisis. OSCAP is now a fully registered NPO and works closely with other Rhino groups, NGO's, local and International Wildlife agencies as well as local and provincial government departments in order to assist where possible.