New tracking collar for poaching survivor rhino Thandi
Thank you to Chipembere for the new rhino tracking collar
During a recent checkup on rhino Thandi, Dr Fowlds and the Kariega team replaced her tracking collar. The Chipembere Rhino Foundation donated the collar and we are very grateful for their ongoing support and generosity.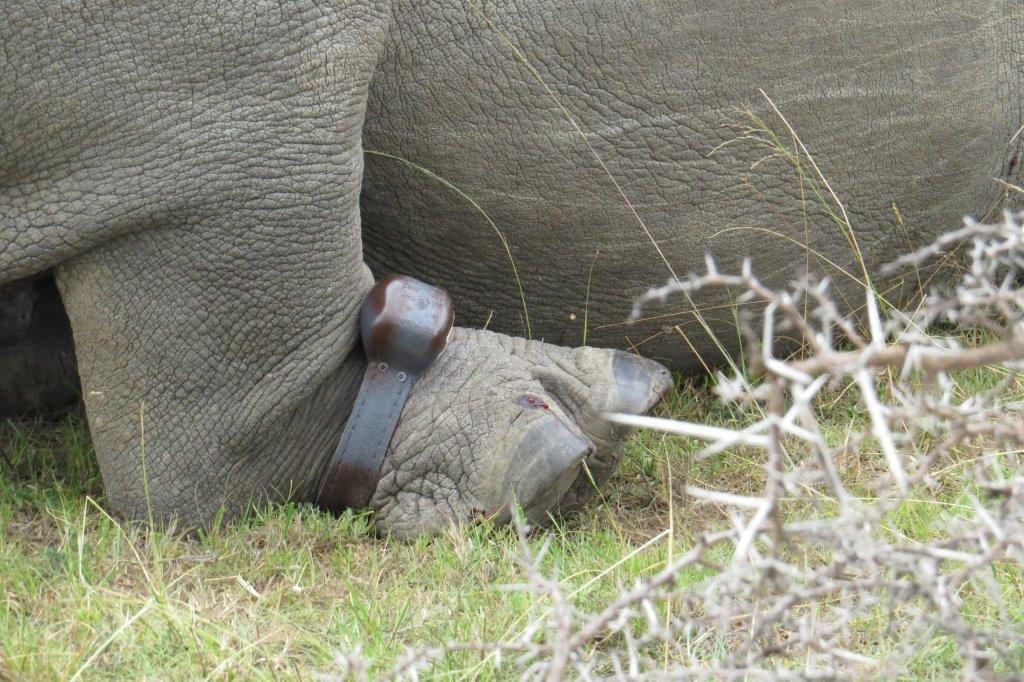 Chipembere, meaning rhinoceros in Shona, is a privately run, registered Non-Profit that is committed to protect and conserve Africa's rhino. The foundation focuses on providing equipment, intelligence, technology, education and relocation assistance to rhino custodians who show a conservation ethic that is shared by the foundation. Kariega is proud to be recognised by Chipembere as a rhino conservation focused safari game reserve. 
Chipembere have shown unwavering commitment to our Kariega rhino since March 2012. They have supplied numerous VHF and GPS satellite collars to the value of R53,000. We have also received significant assistance from wildlife vet and Chipembere trustee Doctor William Fowlds.
Donations for the collars have been sourced by the Chipembere Foundation from various people and organisations around the world. We are grateful to all that have contributed. 
One particularly active group is called Rooting-for-Rhinos. This passionate group has inspired over 16,500 Rhino Champions from 46 schools to raise funds and awareness for rhino conservation. Some of these donations were used by Chipembere to fund Thandi's boyfriends collar. Thank you very much to all involved for their many efforts to create awareness about rhino poaching, raise funds for rhino protection and educate that rhino horn has no proven medical value. 
We encourage you to find out more about the Rooting-for-Rhinos-Schools challenge where you can engage your school, university and friends to stand together against rhino poaching. 
You can also find out more about the difference that the Chipembere Rhino Foundation is making to the safety and security of rhino and the Anti-Poaching Units that are dedicated to protecting them. 
Please read more about the Kariega Save the Rhino fund on our website. 
From everyone at Kariega, especially Thandi, THANK YOU TO ALL INVOLVED.