Guest Experience of a South African Safari

Many of our guests who had to postpone their safari holiday to Kariega Game Reserve, due to Covid-19, are finally arriving at the reserve and the feedback from them has been unanimous. It was worth the wait!
Doreen Peacock, who had previously visited Kariega, was one of those guests.  She and her partner, Allan, eventually made the trip to South Africa and Kariega in April 2022, after having to cancel it three times! A week before their long anticipated departure they were delighted to have received an upgrade to Settlers Drift, having booked at River Lodge and previously stayed at Ukhozi Lodge. Doreen took the time to share their Kariega experience in this blog.
We are always so grateful to guests like Doreen, as hearing about our safari experience first hand is very reassuring to anyone who has booked a Kariega safari, or is thinking about it. Thank you Doreen.
Kariega Guest Experience : Doreen Peacock
We arrived at Kariega Game Reserve on Sunday 24 April, after a memorable trip along South Africa's Garden route. Kariega Game Reserve is perfectly situated at the end of the Garden Route in the Eastern Cape. We were met at the gate to Settlers Drift, expecting to travel to the Lodge by boat as is customary if you arrive by 13h00, but the water level in the Bushmans river was too low so we were escorted to the Lodge by one of the guides while we followed in our car. 
At the lodge we were introduced to our guide, a very pleasant man called Gladman, who explained all about the lodge, the drives and many activities to be done. After a welcome drink he showed us to our suite, which was suite 1. It was a beautiful suite with a stunning view over the plains below us where we could see wildlife. He showed us all around. It was very spacious and the bath, overlooking the outside through big picture windows was very nice, luckily no one can overlook you. The suites are very private. Also the shower could be opened up so that you could shower outside.

I had never seen spiders at Kariega before but we had three huge golden silk orb-weaver spiders in huge webs just outside our suite by the balcony. I just hoped that they stayed there as I really don't like spiders especially big ones!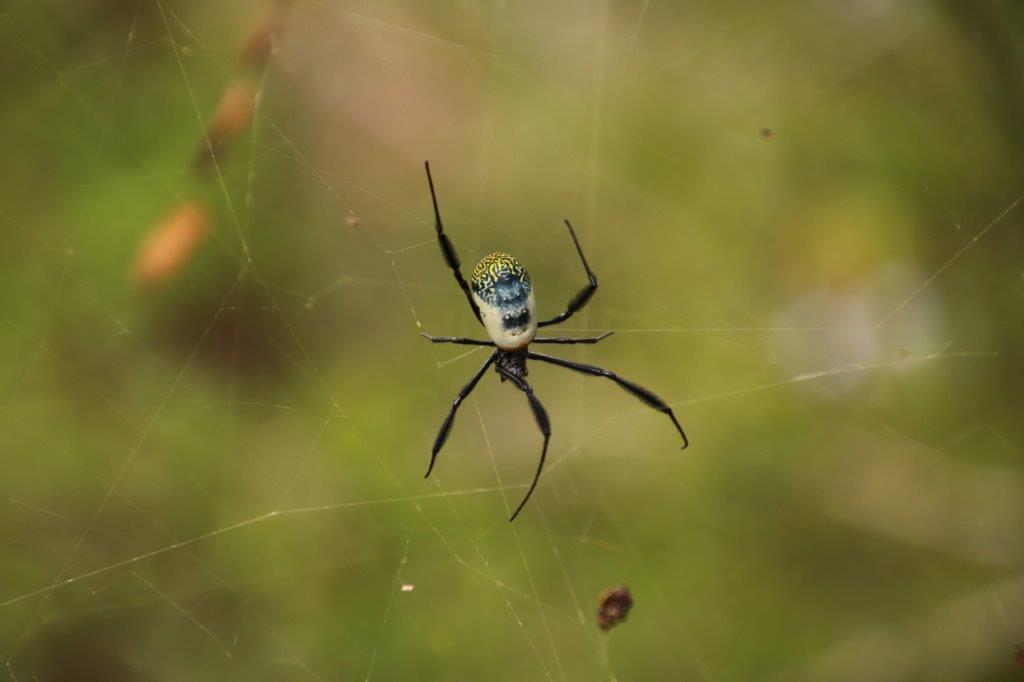 Gladman said that we would get a wake-up call at 5am in the morning and that the phone was deliberately positioned away from the bed so that we would have to get up to answer it and not turn over and go back to sleep! 
After a very pleasant light lunch we met the other people who were to join us in our game drive vehicle, two English couples who were both on honeymoon. The game drive vehicles at Settlers Drift only take 6 people unlike the ones from Ukhozi or River Lodge that take up to 9 or 10, so there was a lot more room and it certainly made taking photos easier. 
The first safari drive set off at 16h00 and we saw a variety of antelope, giraffes, birds and the highlight was to come across the lions, a group of six consisting of the four cubs (now fully grown) and two females, asleep as lions often are.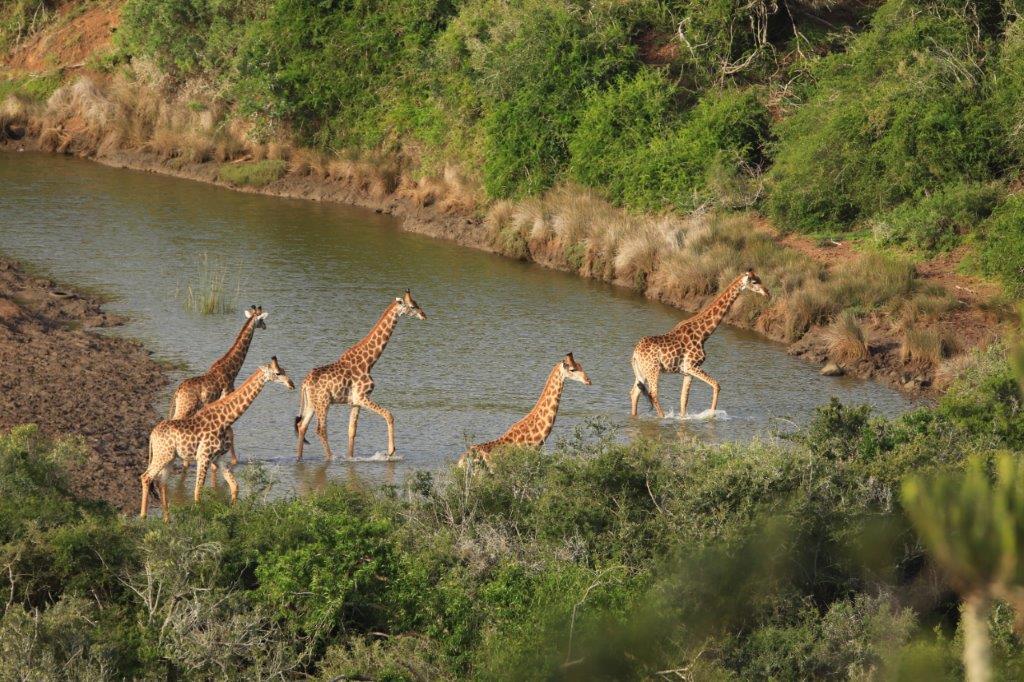 Sundowners were a nice break during the drive. We drove on and, on the way, back in the dark we came across the lions again who were very active by then. The cubs were play fighting and it was such a treat to watch them. I always find it a privilege to be that close to these majestic animals. So a wonderful end to the drive. 
Back at the lodge a welcome drink was waiting for us and then a delicious dinner and wine before going back to our suite for a well earned rest before our early start the next day for game drive number two.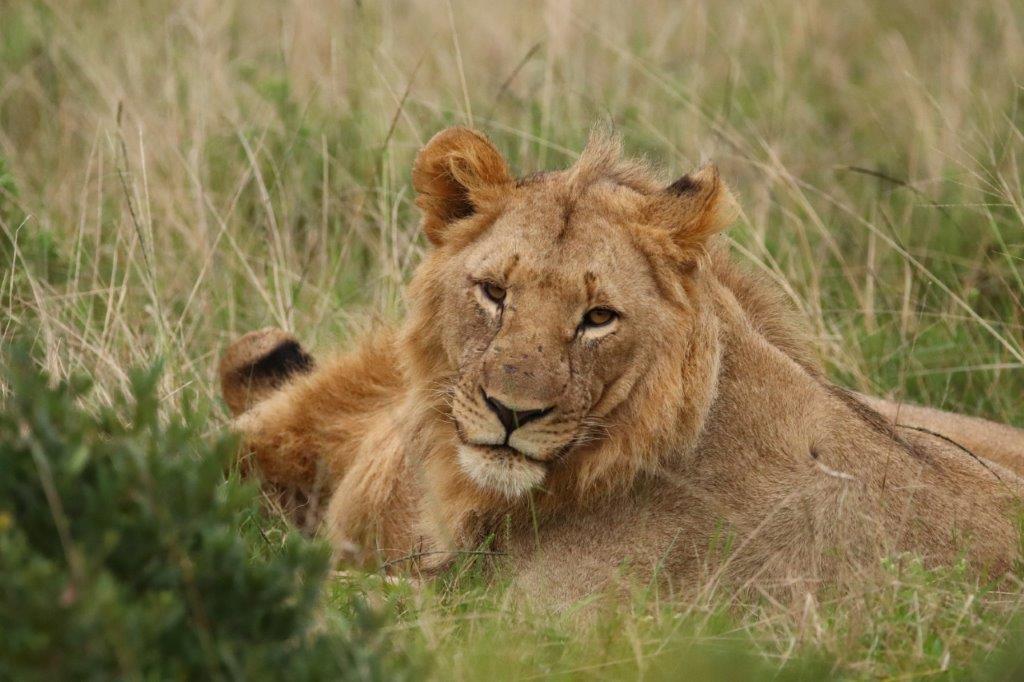 Incredible Wildlife Sightings
After the incredible wildlife sightings of the previous evening we were eager to get out for game drive number two. We set off at 6h00 in the dark. There were only four of us now as one of the couples had left. We saw so many animals again, including zebra, giraffe, buffalo,
various antelope, hippo which were asleep in the water. It was nice to see, but we had been hoping to see a big hippo "yawn". 
We stopped for a morning coffee break before continuing the drive. A delight just before ending up back at the Lodge and a hearty breakfast was seeing a pair of elusive caracal.
From then we had free time until lunch and we decided to have a dip in the swimming pool, but after feeling how cold it was, I just dangled my legs in the water but Allan took the plunge and jumped in.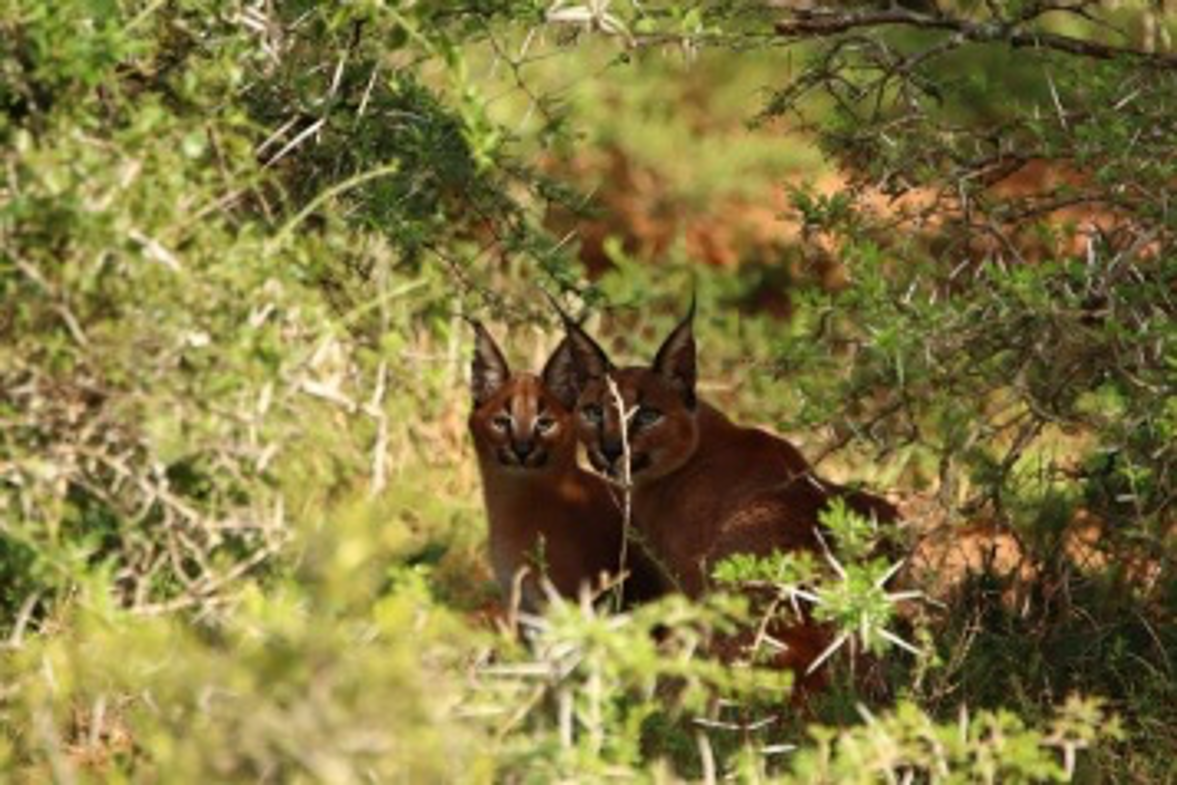 A light lunch was followed by the afternoon game drive at 15h30. The plan for the afternoon was to find rhinos and elephants. We found elephants, and they were all heading to a big grassy area and there must have been well over 50 including the big one tusked male elephant. There were elephants of all sizes including some tiny ones and it was so nice to see them all interacting. We stayed there for ages watching them and finally left after sunset and headed back for dinner.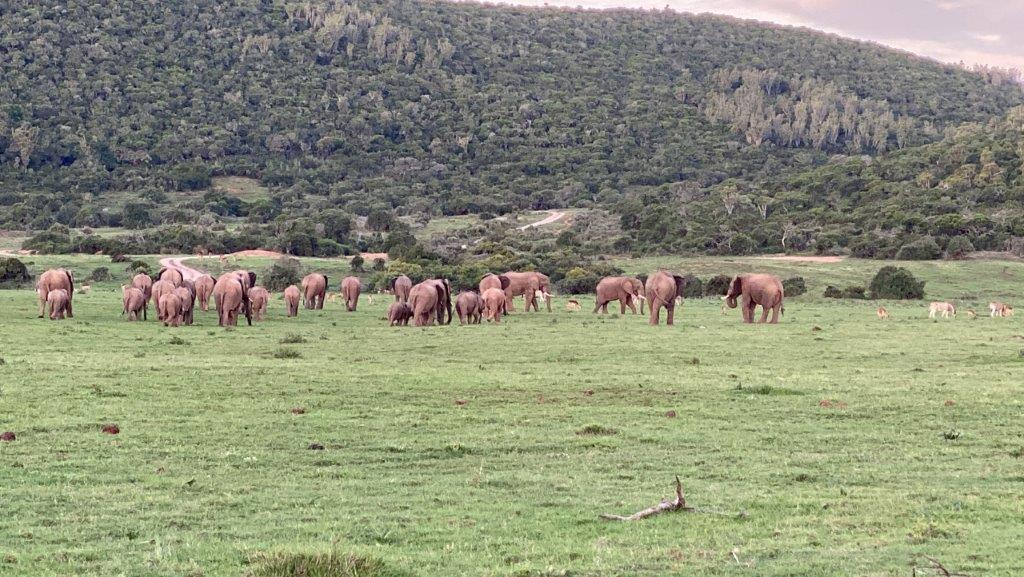 A Few Safari Surprises
Before we got back to the lodge, we stopped at a clearing at 19h30 and were asked to get out of the vehicle and we found that we were having a bush supper that evening. It was a wonderful safari surprise. It was quite chilly by then but there were blankets provided and a fire to warm us up. The food and wine was very welcome. After dinner we went back to the lodge and were ready for bed and a good nights sleep!
The next morning we set off on out last game drive of this stay. It did not disappoint with sightings of a black rhino, the big one tusked male elephant and then as we were driving along one of the dirt tracks we came across the lions feeding on a kill from the previous night. Two of the young males were feeding on a zebra, another was fast asleep on the road and further along there was another kill but we couldn't see what it was as it was around a corner. 
We stayed for a while watching them but then had to leave the sighting to let other vehicles and guests enjoy the experience as Kariega only allows two vehicles at any sighting at any one time.
 It was such a wonderful safari surprise to see this lion kill as it was something we had wanted to see, but never thought that we would.
 Heading back, we saw a white rhino.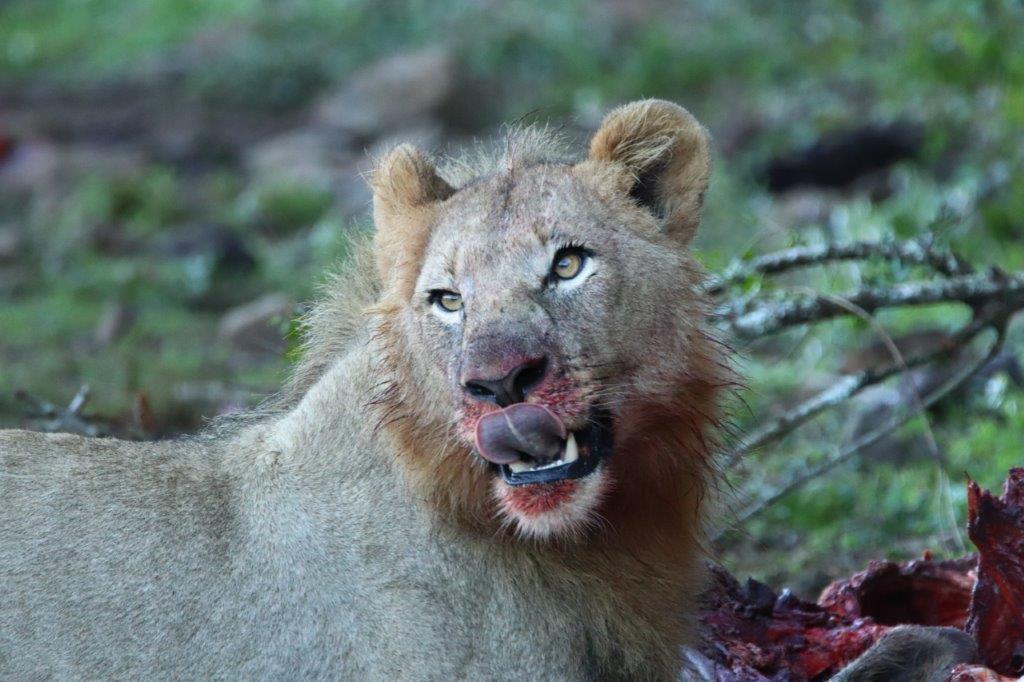 Diverse Safari Activities
Kariega has many diverse safari activities on offer, including river cruises, bush walks, fishing and canoeing.
On our final morning we had time for a lovely relaxing boat trip on the Bushman's River. We saw lots of birds on the boat trip including pied and malachite kingfishers. 
Back at the lodge we had our last breakfast before packing and driving out of the reserve. 
The whole experience was so good, we never felt rushed at all and on the game drives it felt like time didn't matter and we were out for three to four hours on each one. Gladman was such a good guide telling us all sorts of interesting facts and answering any questions that we had.
Settlers Drift was quite a different experience to our previous visits at Ukhozi Lodge with longer drives and less people in the vehicle and the view from our suite was stunning. The only disadvantage was that it was a long drive to the eastern section of the reserve where the hippo are, so we could only go hippo hunting once in the stay, but apart from that it was amazing. 
We can't wait for our return visit in October this year for three nights at Ukhozi in September/October! 

How to Book Your Kariega Safari
Thank you Doreen for the wonderful account of your Kariega safari. We are so excited and happy to be welcoming you back to Ukhozi Lodge soon.
Anyone who is inspired to book their Kariega safari after reading Doreen's blog, please contact our friendly reservation team. They are always so eager to make your safari dreams come true.