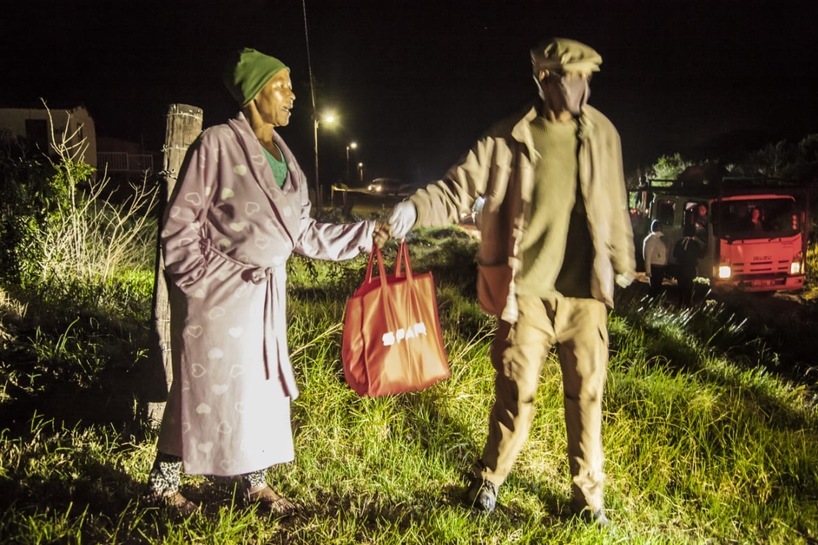 Kariega Game Reserve neighbours a number of small coastal communities. COVID-19 has wreaked havoc in all our lives, but the impact is more devastating on the poor and vulnerable. At least 2,000 families in our neighbouring communities are now 100% reliant on community food relief programmes. We need your help.
Our communities are served by two rate payers associations, Kenton-on-Sea Rate Payers Association (KOSRA) and Cannon Rocks Rate Payers Association. These two groups of concerned citizens are currently coordinating an extraordinary community food relief programme to ensure that the most vulnerable families in our area have basic food supplies. 
To date these associations have collectively raised over R500,000 in donations and delivered over 4,000 food parcels to families that have no other means of feeding themselves.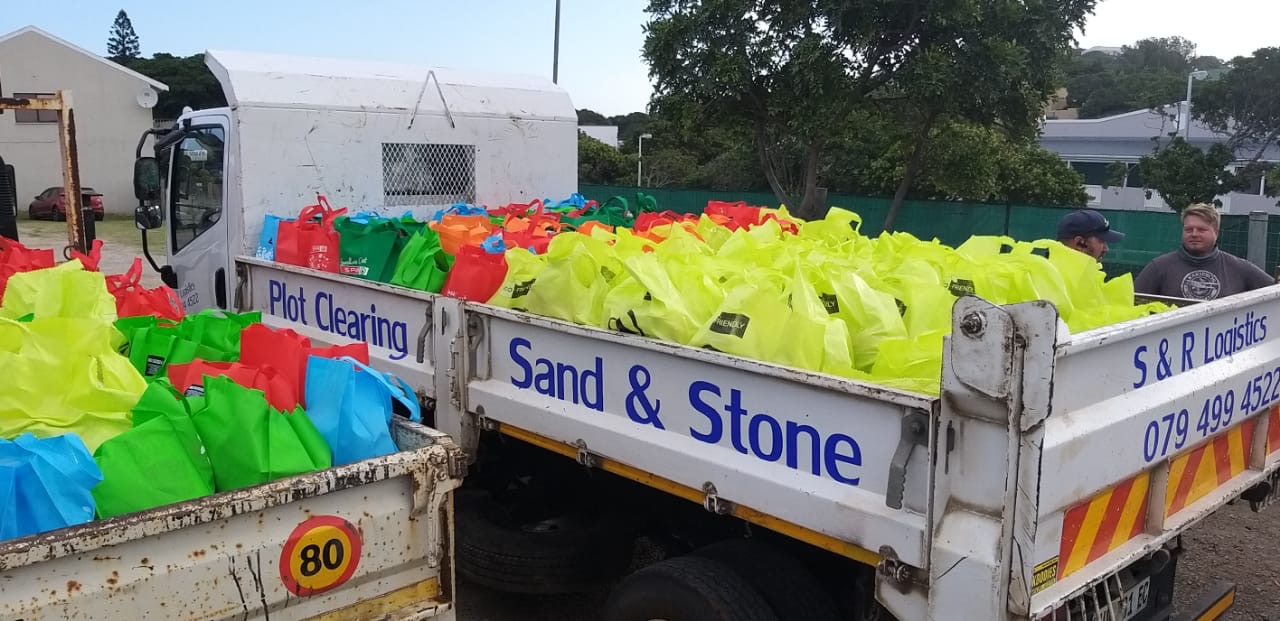 The daunting fact is that the crisis is going to deepen. Both KOSRA and Cannon Rocks Rate Payers Association each need to raise up to R250,000 a month to sustain their community food relief schemes. Their biggest threat and concern is donor fatigue.
Kariega Guests Donate to Community Food Relief
We are very grateful to Elaine and Markus Weber, who are due to visit us at Kariega Game Reserve in 2021, for their very generous donation to this community food relief scheme. The Webers made a R10,000 donation to our Kariega Foundation and this was passed on to the feeding relief efforts delivered by the Cannon Rocks Rate Payers Association in April. Their donation provide food parcels to 100 families.
If you would like to make a donation towards these community feeding schemes please donate via our Kariega Foundation in the following ways:
1. Donate Online via EFT Using our Secure Payment System
Click on the DONATE NOW button either in the right column or at the end of the Kariega Foundation page. This will allow you to make a donation in your currency via a secure online payment gateway called Exchange4Free.
2. Transfer a Donation to our Bank Account
You can make a donation directly into our Kariega Foundation bank account
KARIEGA FOUNDATION TRUST
First National Bank (or Rand Merchant Bank)
Account No: 62275606526
Branch: Newton Park
Branch code: 261050
Swift: FIRNZAJJ
Please email us on foundation@kariega.co.za to let us know you would like your donation to be used to help feed the poor and vulnerable or if you need help with anything. We so appreciate your support.
Community Feeding Scheme Deliveries Require a Group Effort
From the outside one might assume that delivering food parcels is a relatively simple (even joyful) exercise. The reality on the ground in South Africa is very different. Logistics include the coordination of trucks, drivers, packers and runners who carry parcels to door to door. The South African Police Service, neighbourhood watches and community leaders all must be informed. Food parcel drop offs are done between midnight and 3am, to avoid trucks and runners being swarmed by desperate people and ensure the safety of all involved.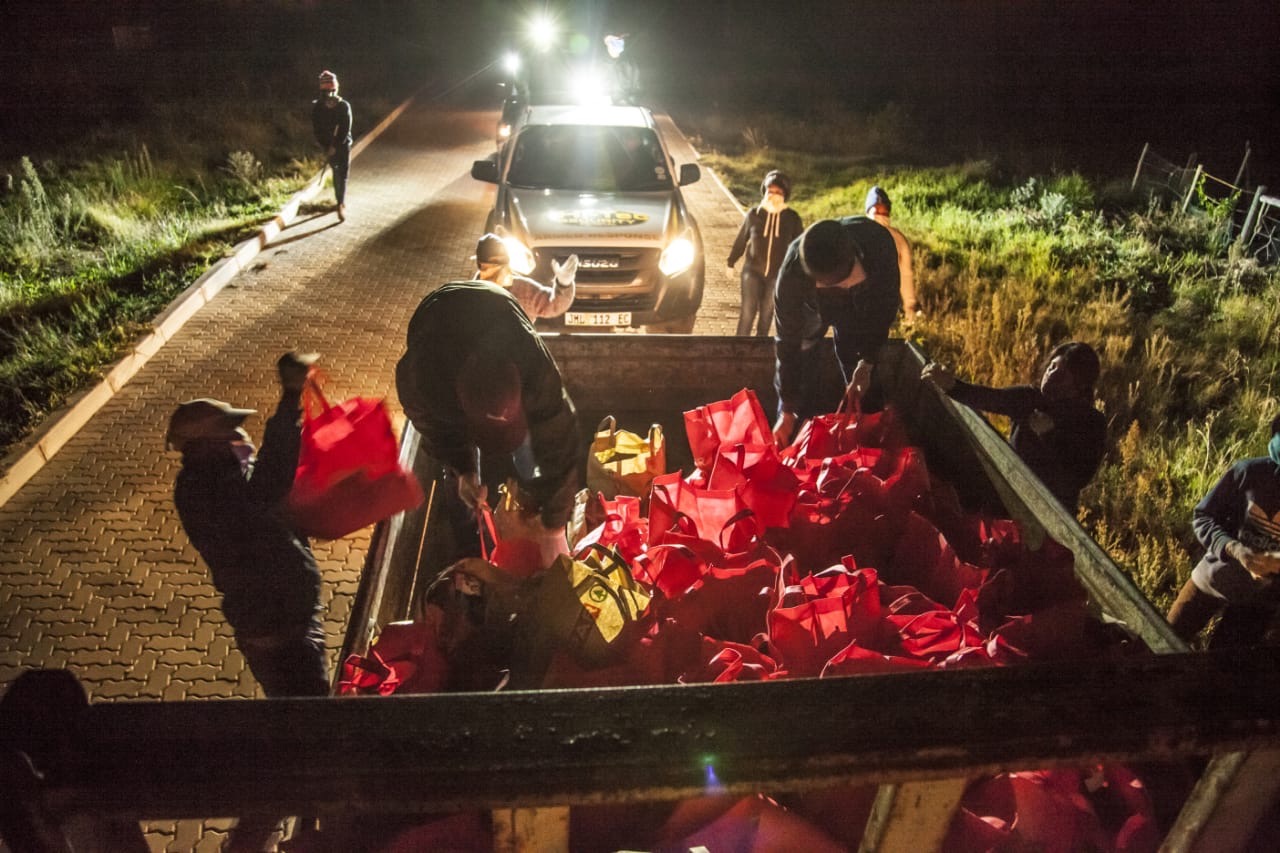 The lack of street lights, street names, house numbers and the way in which informal dwellings are set up in certain areas makes the task even more challenging. Rain has also affected a number of deliveries, making roads slippery and access to some areas tricky. However, the amazing group of volunteers have moved through all these challenges in service to their community and friends.
A huge difference between the initiatives in our area compared to other areas in South Africa is that our mandate is to feed every household, so that there can be no divides or unhappiness between community members. It is a time for us all to pull together and act in unity.
While COCID-19 has caused much pain, suffering and fear it has also created greater unity, thoughtfulness and love on a global scale.
We envisage that the KOSRA and Cannon Rocks community feeding schemes will be needed by our impoverished families for many more months during 2020. This is a heartfelt cry for your support.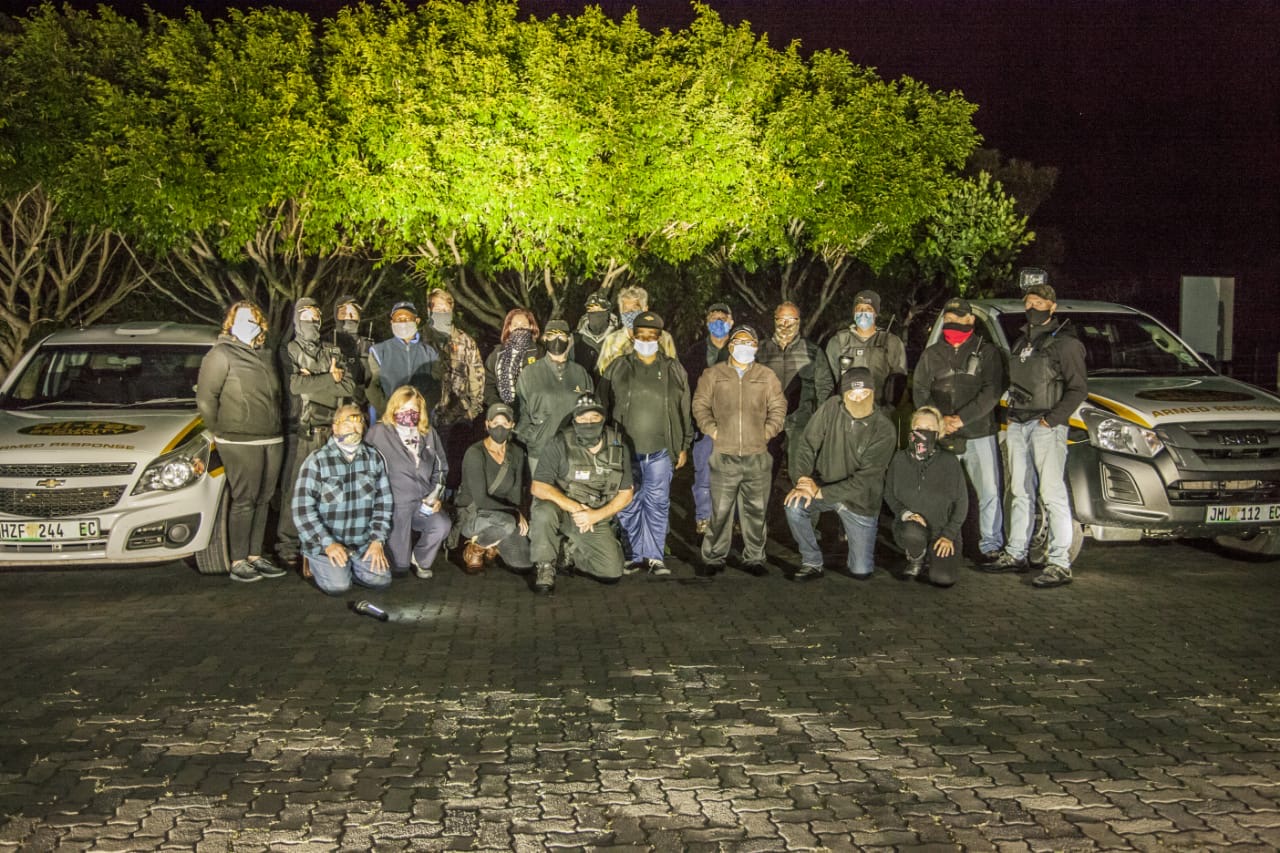 Contact us to Help Community Food Relief
Any donation to this community food relief is appreciated and will be used to feed needy families in the communities surrounding Kariega Game Reserve in South Africa's Eastern Cape. Please email us on foundation@kariega.co.za to find out more or to ask questions about donating. We so appreciate your support.
Photo credits: Cannon Rocks Rate Payers Association