Do Giraffe Make Trees Talk to Each Other?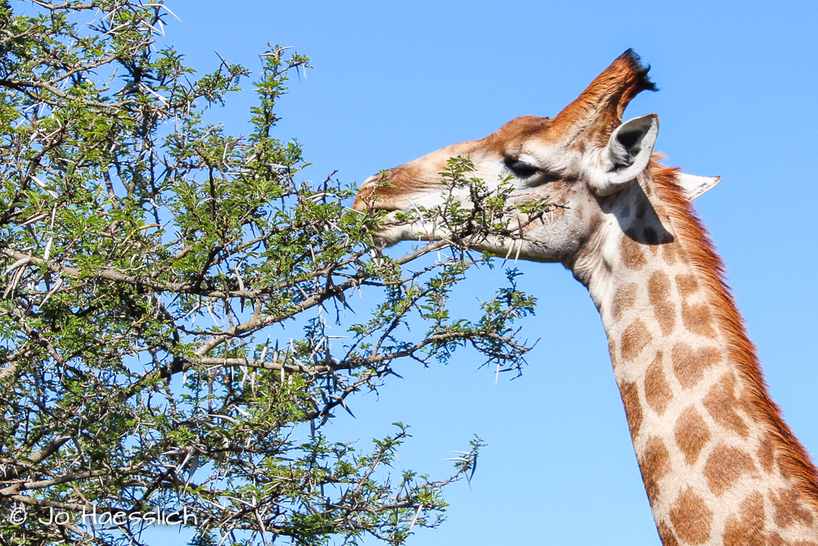 Asking if giraffe make trees talk to each other may sound like a strange question. However, the answer is amazingly - yes! The phenomenon of trees communicating with each other has been studied by researchers since the 1970's, and there is a growing body of evidence that trees can "talk" to each other.
While you won't hear trees talking to each other while on safari at Kariega Game Reserve in South Africa, studies by scientists have shown that some trees can change the tannin levels in their leaves and emit ethylene into the air, which results in nearby trees also increasing their production of leaf tannin. This chemical can send a message to trees within 50 metres (55 yards) and cause a reaction in 30 minutes. These amazing adaptations kick in when animals feed on the leaves and help to result in lower browsing rates, particularly by giraffe and other antelope.
Fortunately you don't need to be a scientist to see this in action. You can observe this while watching giraffe feed while on a Kariega safari. Giraffe will often only spend a few minutes at each tree before moving on to another to avoid the increase in tannin levels. Giraffe also tend to feed upwind to avoid the bitter leaves from trees that have already received the distress signal and upped their tannin levels.
The plant hormones that activate this response are called jasmonates and "Jasmonation" is the name given to the process of the trees "talking" to each other.
Giraffe Understand African Acacia Trees Talking to Each Other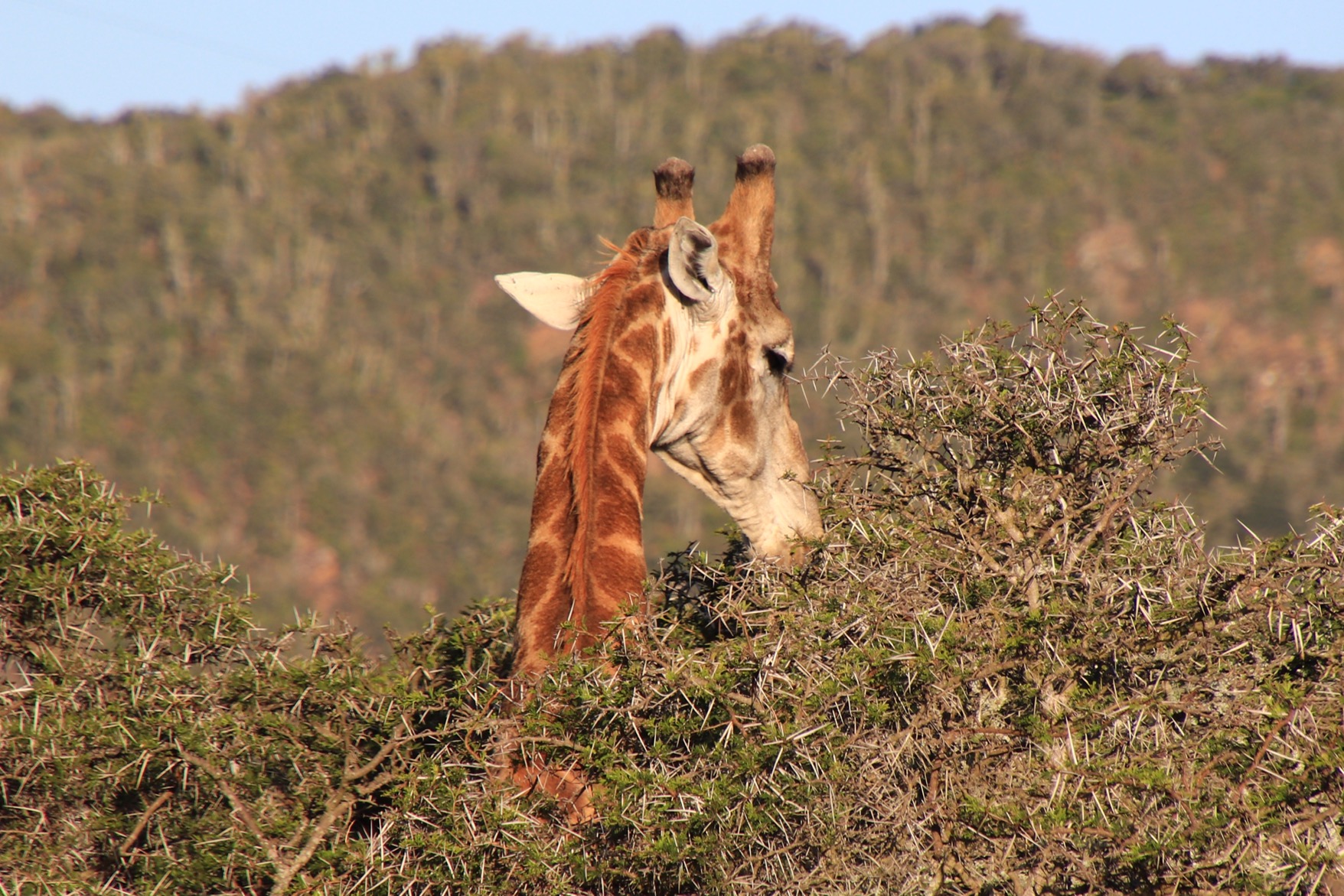 This form of communication between trees has been studied in a variety of African acacias, re-named in 2011 to Verchellia and Senegalia species. Certain animals, particularly giraffe, have learned to interpret the trees' signals and adapted their browsing strategies.
African acacia trees have been documented as the preferred food source of giraffe. This is thought to because these trees have higher protein levels in their leaves than many other trees. A study conducted Kariega Game Reserve in 2005 found that giraffe in the area also prefer leaves from the genus Acacia (Acacia karroo), especially during the summer months.
South African zoologist Wouter van Hoven and wildlife ecologist Deon Furstenburg published a study in 1994 on the feeding behaviour of giraffes in the Kruger National Park. They found evidence that African acacia trees produced increased leaf tannin as a defence against excessive browsing. These higher levels of tannins can be lethal to giraffe and other browsers. The researchers noticed that giraffes moved on from the trees as the tannin levels increased due to browsing disturbance.
Prof van Hoven also documented that African acacias emit ethylene into the air. This warns trees downwind that a herbivore is nearby and they increase their own production of tannins. The increased tannin levels mean that the leaves don't taste good to the giraffes and the tree protects itself from the threat of excessive browsing.
Under laboratory conditions, van Hoven found that damaged leaves produce 20 times more ethylene than uninjured ones do. He noted that "When an intact plant is exposed to the [high levels] of ethylene, the tannin levels increase within 30 minutes."
African acacia trees also have other adaptations including long spines and hooked thorns.
Lots of Giraffes and Trees in Five Eco-Systems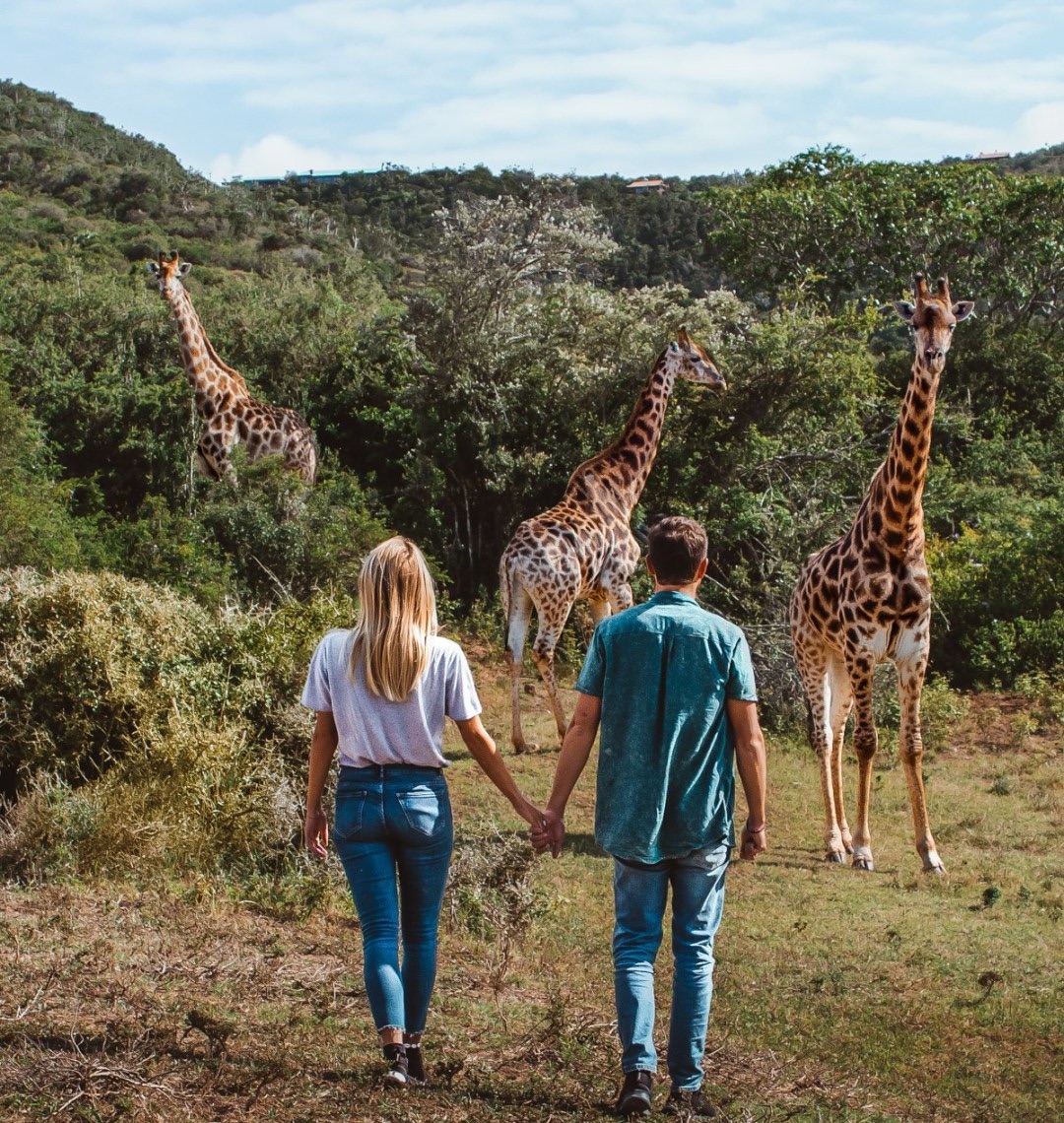 Kariega Game Reserve is a 10,000 hectare wilderness area in the malaria-free Eastern Cape with five luxury lodges for safari guests. Guests enjoy all-inclusive daily activities with qualified and experienced guides. These include twice daily game drives in open vehicles, guided bush walks, boat cruises on the two rivers, kayaking and river fishing.
The private conservation area includes five different eco-systems (riverine forest, valley bushveld, savannah grasslands, fynbos and acacia woodlands) and is home to giraffe, lion, rhino, elephant, buffalo, leopard, hippo, zebra, warthog, eland and a wide variety of wildlife and birds.
If you are looking for a South African safari destination we would love to assist you to plan and book your malaria-free safari at Kariega Game Reserve. View our safari special offers, check availability and rates online, book via our secure online system or contact us via email on reservations@kariega.co.za for more information. We also offer assistance with South African tours and can put you in touch with experienced and trusted tour specialists. Contact us to plan your guided South Africa safari today!
Connect with us via our social media channels including Facebook, Instagram, Twitter and YouTube to find out more about giraffes and other interesting African wildlife. We would love to share the incredible African wilderness with you.
Images thanks to Kariega guide Jone Haesslich and guests Doreen, Daniel & Niki.