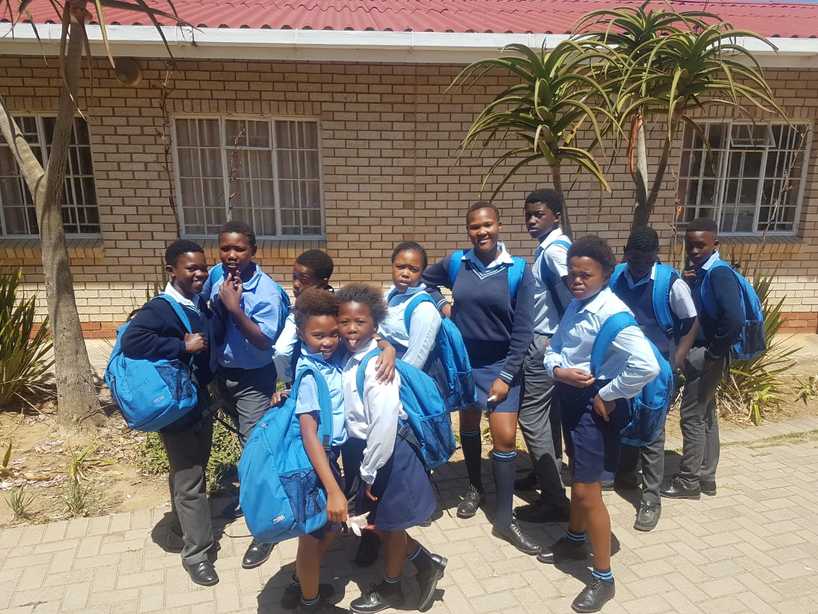 Back to school was an exciting time for the members of dance group Indoni Ezenthe. These young dancers warm the hearts of Kariega Game Reserve's Main Lodge guests with their rhythmic, traditional African dancing and singing around the fire on boma nights. With the tips earned from their performances, together with support from the Kariega Foundation, the group raised sufficient funds for a 'Back to School' parcel for each dancer that included the following essential items:
school backpack
school shoes 
body cloth
face cloth
deodorant
body cream
toothpaste
toothbrush
soap
The Kariega Foundations community co-ordinator, Nomawethu Ngangqu, had the pleasure of collating and distributing the parcels to the dancers. She reported that the children were so happy and even excited to go back to school!
The parents of the dancers sent Nomawethu messages of appreciation expressing how grateful they are for the positive impact this project has in their children's lives.
Boma Dancers a Growing Success in our Community
The Kariega Foundation and Kariega Game Reserve launched the collaborative project with the Indoni Ezenthe boma dancers at the end of 2017. This community project has proved to be a huge success, adding value to the safari experience of our Main Lodge guests as well as significantly uplifting the lives of the performers.
In 2018, we observed that the dancers needed help with their homework. We adapted their routine on boma nights to include sufficient time for a meal and supervised homework for the school children before their performance. Our intention is to continually improve the academic support we offer the children and our hope is to see an increase in their academic progress in 2019.
Based on the successes of this project to date, we plan to grow the group from 20 to 40 dancers in 2019 to enable us to offer our guests at River Lodge and (hopefully) Settlers Drift the opportunity to be entertained and inspired by these wonderful children from our neighbouring communities. Many of the boma dancers are also the children of our staff.
We will keep you updated with our progress.
We are ever mindful that the funds to continue our rewarding work come directly from our Kariega Game Reserve's guests via the Kariega Foundation conservation and community levy. Our work, present and future, is the collective legacy of many generous people and we are deeply grateful for their contributions. Thank you, always!
If you would like to know more about the Kariega Foundation please email us on foundation@kariega.co.za.