Chimembere Rhino Foundation: Inspired by Thandi
Three-Years-on from Tragic Rhino Poaching at Kariega
Our thoughts go back to that dreadful day on 2 March 2012, now three years ago, when we found our three rhinos after poachers had attacked them. We think about our unnamed bull that died during the night, the fight for survival and tragic death of Themba, the amazing recovery of Thandi and the birth of her healthy calf.
During March we will celebrate Thandi's amazing recovery and highlight how it has fueled public passion for this species and motivated people from far flung places to get actively involved in helping to save the rhino. We are so proud to publish some of the wonderful achievements and projects that have been inspired by this brave rhino. Our sincere thanks to everyone who has, and continues to fight for our rhino.
"Thandi's story of sheer determination and will to survive represents hope in the face of hopelessness. This story stands as testimony to the worst and the best of human attitudes towards animals." Dr William Fowlds
Chipembere Rhino Foundation: Inspired by Thandi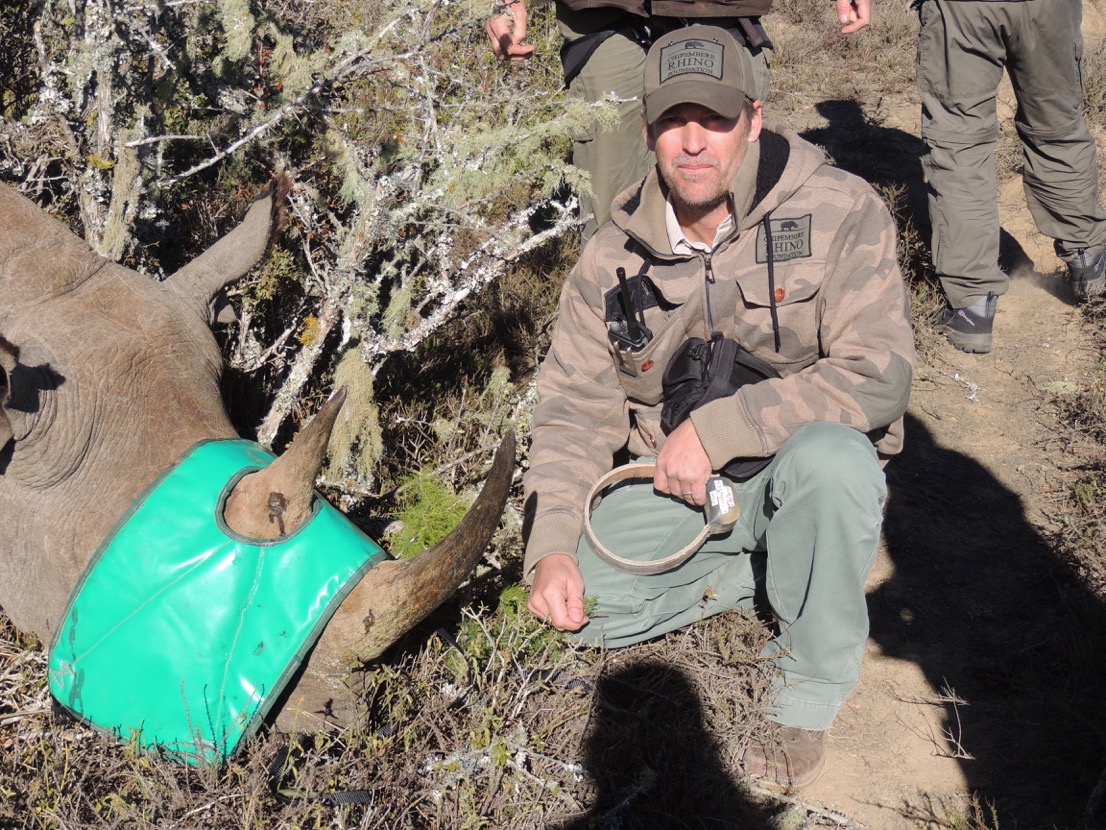 Chipembere Rhino Foundation was born out of a history of rhino conservation and the experience of losing some of those very rhino to poaching. This team have committed their lives to protecting a relic of the dinosaur age so that future generations can enjoy rhino in their natural habitat.
The Foundation applies their expertise in the following fields: sourcing, testing and funding the right technology needed for effective and meaningful monitoring; sourcing, testing, funding and implementing effective and meaningful anti-poaching equipment and technology on the ground; committing time and assistance to gathering intelligence and feeding into a greater network that creates a safer and better protected environment for rhino; partnering with organizations that create awareness, help educate and/or have a degree of political influence and funding for the necessary equipment needed by partner organizations committed to trans-locating rhino into safer and better protected areas or countries.
We thank Brent Cook for this update on their valuable work in the fight against poaching.
Thandi Inspires Action
"I have owned rhino for the past 12 years. I am a board member of the Private Rhino Owners Association (PROA) of South Africa as a representative for the Eastern Cape. I have lost a young rhino cow in 2007 to intra-species conflict and then in 2010 I lost two rhino to poaching. Since those early days I have committed to adopting an intensive approach to monitoring of rhino.
When poaching started to increase in 2008 only a handful of people in the Eastern Cape acknowledged that we needed to step up our game. I started Chipembere Rhino Foundation as an organization that could bring awareness to the threat of poaching and facilitate the raising of funds to secure equipment to better protect and monitor rhino populations.
Technology for tracking rhino has come a long way since 2007 and I've remained committed to being involved in the progress of this management and security tool.
Geza was one of the first rhino that was born from our stock and later I sold him with a young cow (Thandi) to Kariega. So started my association with Kariega Game Reserve. Thandi has inspired me in a number of ways. The most profound way has been through the journey she has travelled. Since losing my own rhino to poaching, I had an acute understanding of the horror and incredible emotional heartache that one is faced with. Geza's scenario further compounded the mounting loss.
Thandi and Themba's survival allowed me to offer the technology that we had been testing. These tracking collars allowed an unobtrusive approach to monitoring Thandi's progress. Thandi inspired me through the positive results we gained from using this technology to steer her back to health. Her journey has inspired us to continually source and improve equipment that we can offer to rhino custodians. Her fight to survive is our fight to do all we can to protect her species.
CRF Raises Funds and Awareness
Chipembere Rhino Foundation is fortunate enough that many volunteers and generous donors from around the globe have been witness to the work we do on the ground. This vital and tangible work has created awareness and garnered incredible support so that we can apply tried and tested equipment and technology to areas that require assistance.
Chipembere have the following projects in their plan for 2015. Please get in touch if you are able to assist.
1. Eastern Cape K9 Anti-Poaching Project
We require funding assistance for the following - all figures are ex-VAT:
A dual trained dog costs R46,000.00
Training of K9 handler - R20,000.00 (handler and dog will be PSIRA registered on completion of course)
K9 handler kit - R1,250.00. This includes: 1 x Protection Dog Harness, Long Line, Short Lead, Long Link Choke Chain, Collar, Water & Food Bowl, Dual Sided Brush
Vehicle K9 kennel mounted on APU vehicle - R9,690.00
K9 insurance - TBC
2. Rhinos Without Borders
CRF has been asked to partner with &Beyond and Great Plains Conservation to provide all the telemetry and monitoring equipment for the 100 rhinos that will be relocated to Botswana for their safety. The project has been publicised quite extensively by filmmakers Dereck and Beverly Joubert. This relationship began when we donated and fitted all the equipment for the six rhino that were successfully translocated to Botswana in 2013. In addition we supplied all the uniforms and field equipment for the &Beyond Anti-Poaching Unit team in Botswana. 
3. Continued Assistance to South African Safari Reserves
We continue to supply reserves in South Africa with equipment. The following are the more frequent tried and tested items that need donor funding to assist rhino owners and custodians at short notice:
VHF radio rhino leg collar - R2,550.00
Communications specialists R1000 receiver - R8,950.00
Telonics Rubber Duck antennae - R4,950.00
Thermal Eye monocular imager - R6,2550.00
Uniform trousers - R420.00
Uniform shirt - R310.00
Hi-tec boots - R950.00
Uniform cap - R75.00
Chipembere Rhino Foundation: Get in touch
Find out more about the Foundation on their website www.chipembere.org, Facebook page and on Twitter. You can also contact Brent Cook on +27 (0)82 7799575.