If you are interested raising funds to protect rhino by buying a book please read on!
During November 2020 if you buy The Lion's Roar - an autobiographical story of how an English woman journeyed from the corporate world in London and Dubai to the wilds of the African bush - you will help raise funds to protect rhino at Kariega Game Reserve in South Africa.
The author of The Lion's Roar is our Settlers Drift Lodge Manager Jo Oliver. We are hugely grateful to her and her husband Phil for generously donating all of the royalties from sales of the book for one month to the Kariega Foundation Save the Rhino Fund.
The video shows Jo discussing her story with fellow author James Hendry on the deck of Settlers Drift Lodge at Kariega Game Reserve.
The Lion's Roar book is available in paperback or to download from Amazon: https://www.amazon.co.uk/Jo-Oliver/e/B0879YXBF9. Royalties will be donated from sales from 1-30 November 2020.
Buy The Lion's Roar Book: Raise Funds to Protect Rhino
This is a message from Jo: "I am Jo Oliver who, together with my husband Phil, manage Settlers Drift at Kariega Game Reserve full time. I am a budding author in my spare time. In fact, in April 2020, I published my first book, The Lion's Roar, which is receiving some great reviews.
The other day, we were reminiscing about the Jamie Rides for Rhinos campaign and were inspired to do something to help. We decided to donate all of the royalties from sales of The Lion's Roar for one month to the Kariega Foundation Save the Rhino Fund.
Over the last 13 years at Kariega Game Reserve we have seen how the work which the Kariega Foundation undertakes is vital and life-changing! Please help us support this cause by buying this book – the more books sold, the greater the royalties which can be donated!
Spread the word… Buy a book to help protect the rhino. You won't regret it!"
About The Lion's Roar Book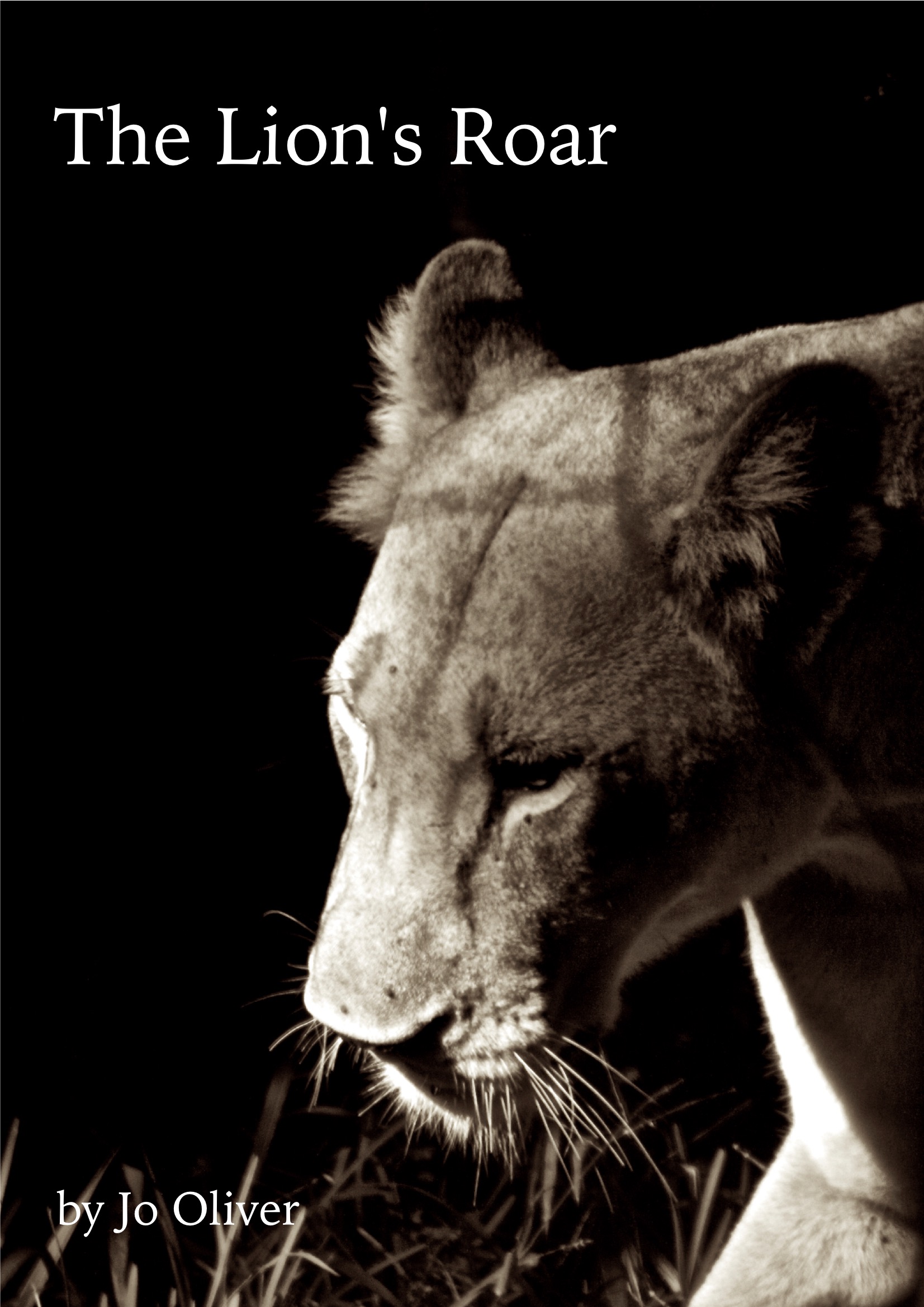 The Lion's Roar is an honest memoir which charts Jo's journey from the corporate world in London and Dubai to the wilds of the African bush in Botswana, Zambia and South Africa with all of the trials, tribulations and adventures along the way.
A love affair with a wildlife film maker opened the door to what could be possible. A traumatic spinal injury a few years later gave Jo the courage to walk through that door and turn possibility into reality.
There are of course a few chapters that include stories from the African bush at Kariega Game Reserve.
This story will resonate with those who have battled to find their way in life and highlight what can happen by embracing opportunities as they arise. There is a little something for everyone. Romance, sadness, joy, discovery and being up-close and personal with some of Africa's Big 5.
Download from Amazon or order a paperback copy of The Lion's Roar.
About the Kariega Foundation | Why Raise Funds for Rhino Protection
The Kariega Foundation is a non-profit trust supporting wildlife conservation and community upliftment in partnership with Kariega Game Reserve in South Africa.
The Kariega Foundation and Kariega Game Reserve aspire to create a mutually beneficial balance between commercial stability, community activation and sustainable wildlife conservation.
The numerous and diverse Kariega Foundation projects are inspired, led and managed (with the support of our dedicated Foundation team) by passionate and energetic people from Kenton-on-Sea, Ekuphumleni, Marselle and Klipfontein.
The ongoing Kariega Foundation projects include protection and preservation of our natural heritage, wild animals and plant life, especially rhino, community food relief, early childhood development, youth development through sport and dance, enterprise development, education transformation, environmental education and domestic animal care.
In the ten years between 2009 and 2019 over 8,000 rhinos were killed by poachers in South Africa alone. Over 80% of the world's surviving rhinos live in South Africa as the populations elsewhere in Africa and Asia have been decimated. During 2020 the killing has slowed slightly but at least one rhino continues to be brutally killed by poachers every day.
The brutal slaughtering of animals for their horns doesn't make any sense. The horn of a rhino is falsely believed to have the power to cure illnesses including cancer, arthritis and many others. To date there has been absolutely no scientific data to support these beliefs. Without conservation and protection these magnificent creatures may disappear from our planet forever. Every bit of energy put into fundraising, creating awareness, sharing facts and any other support will help the rhinos.
Unfortunately, Kariega Game Reserve has not escaped this rhino poaching scourge. On the 2 March 2012 one cow and two bull rhinos were the victims of a rhino poaching attack. Tragically, both bulls died but the cow miraculously recovered and became the first rhino to survive being poached. Her bravery was unbelievable and inspired the Kariega team to nickname her Thandi, an isiXhosa name meaning courage (or to be loved).
Thandi continues to amaze us with her incredible fighting strength and miraculous recovery. She has gone on to raise three rhino calves. Her story spread around the world and has inspired many people to get involved to protect and conserve rhino.
Since the poaching in 2012 Kariega has adopted a broad and multi-layered approach to rhino conservation. This includes a full-time Anti-Poaching Unit with canine support, sophisticated tracking and monitoring systems and regular dehorning of rhino. In addition, our Kariega Foundation has implemented an active environmental education programme in our local schools and engages children and youth in social emotional learning (SEL) to develop the awareness, self-management and responsible decision making.
About Jamie Rides for Rhinos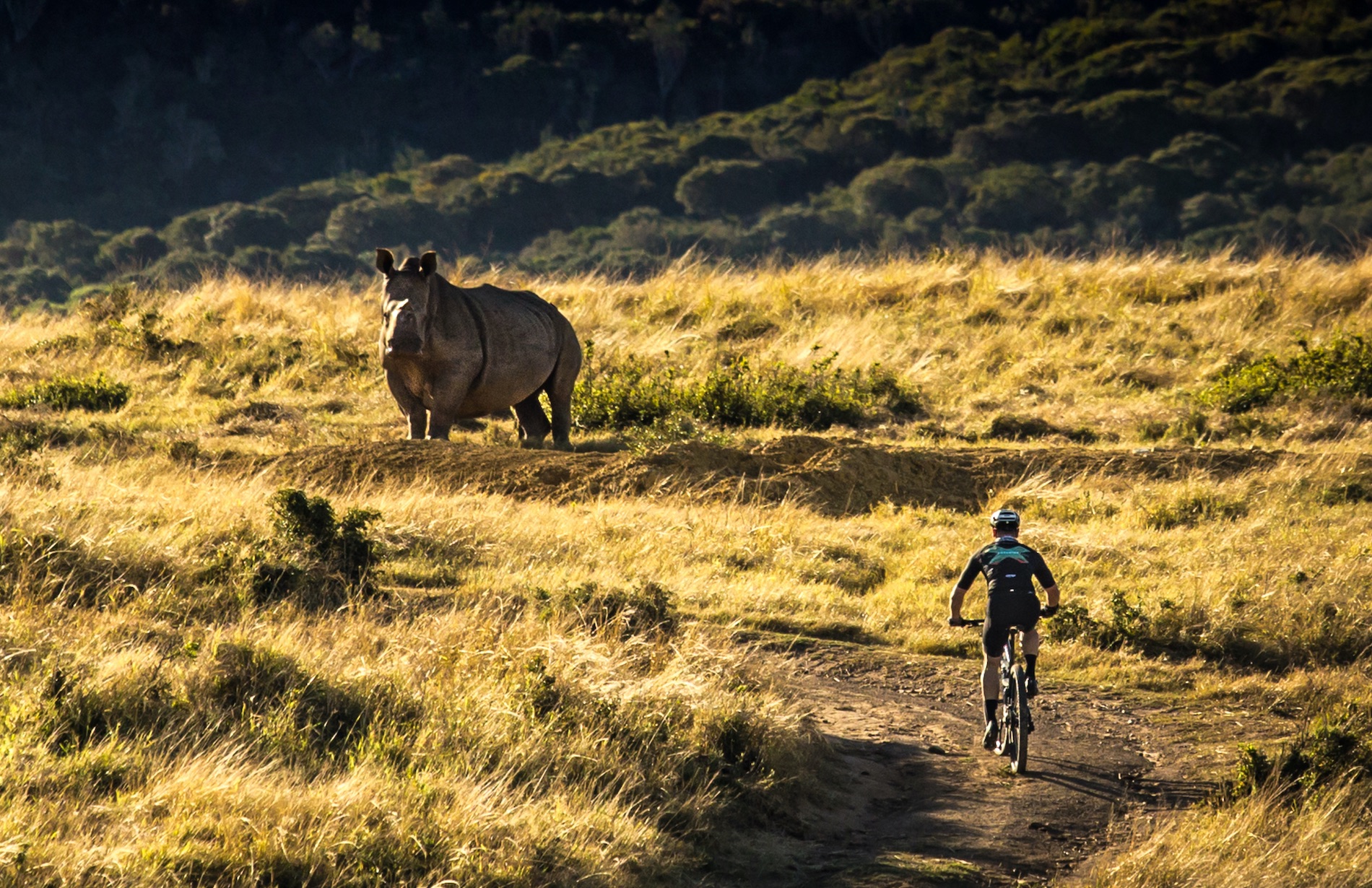 During the weekend of 29 and 30 August 2020 South African endurance athlete Jamie Marais cycled a vertical ascent of 9,000 metres in just 36 hours within Kariega Game Reserve to raise funds to protect rhino and feed communities in need. This is the equivalent of riding more than the height of Everest and 337 km in one go.
The Jamie Rides for Rhinos campaign raised over R400,000 for the Kariega Foundation projects in our local area, including the vital work of the Anti-Poaching Unit to protect rhino at Kariega Game Reserve. The image above shows Jamie cycling past poaching survivor Thandi.
Jo comments: "What Jamie put himself through in aid of charity was simply incredible. To read in advance that an unknown chap was going to cycle up and down a big hill for a weekend is one thing. To stand at the top of that big hill in the dark on the coldest night of the year, watching this amazing athlete peddle towards us as he completed yet another hectic ascent was nothing short of inspirational. Here was a man putting himself through such physical, mental and emotional toil to raise funds for rhino and communities in need surrounding Kariega. I found that deeply moving."
Buy a Book | Raise Funds to Protect Rhino
We are hugely fortunate to have Jo and Phil, a talented and caring duo, as part of our Kariega team. We are very grateful to them both for the generous donation of the royalties from the sale of The Lion's Roar during November 2020 to our Kariega Foundation.
Please leave any comments for Jo below or via our Kariega social media channels - Facebook, Instagram and Twitter.
Please spread the word - Buy a Book to Raise Funds to Protect Rhino. 
Download from Amazon or order a paperback copy of The Lion's Roar.
Video thanks to Ferg Clark. Images thanks to Jo Oliver and Kariega APU leader Daniel Haesslich.