Behind the Lens: 2019 Photo Competition Winners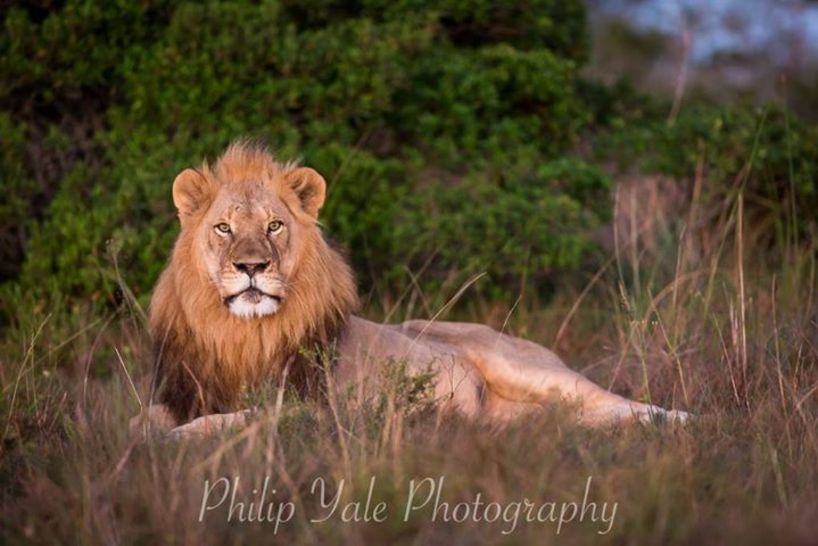 The annual Kariega Wildlife Photo Competition is a definite highlight for the Kariega media team. We love seeing wildlife from behind the lens of our safari guests each month, short listing the finalists for our judges and deliberating over the merits of each photograph. The most rewarding and highly anticipated part of the process, however, is contacting the winners!
This year we had the pleasure of spreading the good news with our professional winner, Phil Yale, and the best amateur photographer Alice Harden, both of whom were our 2019 photo competition winners.
Alice and Phil both live in the United Kingdom. Phil is a Cheshire man who splits his time between his job in I.T. and his passion for photography which he is shaping into a second profession, with a special focus on horse and dog portraits. Phil's interest in photography dates back to his childhood. He remembers developing his own black and white films and prints in a small darkroom next to his bedroom.
Alice, who is the founder and designer behind Alice's Boutique in Essex, has also always loved photography, particularly taking photos of animals.
Both Alice and Phil were over the moon upon hearing that their photographs of the giraffe at sunset and the portrait of the male lion, respectively, were our 2019 photo competition winners.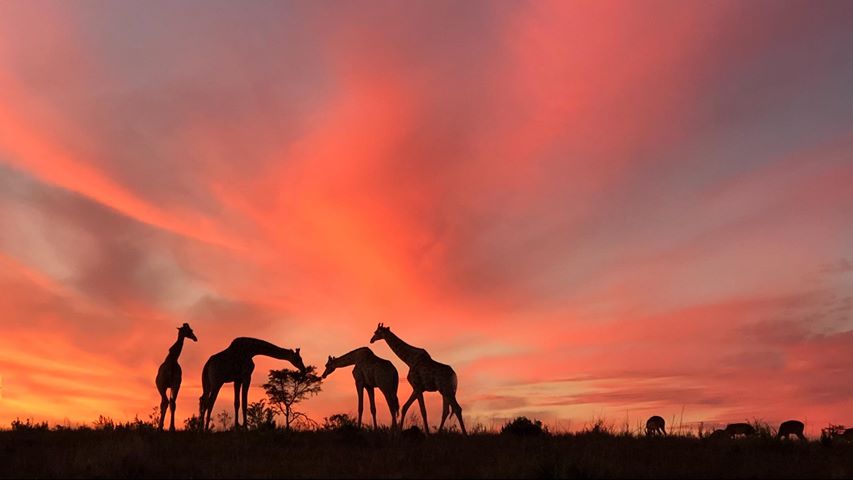 More About 2019 Photo Competition Winners Phil and Alice
It was a privilege learning more about Phil and Alice, their Kariega safaris, the stories behind the winning photos and of course their plans to take up their prize of a two night, fully complementary and inclusive stay for two people at our beautiful Ukhozi Lodge. We have taken the opportunity to share our insights with you, so that you too can discover the stories behind their lenses.
Tell us more about when and where the photograph was taken and what camera and settings you used
Philip:
The photo was taken on 16 May 2018 on our third full day at Kariega while staying at River Lodge. This was at the very end of the afternoon drive, on the main plateau, and we came across the lion pride as the sun was starting to go down. You can tell from the rich, warm colours on his mane that the sun was setting. In fact, although it doesn't look like it there was barely any light at all. It was really very gloomy.
I used the following camera and settings:
Canon EOS 5Dmk3
Canon EF 400mm f2.8 L II
ISO3200 , f2.8, 1/30 sec
That shutter speed really is one-thirtieth of a second. The camera and lens were hand-held, which shows just what a fabulous lens it is! The image stabilisation was working overtime to enable me to get this shot at all.
Alice:
The photograph was taken on our way back to the lodge at the end of a drive. We spotted the group of giraffe on the top of the hill with the beautiful sunset behind them creating the striking contrast. We were so lucky to catch the perfect moment whilst we sat there and watched the sky change so quickly.
I took an SLR camera with me on the trip which unfortunately ran out of battery that morning. This picture of the giraffes at sunset was actually taken on my iPhone 8!
How did it feel to see and capture your photo?
Phil:
It was wonderful seeing him framed so perfectly in the viewfinder. I took a number of different shots, but for this one he just turned his head at the right moment and looked directly down the lens barrel. When I got back to the lodge and was able to view it more closely, I was delighted with how it had turned out, given the light available at the time.
Alice:
There were so many incredible moments on our trip to Kariega but this particular moment was something so special. We sat watching the giraffes with this incredible backdrop for at least 10 minutes. I had the image blown up to a large size and framed and every time I see it even now I just smile remembering the moment.
Tell us more about your experience at Kariega
Phil:
Kariega Game Reserve really was the pinnacle of what had already been a fabulous South African holiday in 2018. For me, this was the part I'd been looking forward to most, and it didn't disappoint. Every single thing about it was perfect - the accommodation, the lodge, the food, the staff, the scenery and the animal life couldn't have been bettered. Usually, after about 10 days or so I'm starting to look forward to coming home from a holiday. This was the first time I can remember that I really and truly could have stayed indefinitely. I just did not want to leave!
Alice:
South Africa and in particular Kariega was by far the most special trip my husband and I have ever experienced. It was our honeymoon and could not have been more perfect. We loved our stay at Settlers Drift safari lodge.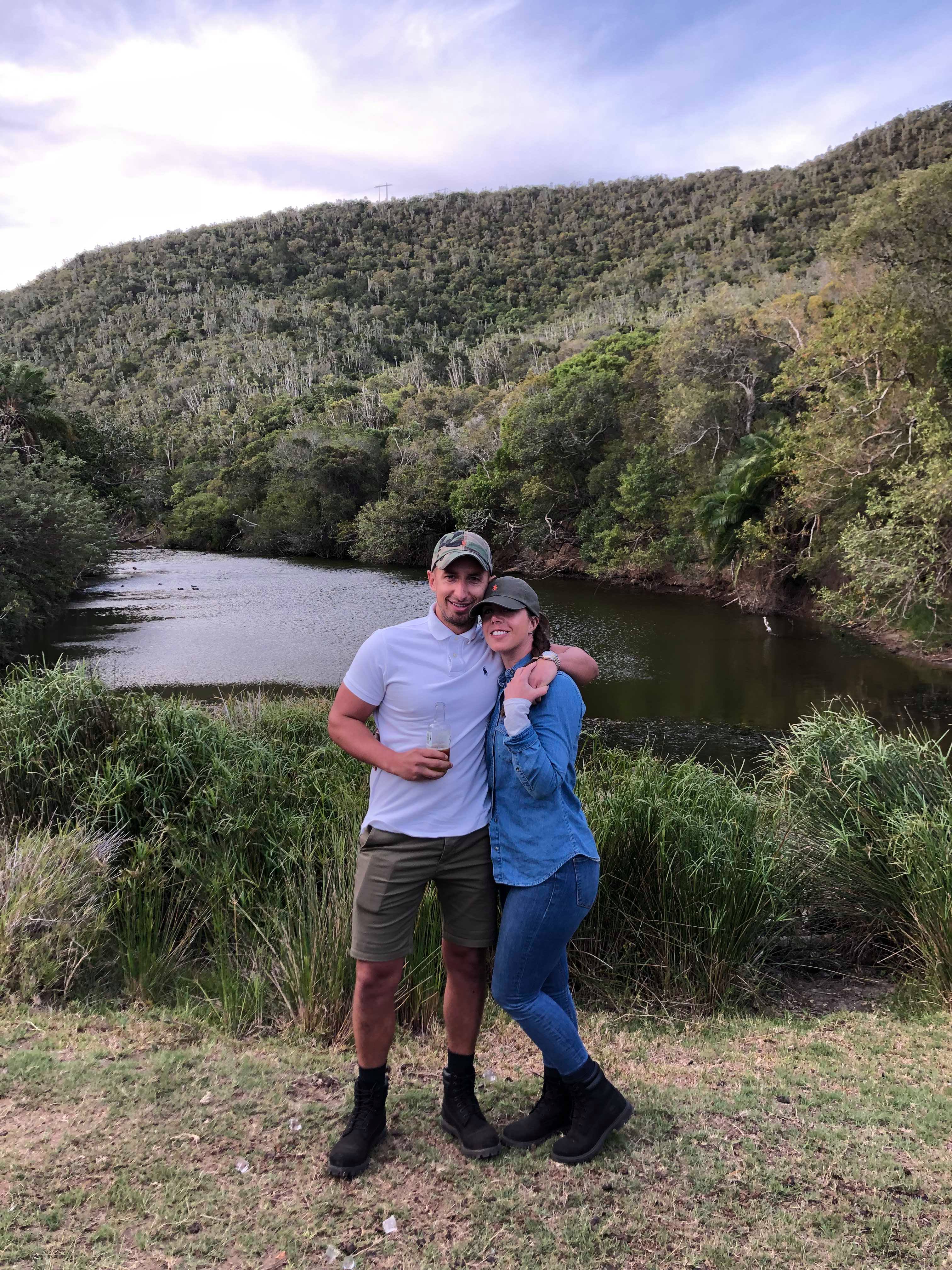 How did you react when you found out you had won the competition?
Phil:
I was thrilled, of course! I entered nearly a year ago, and seeing many other wonderful photos submitted by others I never really thought I'd actually win it! But I have, and the best thing is it gives me an excuse to go back to Kariega again so soon after my first visit.
Alice:
I was absolutely over the moon. I called my husband straight away screaming! I still can't believe I have won! I cried when I left Kariega in January because it was such a special and moving trip and I am just so happy that we have the opportunity to go back.
2019 Photo Competition Winners Plan to Visit Kariega Again
Both Phil and Alice are already planning their return trips to Kariega Game Reserve. Phil will be bringing his wife back with him between May and June 2020. Alice and her husband travelled to South Africa in January 2019, which was not good timing for whale watching in Hermanus which is on their bucket list. Their return trip to Kariega will be planned around ensuring they don't miss the whales again. So we will most probably see them in July 2020!
The very best part for all of us at Kariega is that we get to see Phil and Alice again and make their return trip every bit as special and memorable as their first trip!
2020 Photo Competition Open
The Kariega Game Reserve 2020 photo competition is already open and runs from 1 May 2019 until 30 April 2020. Kariega safari guests are invited to enter by uploading their favourite wildlife photographs to our Facebook page. 
Please scroll down and take a look at a few more of the photos Phil took while at Kariega... they are just too good not to share.