World Water Day: Celebrating Our Majestic Rivers
On the 22nd of March 2022, we celebrated World Water Day.
World Water Day is an annual United Nations observance day to highlight the importance of fresh water; advocate for the sustainable management of freshwater resources and raise awareness of the 2.2 billion people living without access to safe water. We are grateful that all staff living on Kariega Game Reserve and in our neighbouring communities have access to clean drinking water. Even so, the Kariega Foundation Environmental Education Programme prioritise's teaching water scarcity as a theme and teaching water wise habits to promote the conservation of our water sources. 
At Kariega Game Reserve we also paused on World Water Day to celebrate the two majestic rivers that run through our 10 000 hectare protected wilderness: the Bushmans River and the Kariega River. The presence of two abundant rivers meandering through a Big 5 game reserve is unique to Kariega Game Reserve and brings many blessings for the natural kingdom and our guests alike! 
These are our top five reasons for celebrating these majestic rivers during World Water month.
Water is life
Water is life. Every living creature needs water in order to survive and thrive. Two major water sources is a major ecological benefit to a game reserve where many animals like fish, terrapins, crabs, otters and water monitors can thrive in their natural habitat. The rivers at Kariega Game Reserve also support the feeding habits or protective practices of many other species, particularly insects, frogs, some reptiles and even antelope like waterbuck. 
The Kariega river, situated on the eastern side of the reserve, is also home to a growing herd of hippo. Many will think that a hippo's diet is fish but actually they are herbivores! As a result the fish population at Kariega has flourished. There are many different species of fish in both rivers such as Kob, Spotted Grunter, Cape Stumpnose, Skipjack, Garrick and even Bullshark. Fishing is a popular activity that guests enjoy on request and through catch and release.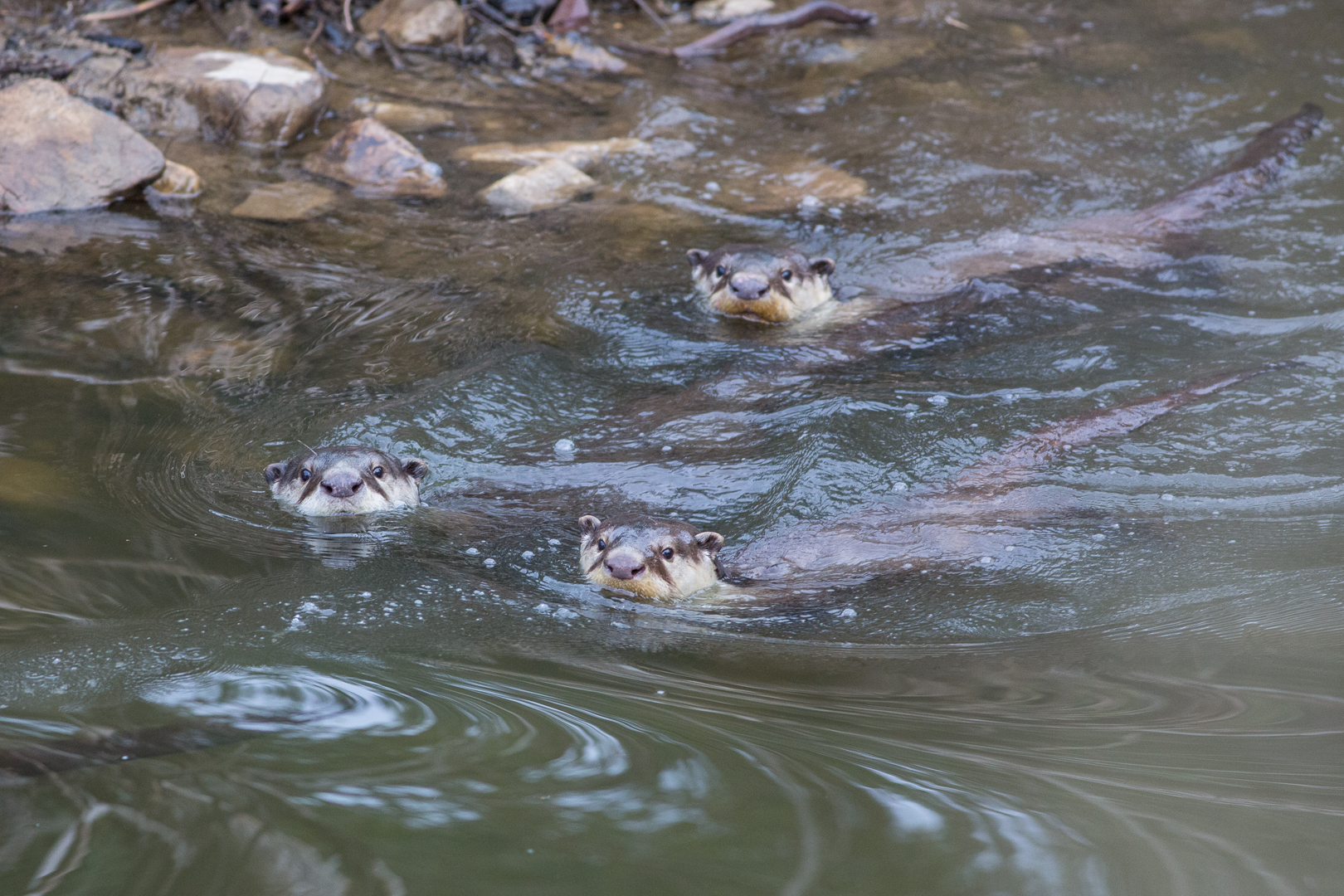 Rivers Attract Birdlife 
The large number of fish species and other food sources found around rivers attracts abundant birdlife. Kariega Game Reserve enjoys the most beautiful river birds. The most popular sightings for our guests is the African fish eagle and kingfishers. There are 10 species of kingfisher in South Africa of which six occur on the reserve. 
One of the rare water birds found at Kariega is the African finfoot. They are brown above and whitish below, with a long, thin neck, a small head, and a strong tapered bill. They are named for the lobes on their feet, which enable them both to swim well and to clamber about among fallen trunks and branches on the river bank. When you do visit us keep an eye out for them!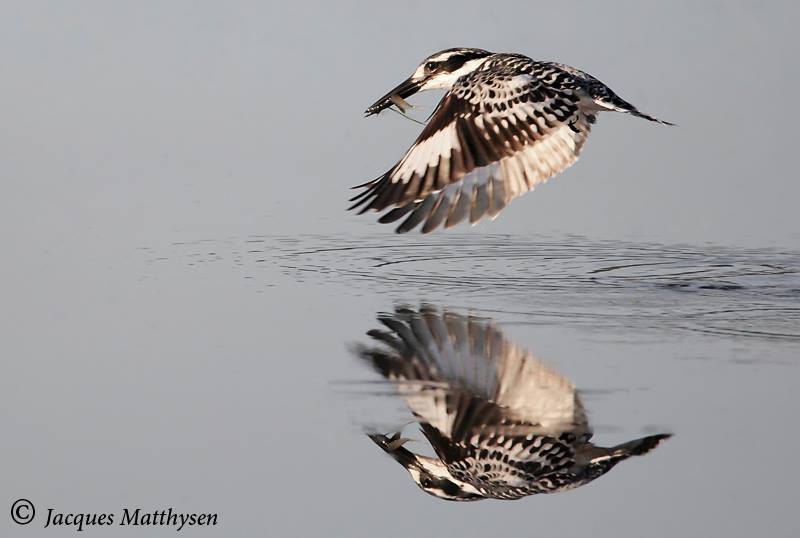 Rivers create Feelings of Stillness and Tranquility
Rivers, by nature, bring stillness and tranquility to a landscape. They create breathtaking views and vistas that calm the mind and expand the heart. The combination of this natural beauty and Big 5 game viewing is one of the most thrilling aspects of a Kariega safari.
Rare palm trees grow on the banks of the upper reaches of our rivers while endemic river euphoria's scatter up steep banks to rocky outcrops and water lilies bloom on calm waters. It is true bliss listening to a bird calling, catching a glimpse of a cormorant drying their wings, while a kingfisher hovers above the water looking for unsuspecting prey. A fish eagle calls in the distance and the sound of the wind moves through the palm trees. Our rivers create feelings of true stillness and tranquility.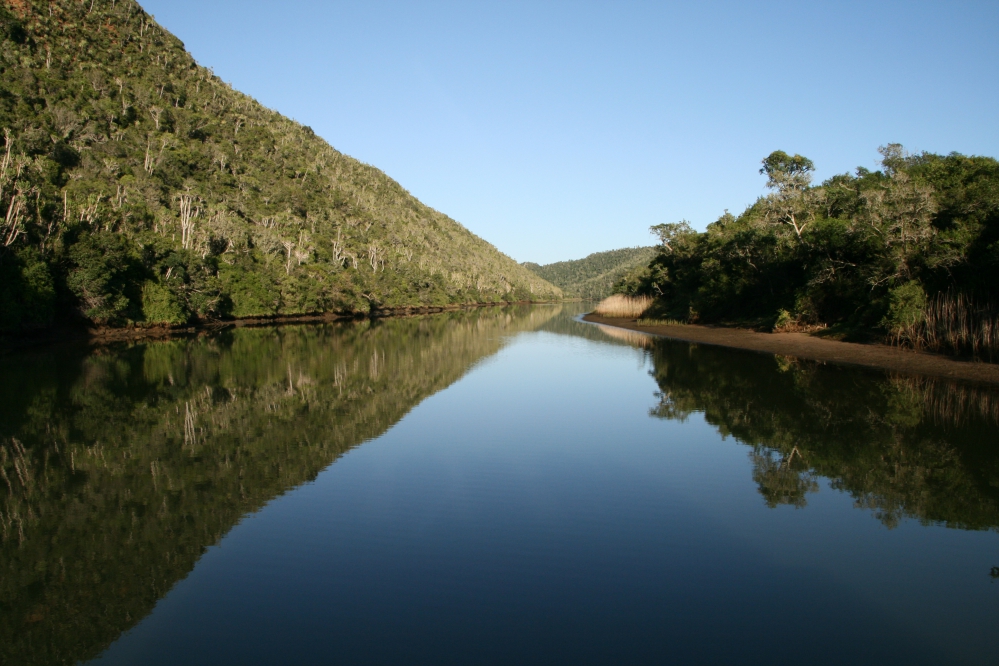 Rivers Flow into the Ocean
Both the Bushmans and Kariega River flow into the ocean, making Kariega Game Reserve one of the few game reserve in South Africa the can offer guests a bush and beach experience, all on the same day.
If you are looking for a bush and beach experience , then book your stay with us at the 4 star luxury River Lodge. Its pristine location on the banks of the Bushmans river affords us the opportunity to include a visit to the near-by coastal village of Kenton-on-Sea, with it's pristine beaches, in our guests safari experience. In addition to early morning and evening safari drive, the River Lodge boat does daily visits to the coast where guests can enjoy a walk on the beach and a refreshing swim in the ocean. A true highlight of a River Lodge safari.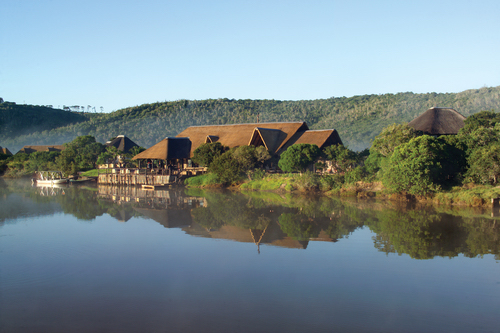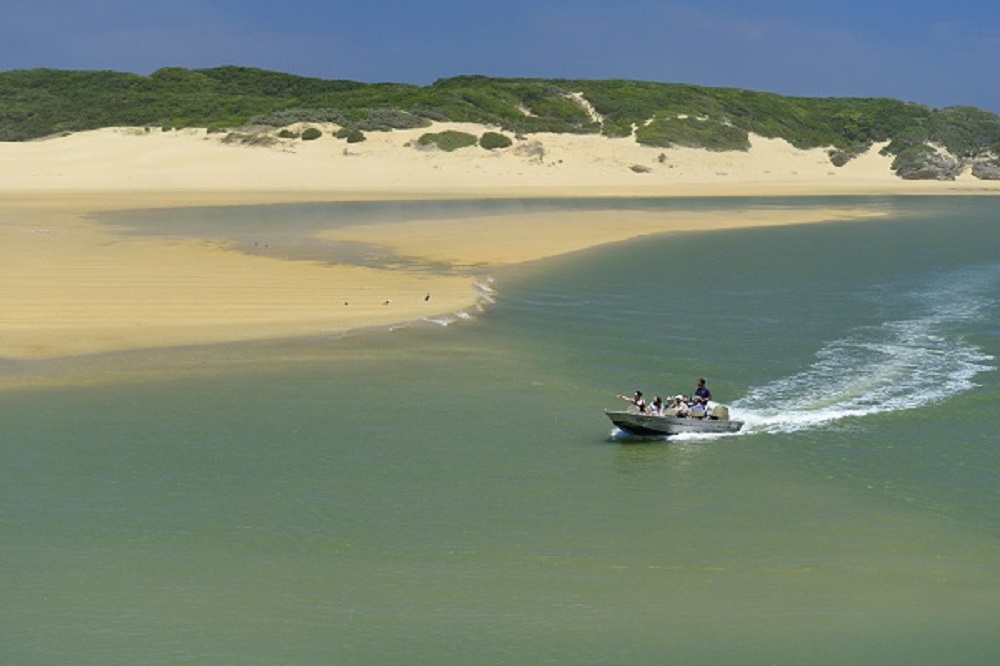 Rivers Are a Source of Fun and Activity
Human Beings have always found rivers to be a great source of fun and activity. Our access to these two beautiful rivers add a diverse spectrum of water based activities to our safari activities, including swimming, canoeing, fishing and boat cruises.
Guests staying at The Homestead, Settlers Drift,  Main Lodge or Ukhozi Lodge for more than a one night stay may request either an early morning boat cruise with a cup of tea or coffee or an evening sunset cruise with a lovely glass of wine. A three night safari allows sufficient time for guests to also enjoy any of the other water based activities. The eastern cape of South Africa has a mild climate and so water based activities can be enjoyed year round.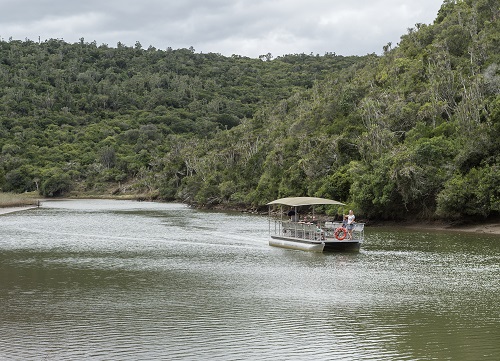 Share Your River Experience
Share a story of your river experience at Kariega Game Reserve on Instagram either stories or posts, Tik Toks, Facebook posts or even Tweets. We love hearing from you.
If you would like to experience these two beautiful rivers as part of an African Safari, contact our friendly reservation team today. They delight in making your safari dreams come true.