What to Expect: Guided Bush Walk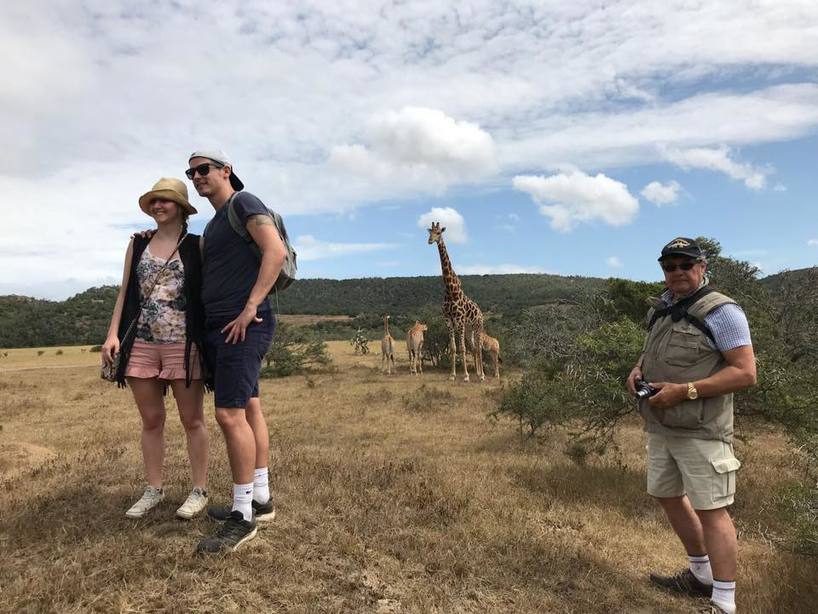 This poetic description is written by Kariega guest Ruth Fry and captures the essence of a guided bush walk at Kariega Game Reserve. Thank you Ruthie. We could not have described the experience or explained to guests what to expect better ourselves. Walking in the bush with your guide is included as part of the Kariega safari experience at all of our lodges. Be sure to speak to your field guide during your Kariega stay and make time to fit in a guided bush walk. The memory will live with you forever.
Kariega Guest Describes Guided Bush Walk
"We were so fortunate to do two guided bush walks with our wonderful field guide JP (Just Perfect) when we stayed with you in February. Stepping away from the vehicle we listened intently to all of JP's instructions with the understanding that we might have to 'climb a tree' if he tells us to!!
Then, placing each foot in JP's footsteps, we travelled in single file (like a snake), taking in the huge vistas, the exhilarating landscape, the folded mountains, the beautiful rhino just ahead of us eating, oblivious that we were there sharing their space… sharing their world with them for a brief moment in time.
Standing with the wonderful Bong and JP behind a bush, we watched and listened to the giraffe eating.
Following the life and death 'dance' of the millipede's assassin while it stalked its prey.
Unexpectedly caught up and mesmerised by the passion and knowledge that JP shares with you when he speaks of the land and the animals.
The silent walking with the breeze in our faces and the snorting of the wilderbeast who stopped feeding and watch us as we pass by.
The searching for elephants…
The sheer magnificence of feeling more alive than ever…
Feeling safe while my heart was thumping in my ears and throat.
Thank you is inadequate.
Thank you are not large enough words to express my appreciation for this evocative, life changing, magical experience that will live with me forever.
Did you Enjoy a Guided Bush Walk?
Did you enjoy a guided bush walk while on safari at Kariega Game Reserve? If you have any photos or videos please share them with us by posting them on our Kariega Game Reserve Facebook page. You can also share your experiences and find out more about the Kariega safari experience on  Instagram,  Twitter and YouTube.