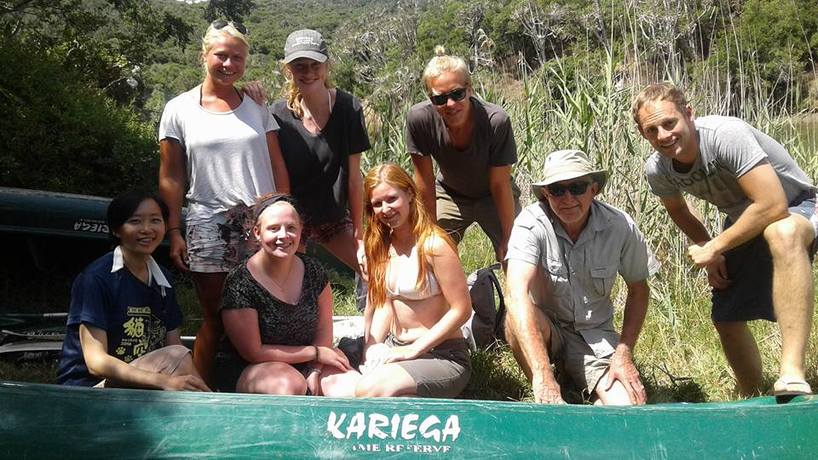 Another thrilling year has come to a close, filled with many experiences that offer our volunteers direct involvement in all those important conservation jobs that keep the cogs of Kariega Game Reserve ticking. 
Here is a summary of what the Kariega Conservation Volunteers have been up to in the final term of 2016. 
Alien Invasion Plant Control
The volunteers continued with their great work to protect the indigenous plant species biodiversity by eradicating alien invasive plants. Over 13,300 black wattle, 120 cluster pine and 450 red eyed wattle were removed. Further bolstering of useful vegetation species on the reserve was carried out by planting porkbush, which is a highly palatable and excellent carbon sequestration plant. Over 750 offcuts of this miraculous plant were planted, with follow ups of previous plantings indicating a good survival rate. It was found that porkbush plants raised in the nursery prior to being replanted grew more vigorously, than their counterparts which had been planted directly on the reserve.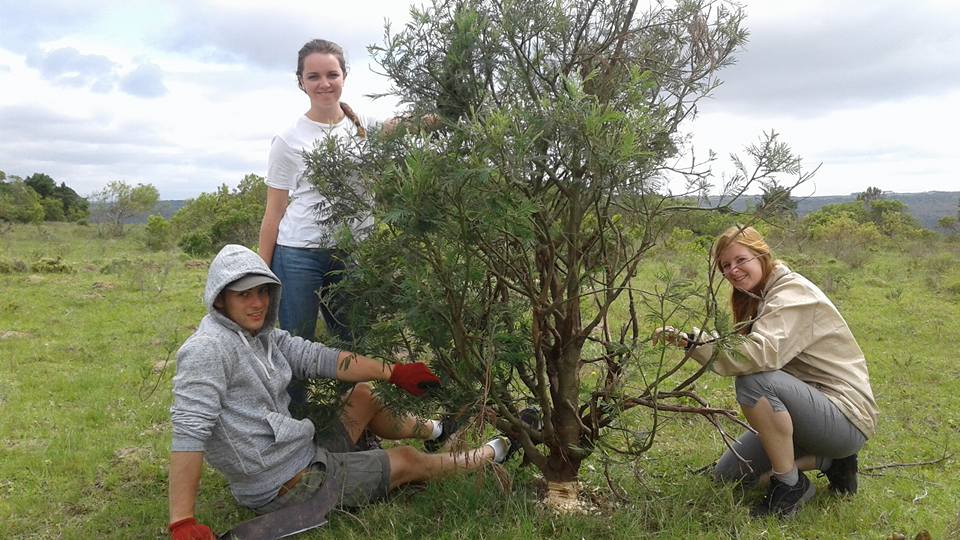 Road Management
In order to ensure that safari vehicles continue to have safe and easy access to the reserve we carried out eight road clearing sessions during the term. Furthermore, four bush control sessions were conducted, clearing areas of bush encroachment by dune crowberry species.
Lion Monitoring
Lion monitoring was conducted 18 times this term. We observed and recorded behaviour so as to assist in a study on managing lions in private game reserves. After the recent lion capture and release processes in September, the volunteers played an important role in the monitoring of the three new lionesses. It was important to monitor the well-being of one of lioness, who had been injured in a fight. The new lions were initially very reserved and cautious, remaining hidden in the thicket areas for about a month as the injured lioness regained her strength. Fortunately she made a full recovery and these lionesses gradually became more confident, exploring new areas of the reserve. After three months they appeared completely comfortable in their new home. Although the two resident male lions have encountered the three new females, they have not as yet shown interest in joining with them and remain operating as a separate coalition.
Rhino Research
Rhinoceros research has continued, monitoring their spatial movements and behaviour. There were 55 sightings recorded this term. The monitoring of the white rhinoceros female which gave birth to a new calf in September has yielded some really special moments, observing the youngster interacting with the new world around him. Although the mother has made several attempts to encourage her previous calf (about 3 years old) to become more independent, he has at this stage remained in close proximity to his mother. 
Elephant Research
The volunteers have also conducted 13 elephant research sessions, observing behaviour, vegetation impacts, herd compositions and home range movements. The volunteers were afforded many approaches by elephants and spent considerable time monitoring their behaviour and learning about them, leaving them fascinated and well informed.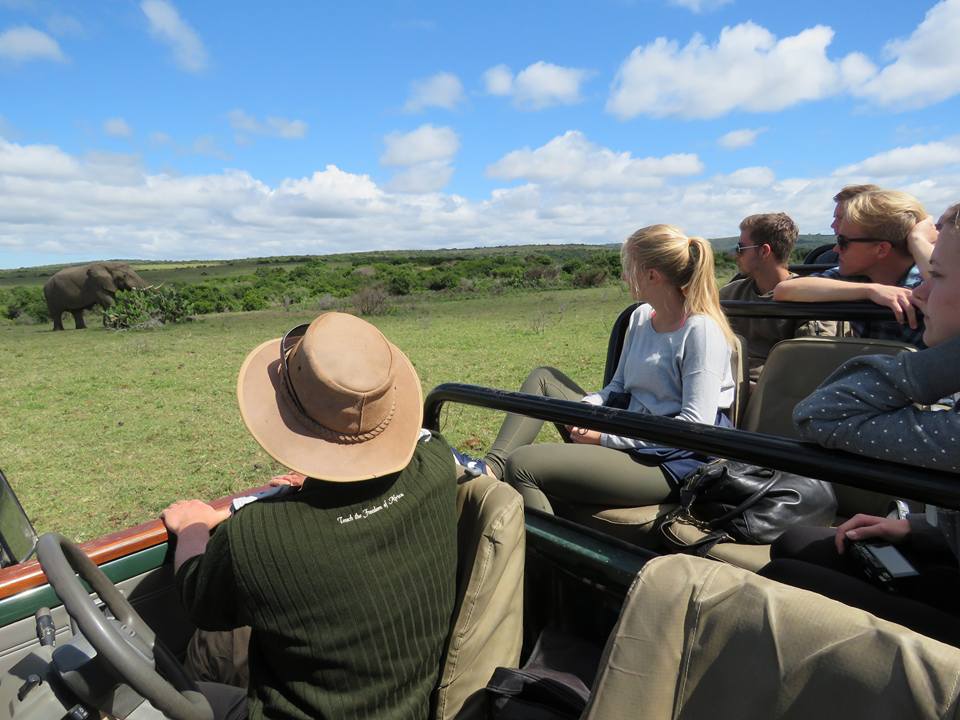 Night Camera Trap Data & Species Monitoring
Although our camera trap data has yielded no evidence of leopards this term, we have captured images of aardvark, small spotted genet and brown hyena on camera. It has been very rewarding to document these less conspicuous species which are seldom encountered on game drives.
Four game counts were conducted this term to assess the current minimum population sizes of large wildlife on the reserve, and to assess the need for restocking where necessary. 
Bird species monitoring has also been conducted four times, and has served as an excellent educational tool in spotting, recognising and identifying the species found on the reserve. It has also served in training volunteers to observe the bush keenly so as to notice nature's many smaller surprises such as interesting reptiles, small mammals and insects too!
Community Work
Community visits to Farmerfield school and the Ekuphumleni soup kitchen have remained an integral part of the volunteer community outreach work. At Farmerfield school, a vegetable garden project has been initiated and will continue as a water tank is planned to be installed to provide water access. Volunteers have assisted in the classrooms teaching prepared lessons on environmental education, mathematics, geography and life skills among others. 
At Ekuphumleni volunteers have assisted in cooking at the soup kitchen, feeding the children, and cleaning up afterwards. Plenty of games, and books and drawing have ensured that the children not only have full tummies but have also are mentally and physically stimulated, and feel nurtured and loved. The volunteers donated about 20 kg of stationery, clothes, and toiletry supplies to the community during this time. Thank you to all who contributed to these generous donations, you have enriched the lives of many children.
Thank you to all the many volunteers who have visited us in 2016. We can choose to be affected by the world or we can choose to affect the world; know that your positive contributions have made a significant difference in conservation and research work on Kariega Game Reserve.
Kariega volunteer co-ordinator
Jarrett Joubert