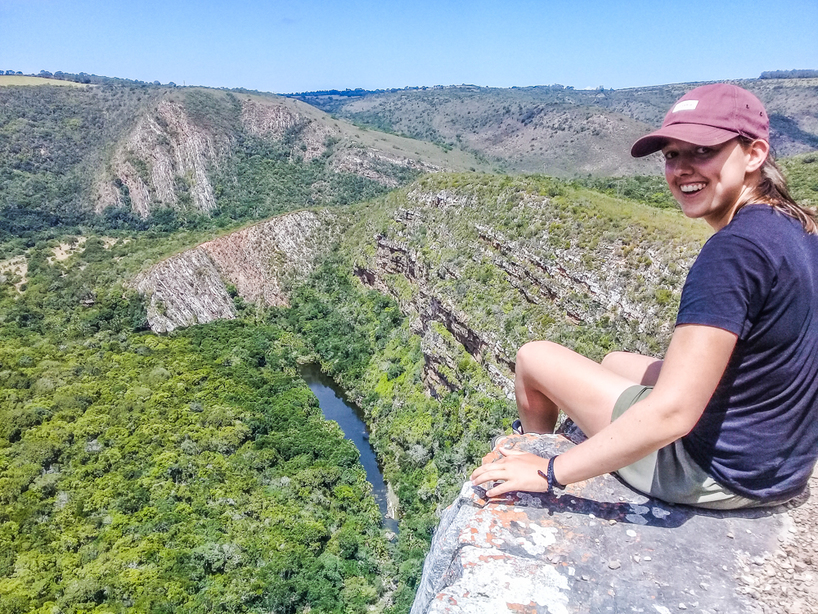 What an exciting year we have had so far! Volunteers have come together from all over the world discovering the wonders of Africa by joining the Kariega Volunteer team. The conservation and community work done by the participants has been a great support to the reserve and the surrounding areas. The programme has also provided an excellent platform to learn about Africa, wildlife, people and indeed even more about themselves.
Lion Monitoring
On a weekly basis lion research has provided many fascinating sightings with the lioness group splitting up and lioness LS3 spending a lot of time with both resident males. Five mating incidents have been recorded by volunteers this year. This has generated some conflict among the male coalition but both males seem to make up again thereafter. On three occasions all our lions have congregated together peacefully, perhaps suggesting the possibility of their unification into a singular pride soon. So far there have been no apparent signs of pregnancy from the lionesses, but there is hope that we may have cubs in a few months.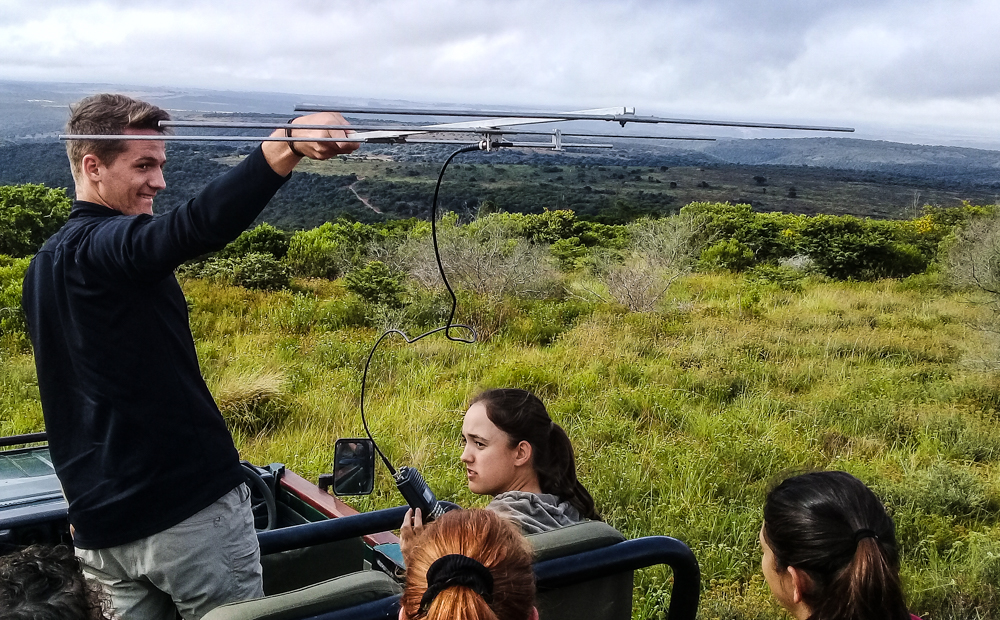 Rhino Monitoring
Weekly rhino monitoring has been most rewarding with volunteers having the privilege of observing these magnificent animals for long periods of time while conducting research, observing behaviour, individual movements and assisting with identifications. We are fortunate to welcome a new rhino onto the reserve as one of our females gave birth to her first calf in March.
Elephant Monitoring
Elephants have also been monitored, observing herd dynamics and diet, as well as assisting in updating animal identification. Due to the time spent with these animals, volunteers have often been immersed in the centre of a breeding herd, a truly surreal and magical experience. We have been very fortunate to have elephants visiting our volunteer house on five noted occasions this year! One never get used to seeing these gentle giants right on the doorstep.
Game Counts
Game counts have been conducted on the reserve, with volunteers forming the core of this data collection team. Early morning counts were conducted in February and the results have been used to assist the ecologist to compile accurate information on sustainable stocking rates for this area. This has been another great job of research and data collection from our volunteers, which we are very proud and grateful for.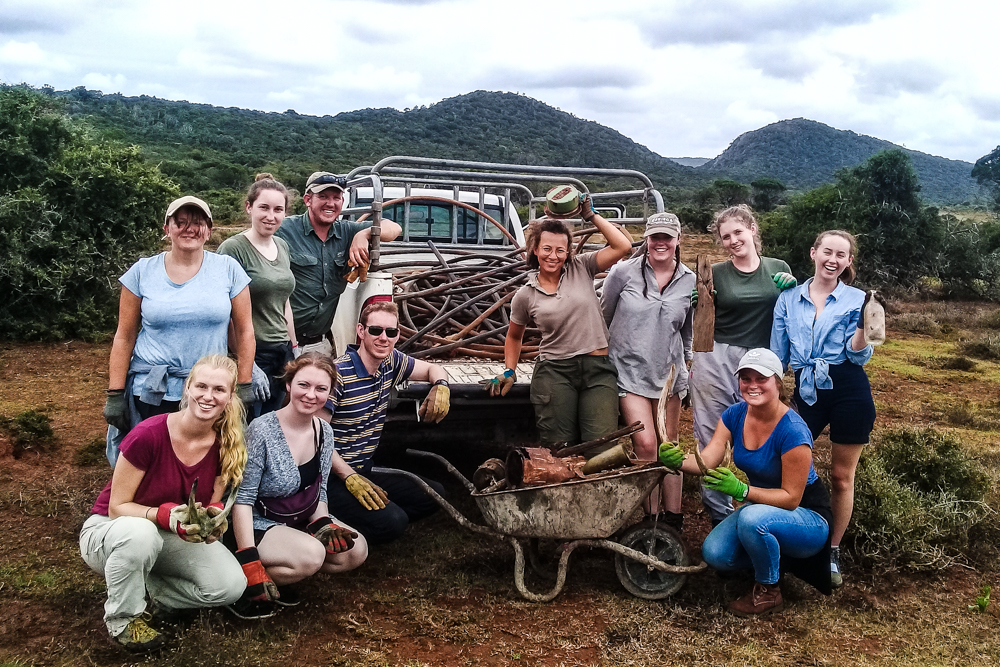 Serval Husbandry
Serval care has been conducted by volunteers to ensure a clean and happy living space for the two breeding pairs kept in enclosures on the reserve. Although the project made great strides forward when one of the females gave birth to a litter of three kittens, the success was short lived as the kittens passed away due to the inexperienced behaviour of their mother. This is expected to improve with time and volunteers will continue to provide a happy and healthy living space for these cats.
Alien Invasive Plant Eradication
The volunteers have done an excellent job in eradicating alien invasive species, removing 3,730 black wattle (Acacia mearnsii), 110 red eyed wattle (Acacia cyclops) and 18 cluster pine (Pinus pinaster). This ongoing work by volunteers continues to keep aliens vegetation in check and indigenous plant biodiversity thriving. Furthermore the hard work done by our volunteers in road clearing and controlling bush encroachment has ensured roads remain drivable and grasslands re-establish and remain intact. 
Volunteers have also improved reserve infrastructure like setting up informative animal signposts all along the Blue duiker trail.  This trail is located in the Main Lodge area and frequented by lodge guests during their stay. Plant nursery work at Ocean view has been expanding as we have planted seeds of cape chestnut (Calodendrum capense), ana tree (Fauder biaalbida), umbrella thorn (Acacia tortilis) and camel thorn (Acacia erioloba).  We look forward to rearing the upcoming seedlings soon.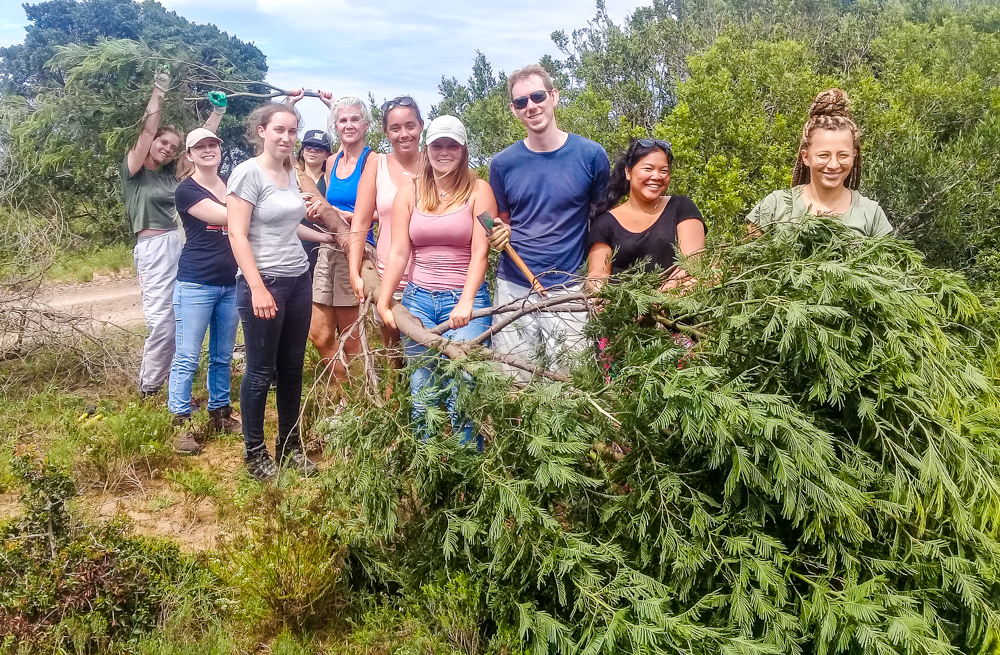 Community Outreach
Our community outreach programme has expanded, with volunteers not only offering environmental education at Farmerfield school, but also Klipfontein, Bushwillow and Kenton primary too. This broader reach of our teaching endeavours has allowed volunteers to make a greater visible impact. Awareness about owls has been the main theme for March, with specialist Chris Pretorius from the Caring Owl Sanctuary. Chris shared his knowledge about these magnificent birds through presentations and even showing the children real live owls. This has been crucial in dispelling some of the many negative myths in the townships surrounding these birds, showing that they actually play a major positive role in our ecosystems by controlling pests like rats and mice. 
Our assistance at the Helping Hands soup kitchen has been most rewarding for the children and volunteers alike. This year, apart from our regular afternoon visits, volunteers assisted in providing two parties for the children, celebrating Human Rights day and Valentine's day. This provided an excellent platform with which we could uplift the children and teach them that they are loved, valued and to instill a higher self-worth and confidence in them. Together volunteers have donated 22 kg of food and 11 kg of clothing to the soup kitchen. This has been most gratefully received and goes a long way in helping to provide these children a good quality of life. A huge thank you to all involved!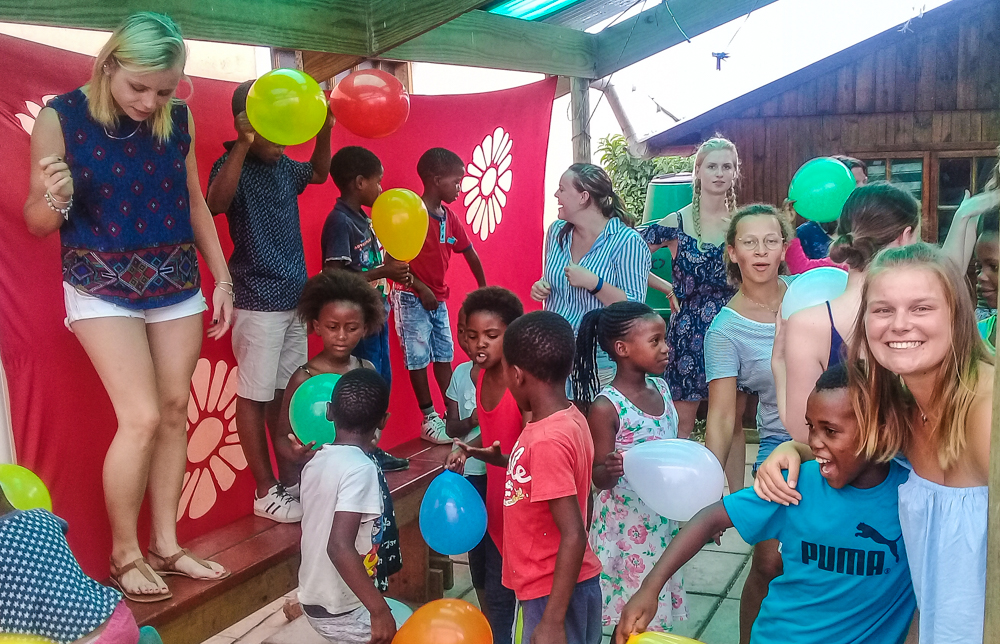 Fun Times
After all the hard work done by our team, great rewards have been well earned. These have been delivered through fun outdoor experiences like canoeing trips along the scenic Kariega river, swims and cliff jumping at the beautiful Paradise lagoon. We have also made bush braais at various places on the reserve and enjoyed dawn drives with sunrises over Krantz lookout. Another incredible experience has been witnessing nocturnal wildlife on night drives and stargazing into the clear night sky. These activities have offered volunteers to take in the incredible atmosphere of the African bush in a more peaceful leisurely manner.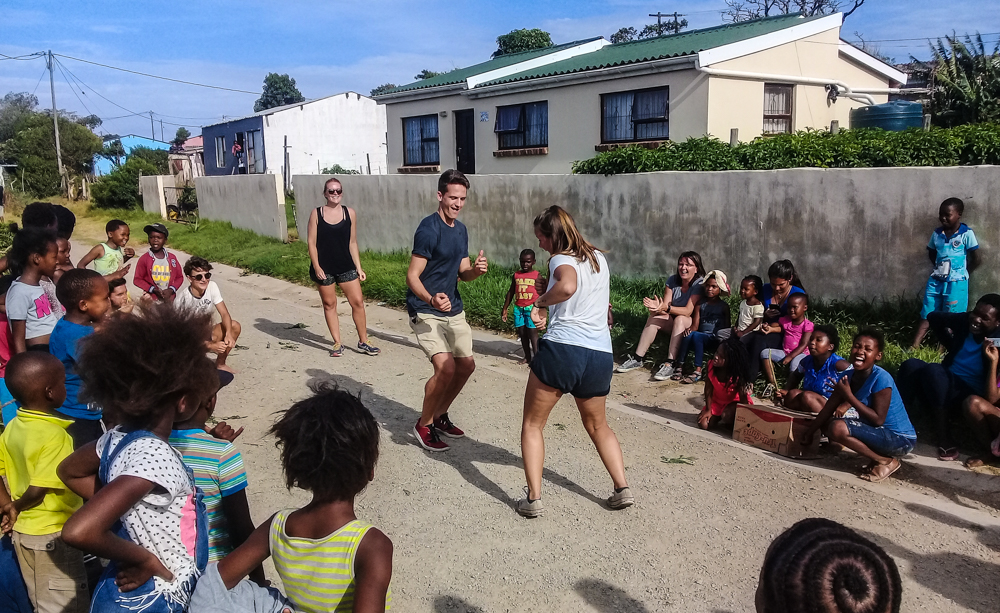 Yours in conservation, Jarrett Joubert
Kariega volunteer coordinator.