Volunteer Testimonials: Jan - March 2020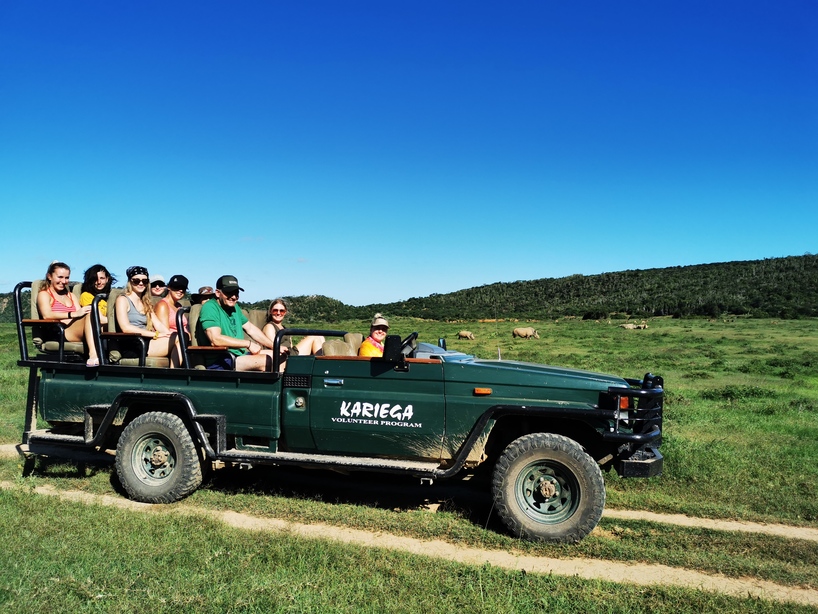 So many wonderful people have been involved in our popular Kariega Conservation Volunteer Programme through the years. Each volunteer makes a significant contribution to both conservation and community projects during their stay. Kariega Game Reserve and the Kariega Foundation are immensely grateful to each and every volunteer. We have included some of the volunteer testimonials received between January and March 2020.
Awesome Conservation Volunteer Experiences
"Thank you for giving me the opportunity to learn so much about African animals, nature and conservation. It was such a great experience – which I could never have experienced on a normal safari. I'll carry a piece of Kariega in m heart and I'll leave a piece of me here – may it always hear a lion's roar at night!" Lisa Krum, Germany, 13 – 27 January 2020.
"I loved spending my 3 weeks here on Kariega at the volunteer programme. I enjoyed every single moment and I am thankful for all the experiences. From searching for the lions to removing prickly pear and pines – everything was so much fun." Pieter Lieck, Germany, 6 – 27 January 2020.
"Three weeks on Kariega go by so fast. I will never be able to explain the amazing feeling you get when you arrive at this magical place. Everything is so peaceful and full of energy and it is definitely way better than whatever you imagined. I take with me so many memories, amazing friends and the warmth of some of the most incredible people I have ever met. Thank you so much for making this the best experience of my life." Elizabeth Saade, El Salvador/Venezuela, 6 – 27 January 2020.
"When I was younger I always wanted to visit Africa. This year I finally did it and I really enjoyed it. We had lots of fun in the field and also around the volunteer house. I saw a lot of beautiful animals on Kariega and often they were very close. Keep up all the good work on Kariega!" Brent Bos, Belgium, 20 January – 3 February 2020.
"I am so grateful for my time spent on Kariega- even though it was too short. I wish I didn't have to leave. I came with little expectations and this programme surpassed them by far. In one week I've seen and done so much, found so much peace and felt the love amongst everyone. I can see the passion, support and tender care these animals and the reserve receives from all of its care takers. Big thanks to our volunteer coordinator for all the wonderful information." Vanessa Burkly, USA, 10 – 17 February 2020.
"Tomorrow I have to leave and go back to Paris. I am sad that I have to say goodbye. These past 3 weeks with all the volunteers on Kariega has been unbelievable. Monitoring wildlife on a reserve was my dream and it became a reality thanks to Kariega. I hope to come back very soon to relive this experience." Laura Fabre, France, 17 February – 9 March 2020.
"I am so glad that I decided to come to the Kariega Volunteer Programme for 8 weeks. It was absolutely the best time of my life. Until the last day, every day was a great day – lots of new experiences and it never got boring. I wish I could stay here longer. I am so thankful for all the love in the volunteer house, for being a little family and enjoying every single day as much as possible. Jaco, our coordinator, planned every weekend for us and created new adventures and magical moments every day. Thank you so much for an awesome time and I hope I will be back soon." Noemi Roten, Switzerland, 13 January – 9 March 2020.
"Thank you so much for the wonderful, unforgettable past 4 weeks. I have seen to many lovely places and met a lot of nice people who I will miss when I'm back home. During my time with Kariega I found my happiness. The people and the animals from this volunteer programme made me fall in love with South Africa. Thank you so much for this amazing time." Stephanie Strohmer, Germany, 3 February – 2 March 2020.
"Thank you for the most unforgettable 3 weeks. They have been absolutely amazing and I have enjoyed every minute. Every day here is different – I loved seeing all of Kariega's hidden gems like kayaking on the river or swimming in paradise lagoon. I have never learnt so much about my surroundings but also about myself in such a short time. Jaco's love and enthusiasm for nature is amazing and he went above and beyond to teach us about wildlife. I had the most amazing time surrounded by the best group of people who I hope to stay in contact with." Jemima Coe, UK, 2 March – 23 March 2020.
"Thank you for the amazing time at Kariega. I can honestly say that this was one of the most amazing experiences of my life. Our coordinator made this journey so special, always making us laugh, teaching us so much about wildlife and even spending his off day with us so we could go camping. One experience that I will never forget was a particular night drive - a lioness was so close to us. Even just sitting outside at night as a volunteer group, eating, chatting and watching the stars were just perfect. Thank you for everything." Marie Wirtz, Germany, 2 – 16 March 2020.
"I have had the most incredible 3 weeks here at Kariega Game Reserve's volunteer programme. Thank you for educating, entertaining and keeping me safe during my time here. I made so many memories that I will never forget. It has been the best therapy to be living and working amongst all the wildlife and beauty. Thank you and I'll miss you all at Kariega!" Michaela Bradford, 2 – 23 March, 2020.
If you would like to join the Kariega Conservation Volunteer Programme please contact us by email on volunteer@kariega.co.za or fill in our Volunteer enquiry form. We hope to welcome you as a volunteer at Kariega Game Reserve.