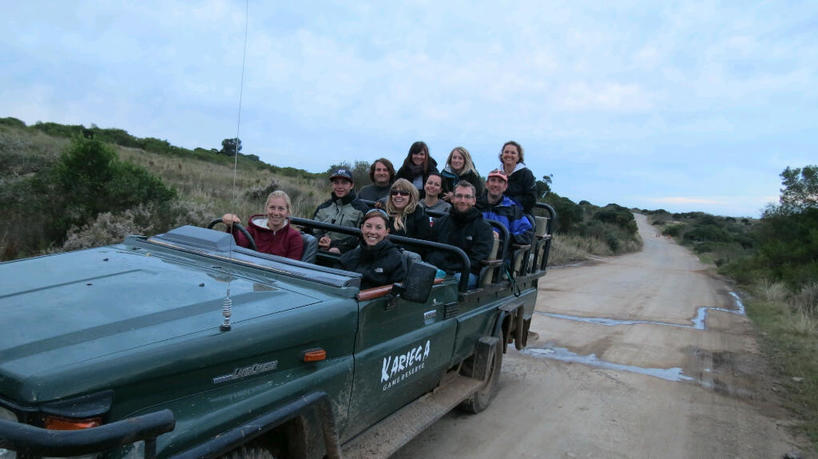 Once again we had a full house of volunteers in July, with a good representation of British, American, Canadian, Spanish, Australian and even Hungarians in our company. This has created a healthy competition which coincides with the Olympics, and not only are the rest of us slightly outnumbered by the British but they are also feeling quite smug about their current elevated position on the Olympic medal table. However when it comes to work on the reserve everyone comes together as one winning team!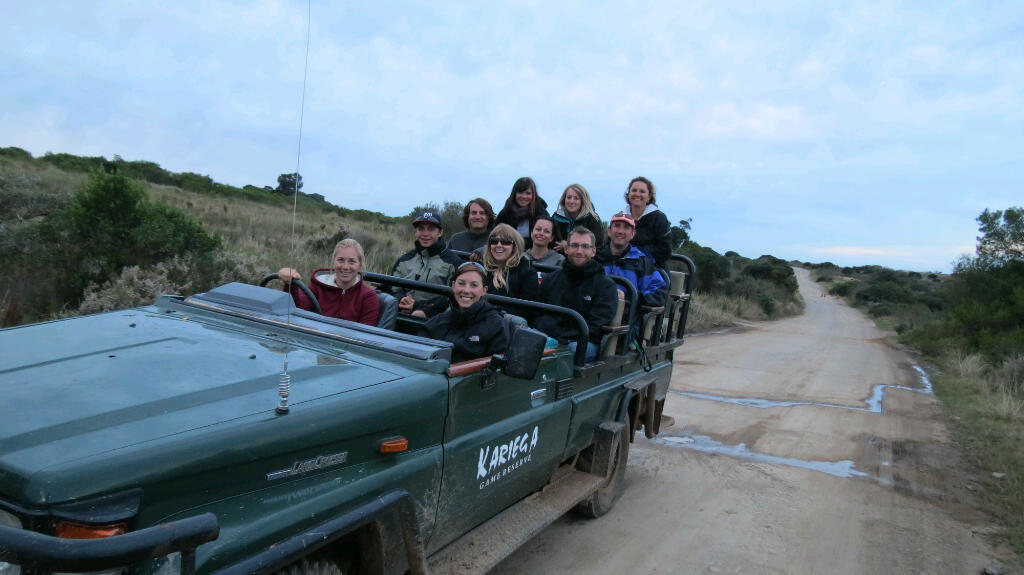 This month we did a lot of road clearing. This involves chopping and sawing bushes and trees back from the verge of the road. Road maintenance is a big part of the behind-the-scenes work put into all reserves to enable cars to pass without being scratched and improve game viewing, and is especially important with the type of vegetation found on Kariega Game Reserve, which is part of the Thicket biome. Most of the time this work does not include any interaction with animals, however we have had our occasional inquisitive onlookers that are surely thinking, "hey, what are you doing with my Acacia Karoo dinner?" And no one expressed their displeasure more clearly than the bull elephant. I always brief the volunteers on what to do should we encounter dangerous game and we keep the cruiser close at hand at all times, I strongly discourage any false alarms, or as my volunteers once named them 'elephant drills.' So when one of the volunteers promptly alerted us by quietly calling out "elephant" I was amazed when the volunteers actually did as we had talked about and calmly climbed onto the vehicle in a surprisingly orderly but timely fashion. We drove away without any trouble but the bull clearly took exception to the bushes we were cutting down. You simply can't please everyone! There are far more cases though when the roles are reversed and it is us following the elephants and clearing up the mess they've made on the roads.
The weather in July was all over the place. We had some miserable rainy days and some beautiful sunny days, it just couldn't make up its mind which season it wanted to be. We took full advantage of the warm days by heading down to the Kariega River to canoe and go on a boat cruise. Its also a great way to identify and get close to various birds such as the half-collared kingfisher, pied kingfisher, brown-hooded kingfisher, fish eagle, southern double-collared sunbird, crowned hornbill and the elusive Knysna turaco, to name a few of the more commonly seen species along the river. We also enjoyed a few magnificent stormy sunsets that lit up the sky, and celebrated with the African traditional of 'sun downers'. Or in other words, toasting the sunset with a drink and taking a moment to appreciate the beauty of nature.
Weekend fun included horse riding on the Bushman's beach, a couple of daredevils who were brave enough to sky dive, walks along the beautiful Kenton On Sea beach and a group canoe and camp out on the Kleinemonde river, which is highly recommended for future groups!!
Every week we watch little Zimela, the baby white rhino, grow and develop with much excitement. She is clearly becoming more aware of her surroundings now and is spending less time sleeping and suckling and more time exploring. Playing is a big part of learning and she is so entertaining to watch as she "practices" behaviour that will benefit her later in life, such as chasing birds away in a defensive manner.
That's all for now, we hope to see you here at Kariega soon as the weather improves and we head into spring! I for one can't wait to see all the new spring babies around the reserve.
Safe travels.
Justine 
Kariega Volunteer Co-ordinator