Video: Dr Fowlds on 50|50 Rhino Brief
We are pleased to share this episode of Rhino Brief which aired on South African nature television programme 50|50 in July 2015. The feature pays tribute to the men and women involved on the frontline in the fight against rhino poaching. 
The episode focuses on wildlife veterinarian Dr. William Fowlds. Dr Fowlds was called when we found that three rhino had been poached at Kariega in March 2012. He lead the treatment of both Thandi and Themba, the two surviving rhino, and was at Themba's side when he died three weeks after the poaching. Dr Fowlds continues to support the team at Kariega with wildlife veterinary services.
Read more: 
Rhino Brief with Dr. William Fowlds
The 50|50 team comments: "In this week's Rhino Brief, Bonne meets William Fowlds, a veterinarian from the Eastern Cape who has dedicated his life to the preservation and protection of South Africa's wildlife. Since the massive upswing in rhino poaching, William has often been the first person on the scene at these bloody and heart-wrenching crime-scenes. We pay tribute to William, who has given his all to the anti-poaching movement, through the countless dehorning programmes he has taken part in up and down the country, to spending months fighting for the lives of poaching survivors like Thandi. William is a true South African hero and we salute his efforts and applaud his devotion in the fight against rhino poaching." 
Veterinary Support for Rhino on Eastern Cape Game Reserve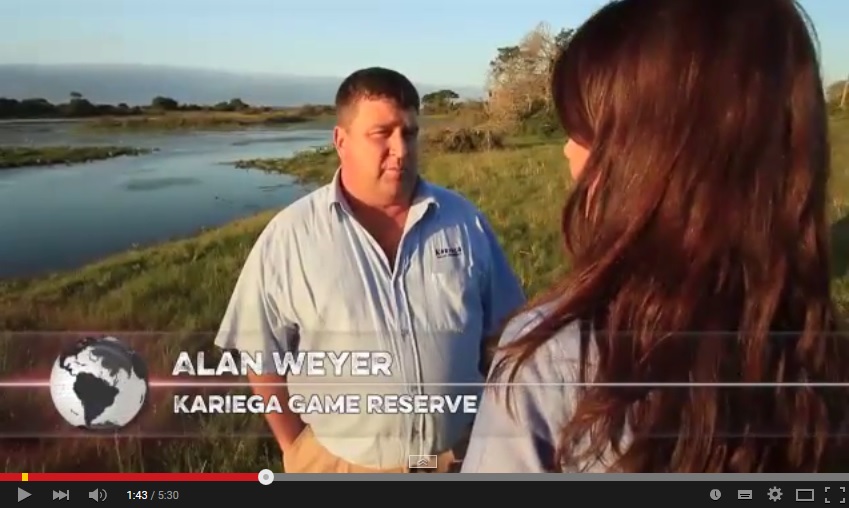 Kariega General Manager Alan Weyer explains that the role of a vet has changed considerably in recent years. 
"Everything we do in terms of rhino conservation now involves vets. Thandi's calf is due to the support we have had from the veterinary community," explains Alan.
"Thandi has taken the plight of rhino poaching and brought it to the attention of the global public in a way that very few other rhino have managed to do so there is an enormous amount of responsibility on us to try and stop this crisis," says Dr Fowlds.
If you wish to contribute to our efforts in caring for Thandi and protecting our rhino and other rhino generally, you can find out more about the Kariega Foundation Save the Rhino project.