Typical Day on South African Summer Safari
In the heart of the Eastern Cape, spanning more than 11, 500 hectares of African wilderness that is home to the Big 5 and incorporating two majestic tidal river estuaries, lies the stunningly beautiful and malaria-free, Kariega Game Reserve. Easily accessible at the end of a Garden Route tour, or a quick 1 hour flight from Cape Town to Port Elizabeth followed by a 90 minute transfer to the reserve, Kariega Game Reserve is among your top destinations for a South African, summer safari.
Our guests are top priority, and we strive to provide them with an unforgettable experience during their stay with us. 
A three night stay is recommended in order to fully enjoy all that Kariega has to offer in terms of activities and amenities. If time and budget allow, a four night visit is ideal for a more immersive experience including a community tour or visit to the beautiful beaches of Kenton-on-Sea.
Kariega Game Reserve offers guests wonderful accommodation options in one of five lodges that cater to individual preferences and budgets. Main Lodge is family friendly and relaxed; Ukhozi Lodge is intimate and romantic for couples, small groups or families with older children; River Lodge, is perched on the banks of the Bushmans River with beautiful views and opportunities for water based activities like fishing, canoeing and daily boat trips to Kenton on Sea for a swim in the ocean. The Homestead, is a small exclusive use lodge for groups or families and our 5 star lodge, Settlers Drift, offers the ultimate, luxury, safari for honeymooners, special occasions or the discerning traveller.
Summer is a wonderful time to enjoy a South African safari in the Eastern Cape. Days are long and warm, with plenty of time to fit in a full and exciting safari itinerary; or time to relax and unwind in-between safari activities!
Read this blog and watch the awesome video by Kariega's videographer Reece Dodd, to experience a typical day on a South African, summer, safari at Kariega Game Reserve!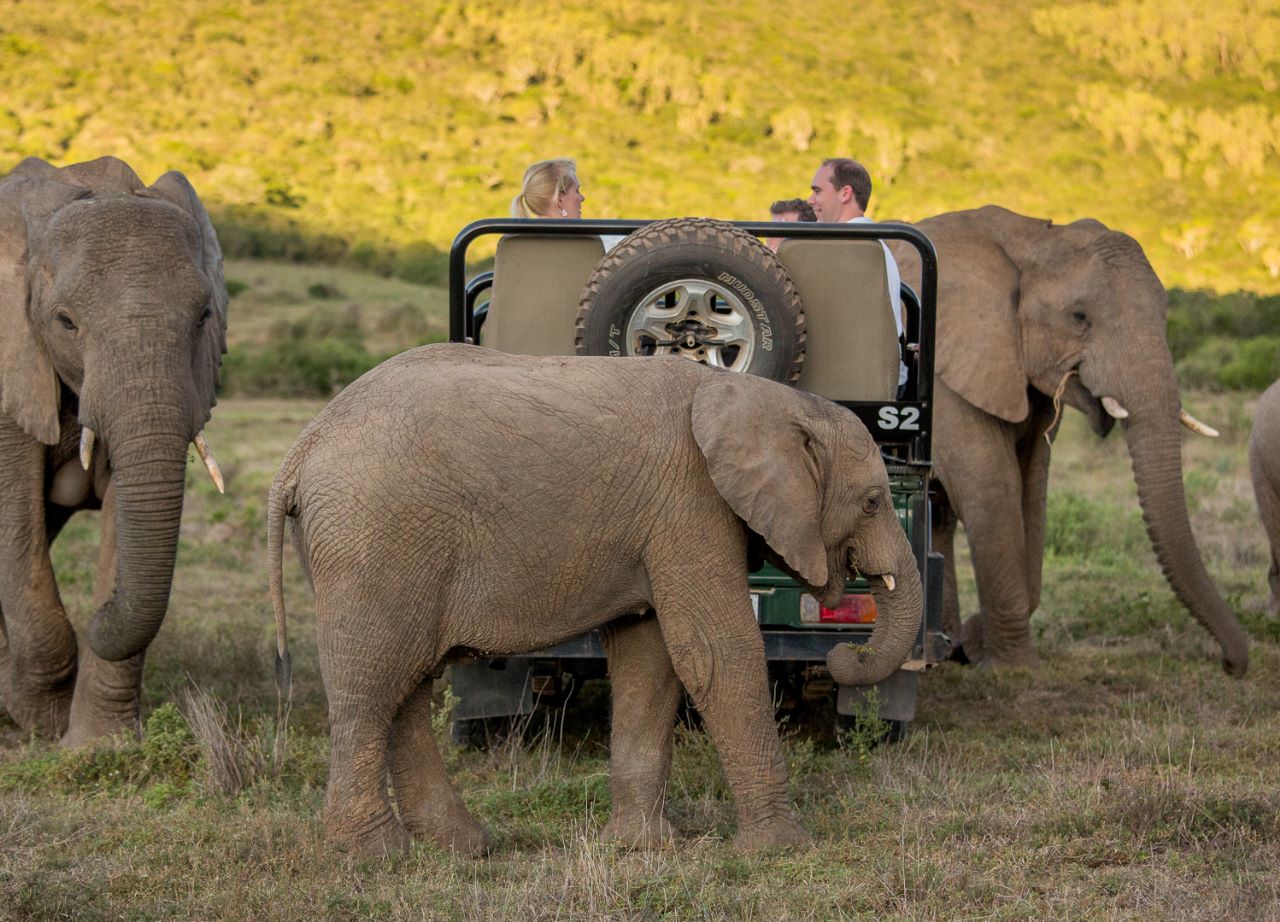 Settling in on Arrival 
Check in at Kariega Game Reserve is from 13h00 onwards and arrangements can be made with reservations for late arrivals. If you are staying at Settlers Drift you have the option being transferred to the lodge by boat! (An experience not to be missed!)
Lodge staff welcome guests with a refreshing drink, before concluding an orientation tour of the lodge. Lunch is served from 14h30 and afternoon safari drives depart at 16h00.
The first safari drive is incredibly exciting, particularly for a first-time-safari guest. Before heading out into the wilderness, the Kariega field guide will do a safety brief and tell guests a little about Kariega's inspiring history. Many people who go on safari have the impression that the most exciting animals to see are the Big 5: elephant, rhino, buffalo, leopard and lion. This is not altogether true! Within minutes of leaving the lodge the field guide will be enthralling guests with interesting facts about the numerous species of animals, birds, fauna and flora that are encountered during the three to four hour outing. During which time one or two of the Big 5 would have certainly been seen.
At around 18h20, the sun will start to set, which is a good time to stop to stretch legs and enjoy a few sundowner refreshments. Watch the breathtaking African sunset while sipping a cold beverage of choice and snacking on South African delights is a definite safari highlight.
It is often dark when making the return trip to the lodge which is a great time to look for illusive nocturnal animals!
Guests are welcomed back the lodge at around 19h00, by friendly staff who are always on standby to assist and ensure everyone is comfortable and well looked after. Dinner is served from 19h30.  Guests who have booked two nights or more are guaranteed a Boma night, where local cuisine cooked on an open fire is served outdoors under the night sky, with traditional African dancing and singing.
Given that a typical South African summer safari itinerary starts at the crack of dawn, an early night is recommended!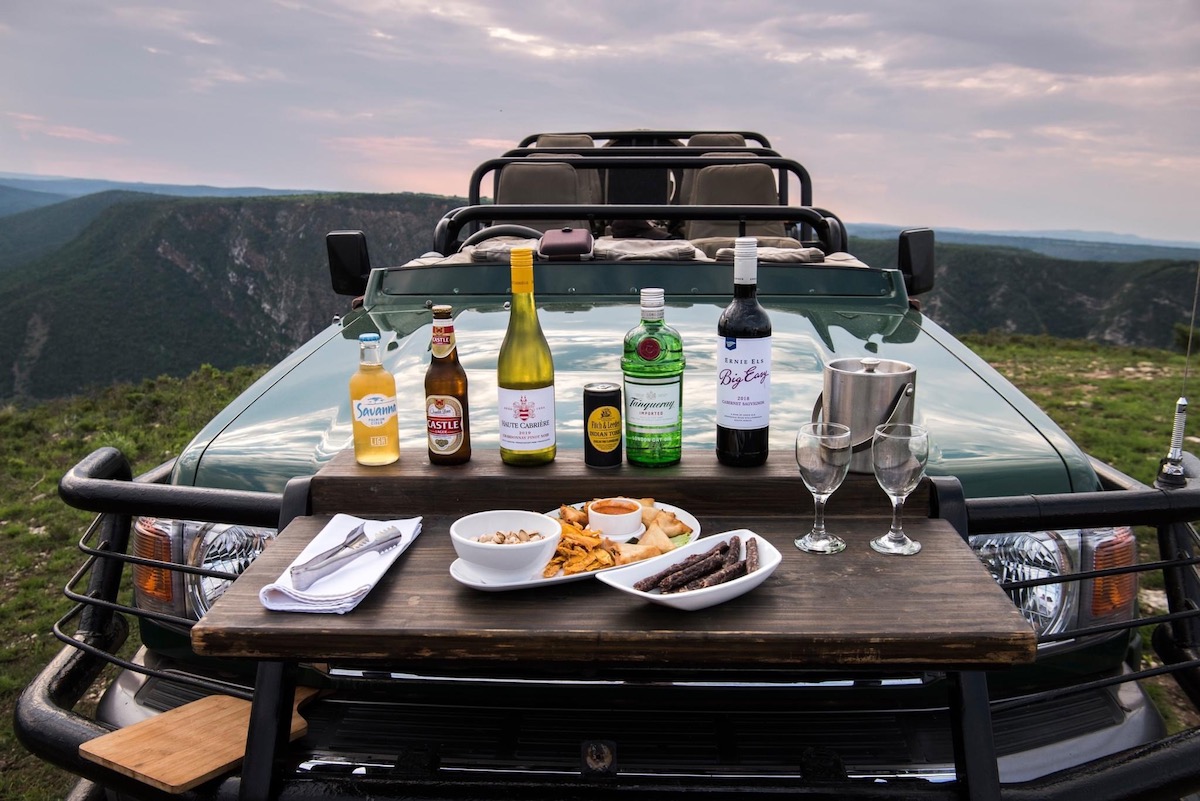 A Typical Morning on a Summer Safari
Wake up is at 05h30, with a much needed cup of coffee in-room or at the lodge.
At 06h00, guests set off for the morning safari drive. Even though it is summer, these early mornings can still be cool and it is best to dress in layers with a light jacket.
The morning game drive is three to four hours long and it is a beautiful time to be out in the African bush as all the animals and birds are becoming active and alert. Game drives continue come rain or sun and each experience is uniquely enjoyable. 
Kariega Game Reserve is vast with many diverse biomes creating homes for a plentitude of wild animals including giraffe, zebra, wildebeest, numerous antelope, ostrich, hippo, buffalo, elephant, rhino and lion (among others). Each game drive takes a different route allowing guests to enjoy different parts of the reserve and see as many wild animals and birds as possible. Guest can expect to be totally enthralled and inspired by the passion and knowledge that flows from the Kariega field guides while out on safari.
Morning game drives include a bush, coffee and muffin stop. This is a peaceful time to enjoy the stillness of the early morning. 
Guests arrive back at the lodge at around 9h30 for breakfast, having worked up a healthy appetite! 
The day after breakfast holds many possibilities and guests can customise their safari experience either engaging in a variety of activities including bush walks, fishing, or a visit the local community. Alternatively time can be spent relaxing at the pool or enjoying a spa treatment. 
South Africa's weather in summer can get very hot so pack some sunscreen, a hat and a bathing suit!
Lunch is served at 14h30 and there is always time for a short nap before afternoon game drives that depart at 16h00.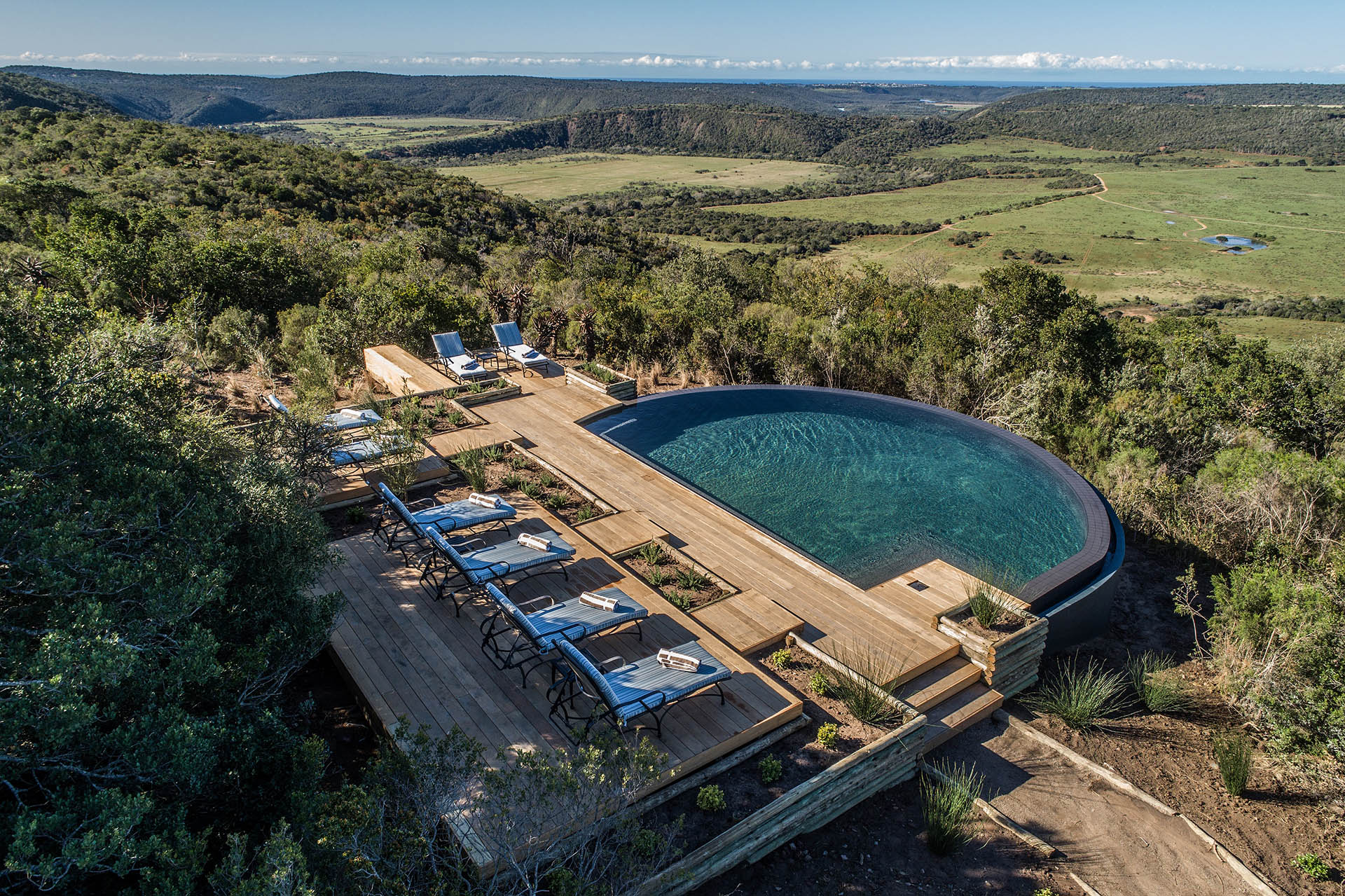 Afternoon and Evening Safari Activities
By the third game drive, guests might be searching for specific animals that have been illusive and are on their wish list. Tracking specific animals adds an exciting element to a game drive and is a humbling reminder that the African bush always has ideas of its own. Sometimes tracking a male lion or the herd of elephant ends in success, and other times not, but every safari drive offers a unique and wonderous experience. While searching for the animals on the wish-list, it is certain that interesting flora, fauna, birds, or even insects will be found along the way. 
A pair of binoculars is always a good item to pack for a safari holiday. Guests at Kariega Game Reserve are given a handy field guide to check off everything that has been seen while on Safari with us. 
The afternoon safari drive will include another 'sundowner'(as we say in South Africa) stop to pause and soak in the magnificent views and sunsets at Kariega Game Reserve.  It is a lovely time to connect with your Kariega field guide and other guests while enjoying a drink and snacks.
You will arrive back at the lodge for dinner. 
Guests are recommended to arrange at least one after-dinner night drive with their field guide. If it is a clear night the African stars are mesmerising and their are many interesting nocturnal animals to search for. Hippo in particular are awesome to view at night, as they are usually grazing and out of the water.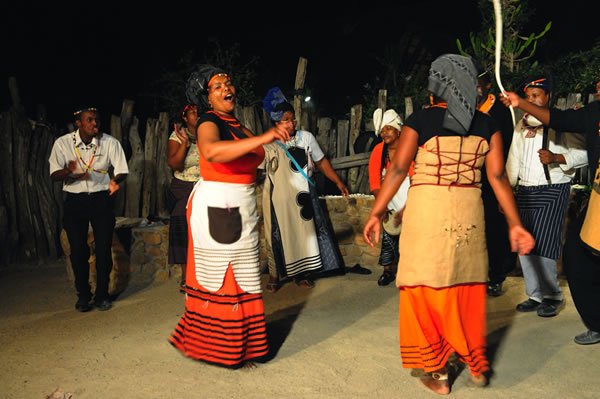 A Safari With Purpose
Kariega Game Reserve prides itself on the sustainable and responsible eco-tourism model it has created in partnership with the Kariega Foundation that delivers on a holistic mandate to protect and preserve the Kariega wilderness and uplift the people and communities that live in and around the reserve.
Every safari to Kariega Game Reserve is a safari with purpose thanks to the additional conservation and community levy of R170 per person per night. These funds are invested directly into our community and conservation projects, which play an immediate role in the betterment of local livelihoods and conservation efforts.
The Kariega Foundation is very grateful to every Kariega Game Reserve guest who becomes our community and conservation partner via the Kariega Foundation conservation and community levy.
Guests can also make a difference by 'Packing for a Purpose'.  All donated goods are distributed to carefully selected community recipients. If you would like to find out more, email foundation@kariega.co.za
Book A South African Summer Safari Now
Feeling inspired after reading this blog? Book a South African summer safari now! Email our friendly reservations team who are always so eager to make your safari dreams come true.
Do you have any summertime memories of Kariega? Share your stories, photos and videos with us on Facebook or Instagram.
We love hearing from our guests. Thank you.