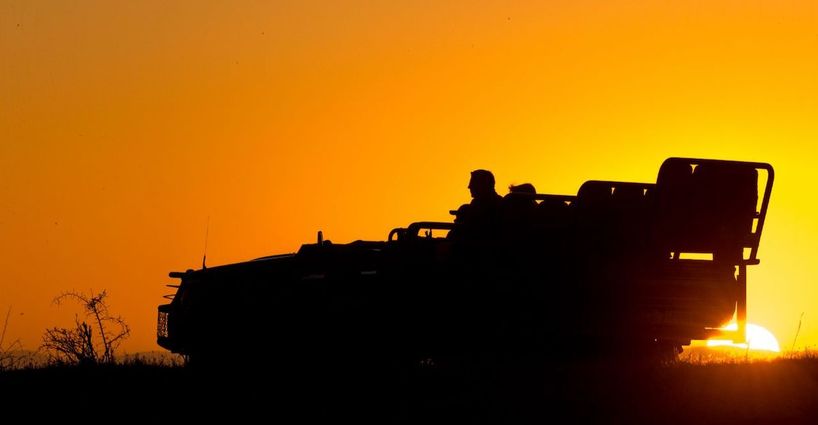 South Africa is a beautiful and diverse country with so much to see and do. If you are planning to visit South Africa, deciding where to start your travels and where to end can feel very overwhelming!
This blog explores one of our most popular tourist routes which starts in Cape Town, meanders down the world famous Garden Route and ends in the Eastern Cape province with an African Safari experience at the stunningly beautiful and popular, Big 5, Kariega Game Reserve. 
Allow yourself 10 to 14 days exploring time so that you can really enjoy the best Garden Route and Safari holiday!
A traveler can get a fantastic sense of South Africa's many, distinctive flavours by taking this particular route from the Western to Eastern Cape. It is a lovely way to learn more about this rainbow nation, from culture to scenery and wildlife.
From the mother city of Cape Town, the Garden Route follows the N2 national highway through the picturesque winelands, via the coastal communities of Hermanus and Gaansbaai, down into the quaint towns of Knysna and Plettenberg Bay, and finally ending in the Eastern Cape which has become world renown as a premier safari destination.
Kariega Game Reserve is situated in the Eastern Cape at the end of the Garden Route, nestled in between the sea-side village of Kenton-on-Sea and an inland, historic town called Grahamstown, now known as Makhanda.
This Garden Route and Safari holiday itinerary allows tourists to experience the Marine Big 5; the Safari Big 5; taste the delicious wines of South Africa and experience the diversity of culture, experiences, vegetation and scenery South Africa has to offer.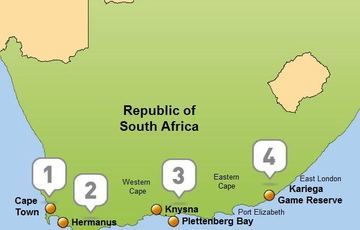 Starting from Cape Town
This Garden Route and Safari itinerary starts in Cape Town, one of the most popular holiday destinations in the world. Cape Town is located on a peninsula below Table Mountain on South Africa's southwest coast. 
There is so much to do and see in Cape Town! Make sure you include time to trek up Table Mountain and Lions Head; visit the famous Robben Island; explore the V & A Waterfront and relax for at least a morning on one of the city's many stunning beaches. The Simons Town penguins are a definite highlight along with a trip to the Cape Point Nature Reserve.
South Africa is famous for producing exceptional wines and many beautiful and prestigious wine farms are accessible in and around Cape Town and along the Garden Route. Wine tasting is a must-do in the Western Cape and should not be missed; the little towns of Stellenbosch, Paarl, and Franschhoek are all dotted with vineyards and enjoyable wine routes.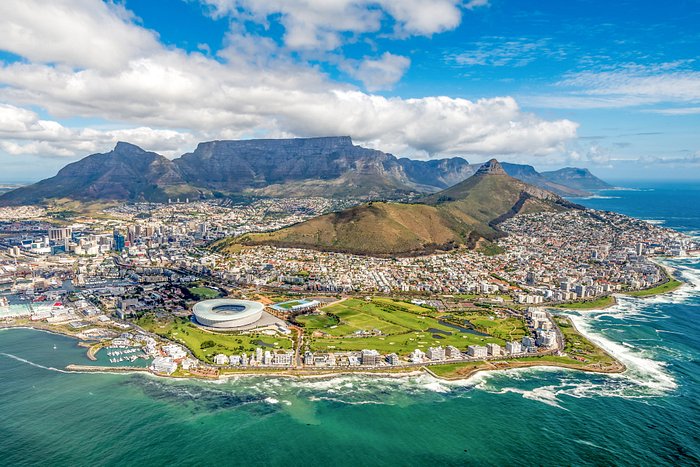 Searching for the Marine Big 5
From Cape Town the Garden Route takes you to the picturesque beachside towns of Hermanus and Gaansbaai. They are characterised by the unique beauty of rugged mountain ranges that drop into the ocean!
These towns provide a variety of activities, from whale watching and shark diving to visiting the Cape Floral Kingdom World Heritage Site or enjoying beautiful mountain and beach walks, restaurants and even a brewery tour. Visitors should plan at least three nights in the area. 
Hermanus and Gaansbaai are renowned for being home to the marine, Big 5. Southern Right Whales, Great White Sharks, Bottlenose Dolphins, African Penguins and Cape Fur Seals, are frequently seen by boat or while walking along the famous Hermanus, cliff path.
Hermanus is an excellent shopping destination! Leave time to pick up a few souvenirs and gifts to take home. 

Exploring Quaint Towns  
The next stops on your itinerary are the charming towns of Knysna and Plettenberg Bay. They are in very close proximity to each other, so chose one as your stop over destination and allow at least a day to explore the other.
The beaches in and around to Knysna and Plettenberg Bay are beautiful. Don't miss the breathtaking views from the top of Knysna Heads, or a boat cruise on the Knysna lagoon followed by lunch at the waterfront. Walks in the Robberg and Featherbed Nature Reserves are also highly recommended. 
Monkeyland, Birds of Eden, and Lanwood Snake Sanctuary are excellent sites to visit while on this stretch of the Garden Route if you're a nature or animal lover.
If you enjoy fine dining with ambiance these towns will not disappoint!
For the adrenalin junkies you can bungee jump off the Bloukraans Bridge while traveling to your next destination along the route!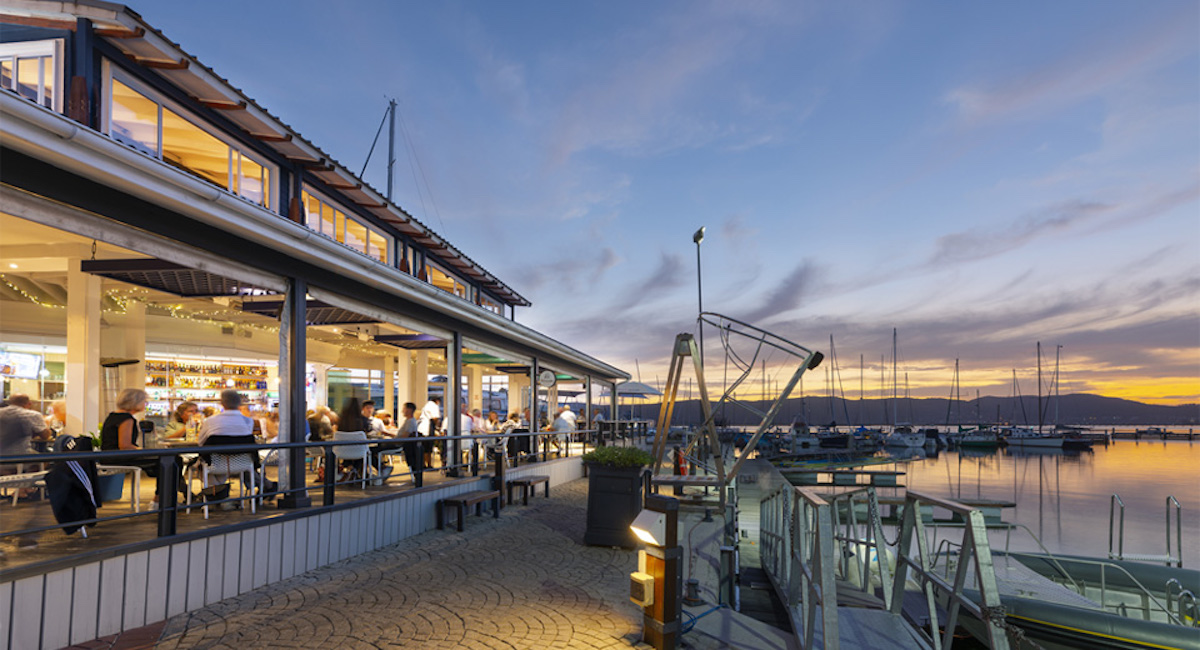 Experience a Big 5 Safari
Your final stop at the end of the Garden Route tour is Kariega Game Reserve where you will experience a Big 5 Safari.  
Kariega Game Reserve is an 11, 500 hectare protected wilderness, with two majestic tidal rivers flowing through it: the Bushmans River and the Kariega River. The combination of stunning lodges; rugged and diverse beauty; access to navigable rivers and a plethora of birds and wild animals to view has made Kariega Game Reserve one of the most well-loved safari destinations in the Eastern Cape.
If time and budget allows we recommend at least three nights here, so that you can experience the full activity range from morning and evening safari drives, bush walks, river cruises, time to relax at the spa or simply enjoy the beautiful spaces in and around the lodges. 
There are five lodges to chose from, each with unique characteristics to suit specific needs, tastes and budgets. They are: Main Lodge, Ukhozi Lodge, The Homestead, River Lodge and Settlers Drift.
You will find the perfect safari lodge at Kariega Game Reserve  to end off your Garden Route and Safari holiday.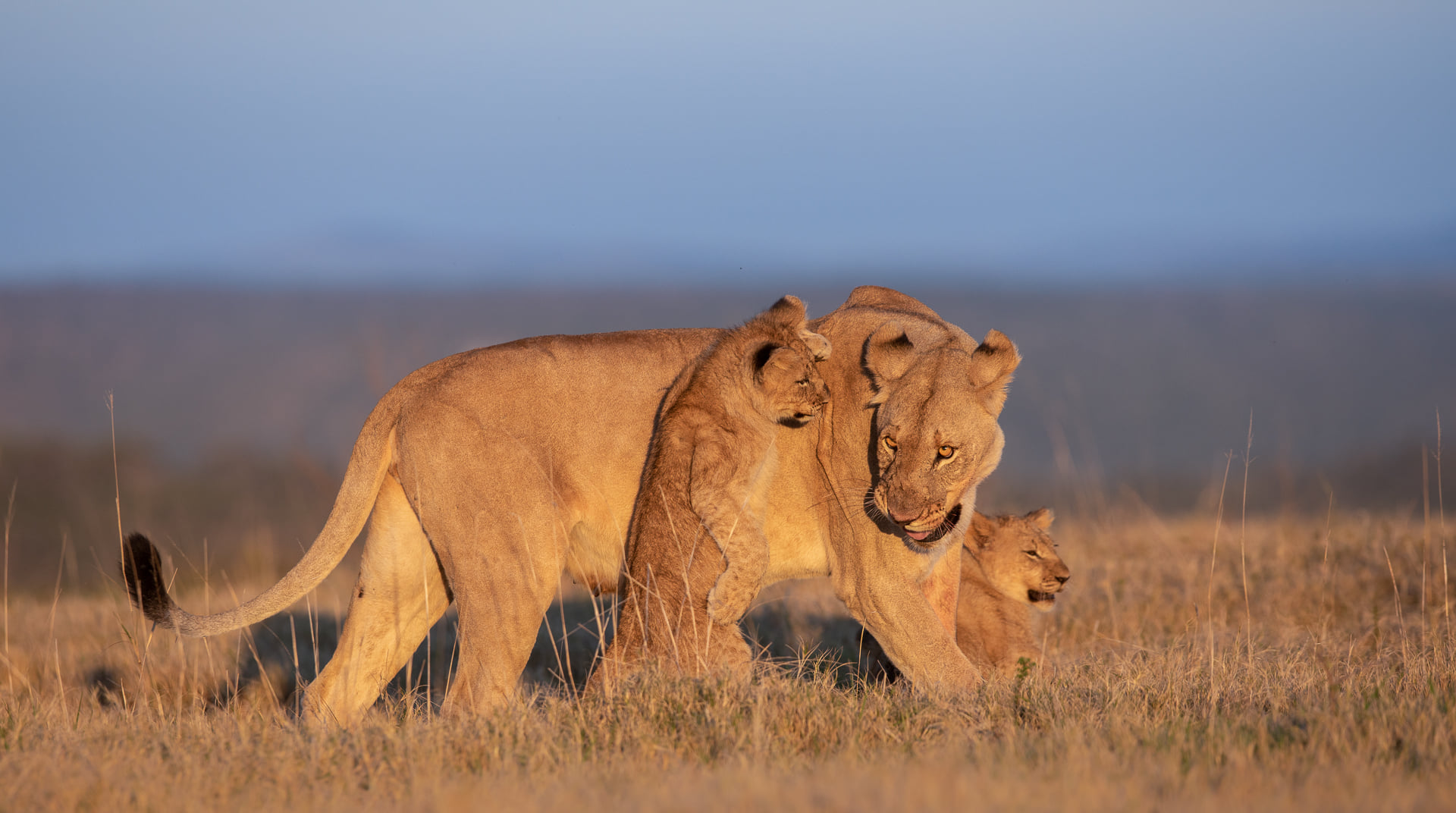 Get in Touch 
For more information or assistance in planning your South African, Garden Route and Safari holiday send us an email at reservations@kariega.co.za 
We will be so happy to help. South Africa is a holiday destination that should not be missed.