Guests recognise South Africa Safari hospitality excellence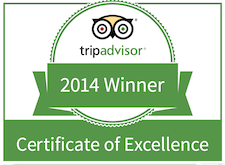 Kariega Game Reserve is proud to announce that it has been awarded the TripAdvisor Certificate of Excellence for the third year in a row. The accolade, which honours hospitality excellence, is given only to establishments that consistently achieve outstanding traveller reviews on TripAdvisor, and is extended to qualifying businesses worldwide.
"We are very grateful to all of our guests who added fantastic reviews and photographs after their stay with us at Kariega. We are so pleased that we have been recognised for our attentive personal service and an excellent safari experience. We'd like to thank all of our guests for their support." says co-owner Mark Rushmere.
"TripAdvisor is pleased to honour exceptional hospitality businesses for consistent excellence," said Marc Charron, President of TripAdvisor for Business. "The Certificate of Excellence award gives top performing establishments around the world the recognition they deserve, based on feedback from those who matter most – their customers. From Australia to Zimbabwe, we want to applaud exceptional hospitality businesses for offering TripAdvisor travellers a great customer experience."
Recent traveller reviews on TripAdvisor
"My wife and I had a fantastic time at Kariega. From the minute we arrived, we were very well looked after. The accommodation was first class, the food was great and all the staff were lovely." Jim P.
"Within an hour of arrival we were on our first game drive and looking at the pride of lions. Soon after that we were right in the middle of a herd of elephants with a few baby calves hiding behind their mothers. When we got back to the lodge that evening we got to eat a fantastic braai, the delicious smells still linger. The next day we got to see hippo, kudu, blesbuck, zebra, giraffe and ended our day with rhino. Returning to the lodge we got to see rhino Thandi and hear the very heart breaking story of her survival. Kariega is a fantastic experience and deserves to be enjoyed as soon as possible." Jeremy P.
Eastern Cape Safari Destination of Choice
Kariega prides itself on being a destination of choice for tourists to South Africa and particularly the Eastern Cape. This accolade proves that visitors have great experiences with us. Please feel welcome to send us your feedback or read more guest reviews on TripAdvisor.