Three-Years-on from Tragic Rhino Poaching at Kariega
Our thoughts go back to that dreadful day on 2 March 2012, now three years ago, when we found our three rhinos after poachers had attacked them. We think about our unnamed bull that died during the night, the fight for survival and tragic death of Themba, the amazing recovery of Thandi and the birth of her healthy calf.
During March we will celebrate Thandi's amazing recovery and highlight how it has fueled public passion for this species and motivated people from far flung places to get actively involved in helping to save the rhino. We are so proud to publish some of the wonderful achievements and projects that have been inspired by this brave rhino. Our sincere thanks to everyone who has, and continues to fight for our rhino.
"Thandi's story of sheer determination and will to survive represents hope in the face of hopelessness. This story stands as testimony to the worst and the best of human attitudes towards animals." Dr William Fowlds.
Thandi's Endangered Species Association: Inspired by Thandi
Thandi's Endangered Species Association (TESA) was founded by Angie Goody after she returned from volunteering at Kariega Game Reserve in 2012. The aim is to raise funds and awareness to protect South Africa's rhinos.
Thanks to Angie Goody for the update on the progress of this great initiative. Angie is currently an intern at Kariega. Read more about her experiences on our blog.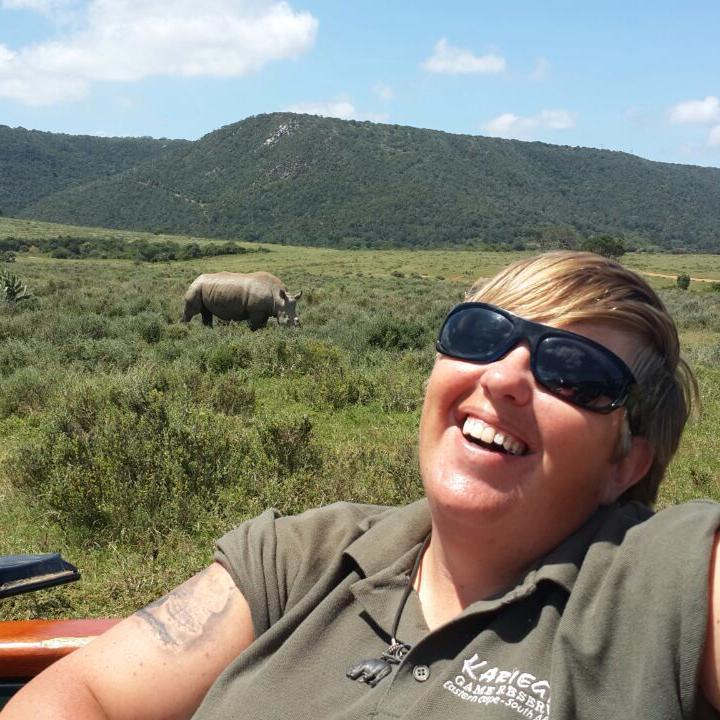 "I arrived at Kariega Game Reserve as volunteer just days after their rhinos were poached. When I arrived I was briefed on the situation and was asked if I would like to assist with their treatments. I had had many years of farming background and was used to administering injections etc. All I wanted to do was help as much as possible, but nothing could prepare me for what I saw. I have seen some pretty gruesome things in my time but standing next to an adult rhino administering the drips with half its face missing, flesh and bone just hanging off and the smell of rotten flesh from maggot infestation was just horrific. I immediately became emotionally attached to these two rhinos. 
The hardest day for me was on Themba's last treatment when Dr Fowlds told me to say goodbye to this young rhino because he felt he wasn't going to make it. Sure enough the day after I left Themba died. 
I made a promise to Thandi, Themba, Dr Fowlds and Kariega Game Reserve that when I returned to the Isle of Man I would help to raise awareness and funds to help protect the rhino from the poaching crisis that has since escalated to alarming numbers. From that day forward my life changed and I have since sold all my cows and sheep, rented my farm out for 5 years, became a qualified ranger and has now dedicated my time to rhino conservation and founded my new charity Thandi's Endangered Species Association (TESA), formally known as Thandi's Fundraiser. 
Since October 2014 Kariega Game Reserve very kindly offered me an internship to monitor Thandi and the other rhinos on the reserve. It's a huge honour and a dream come true, and now with Thandi calving and having a beautiful calf at her side she has yet again become very popular in the media so I am also helping to handle that side too. 
TESA has Raised Funds and Awareness for Rhino Conservation
The Isle of Man is relatively small only 15 miles wide and 30 miles long with a population of 80,000. At least 2-3 times a year I have done an updates on what we have been up to on one of our local radio stations as well as press releases via our local newspapers. Each year we have a stand at our local agricultural show and help raise the profile even more. Literally thousands of people will walk through those gates over the weekend so it's a great way to raise awareness. I have now linked with many of the schools and am teaching children between the age of 12-18 years old about the story of Thandi and conservation in general focusing a lot on rhino poaching. 
We have had some very successful fund raisers since 2012 by holding auctions, wine tasting evenings and attending our local wildlife park throughout the summer holiday offering kiddie crafts. Many people have also helped raised funds including Edinburgh University of Vets. Nick Clifford trekking Everest, Gemma Masterton running the North West half-marathon and Mellissa Sault in Canada raising money and awareness through making crafts and cakes.
Rhino conservation projects for 2015
The main focus for 2015 is to continue raising lots of awareness. I will be doing more in the schools at home teaching them about the importance of saving these iconic species and the effects it's having on our eco-systems. It is hoped that it may be written into the curriculum as a continuous topic for all ages to study. 
We will be organising more fundraisers and will continue supporting Kariega Game Reserve and other rhino organisation projects in South Africa. TESA has now joined forces under the umbrella Rhino Alliance which was founded by Simon Jones of Help Rhinos. The Rhino Alliance is made up of other similar organisations from across the world including UK, USA, SA and Vietnam. Between us we hope to help each other with education and awareness campaigns, especially in places like Vietnam. It is hoped Rhino Alliance can offer young students the opportunity to come and visit South Africa and learn about the bush and rhinos.
Thandi's Endangered Species Association: Get in Touch
Up and coming new web address will be www.tesawildlife.org our current web address is www.thandisfundraiser.com
Facebook page Thandi's Fund Raiser but again will have a name change to Thandi's Endangered Species Association (TESA).
Twitter: Thandiiom 
Email: ad.goodytfr@gmail.com