We thoroughly enjoyed hosting South African model, TV presenter and businesswoman Lerato Kganyago with the Top Billing lifestyle television crew at Settlers Drift luxury lodge earlier in 2019. Top Billing presenter Fezile Mkhize and Lerato were treated to a top Kariega safari experience by lodge mangers Jo and Phil Oliver, field guide Wayne and the whole Settlers Drift team.
Luxury suites, tranquil lodge spaces, fine dining, intimate connections with the African wild, adventurous moments on land and water and well-deserved sundowners shaped an unforgettable Eastern Cape safari experience for Fez and Lerato and showcased Settlers Drift as one of South Africa's superior safari destinations.
Settlers Drift is aptly described by Top Billing as, "the perfect place to recharge and connect with nature with game drives, fishing, nature walks and river cruises as just a few of the options for an incredible trip!" The culinary delights of Head Chef Tony Hutchinson were also enjoyed by the Top Billing team who commented, "Tony fuses international trends with the best Eastern Cape game, fowl and seafood."
Five Safari Lodges on Family Owned and Operated Reserve
Kariega Game Reserve is family owned and operated. The personal interest and passion of the family plays a major role in the continued growth and success of the malaria-free safari destination. Family owner and director Mark Rushmere speaks nostalgically in the video about the reserves humble beginnings when his father Colin Rushmere bought the first 660 hectares of land in 1989. The greater Kariega wilderness emerged as more than 15 local farms, including two majestic river valleys, were gradually woven together. It would be accurate to say that the gradual growth and development of the now expansive 10,000 hectare reserve is one of the most accomplished conservation projects in the Eastern Cape.
Safari guests can choose from five safari lodges: the family-friendly Main Lodge, romantic and luxurious Ukhozi Lodge, private and exclusive Homestead, tranquil and secluded River Lodge and breath-taking-in-every-way Settlers Drift luxury lodge.
Settlers Drift Luxury Lodge - Bucket List Destination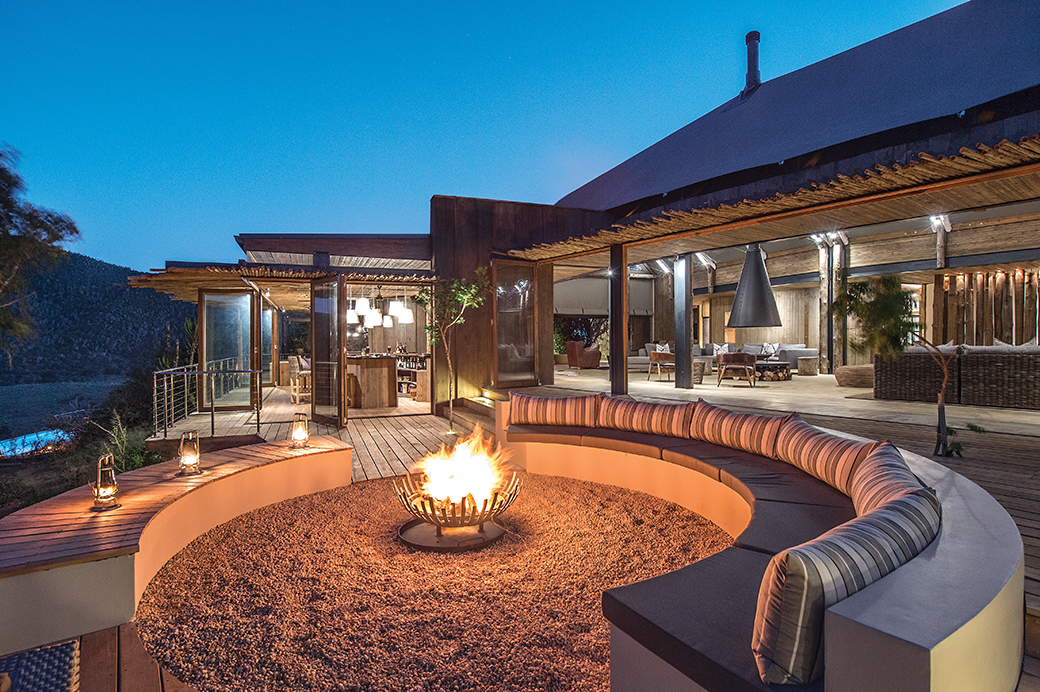 We feel certain that after experiencing Settlers Drift luxury lodge through the Top Billing lens, it will be added to your bucket list. Settlers Drift is simply one of those destinations you deserve to experience yourself.
The lodge is located in a remote and untouched part of the Kariega wilderness and offers a unique tented safari combined with 5-star luxury. Guests arrive via boat transfer on the Bushmans river. There are only nine spacious tented suites (110m²) – each with an opulent bedroom and living area, full bathroom, indoor/outdoor shower, mini-bar, air-conditioning, wood burning stove and private viewing deck. Facilities include a restaurant, bar, wine cellar, spacious decks, outdoor pool, boma, curio shop, library and spa.
Rates include: twice daily safari drives, river cruises, guided bush walks, fishing, canoeing, all meals, selected beverages, complimentary mini-bar and accommodation in a luxury tented suite with king-size bed (twin or double). View further details about Settlers Drift luxury lodge.
Check your diary and contact our friendly reservation team for information, rates and bookings. You can also check availability and book online.