Second skin graft procedure for rhino Thandi at Kariega
Skin graft on poaching survivor, rhino Thandi at Kariega
Kariega poaching survivor, rhino Thandi, received follow-up treatment and further skin-grafts at Kariega Game Reserve yesterday morning,  22 July 2013.  
Following her skin graft procedure one month ago, Thandi underwent a follow-up procedure yesterday in which doctors and surgeons undertook to assess which of the three skin graft methods applied in June had worked best, as well as to apply further grafting treatment. Dr Marais and Dr Lamont decided that the "split skin" technique had been the most sucessful and during the 50 minute procedure the team cleaned Thandi's wound, checked for any signs of complication or infection, and applied more of the "split skin" grafting method. A fourth method which could not be applied in June was also added to the surgical effort.
A big thank you to everyone on the ground and to Dr Fowlds, Dr Marais and Dr Lamont for your expertise and dedication.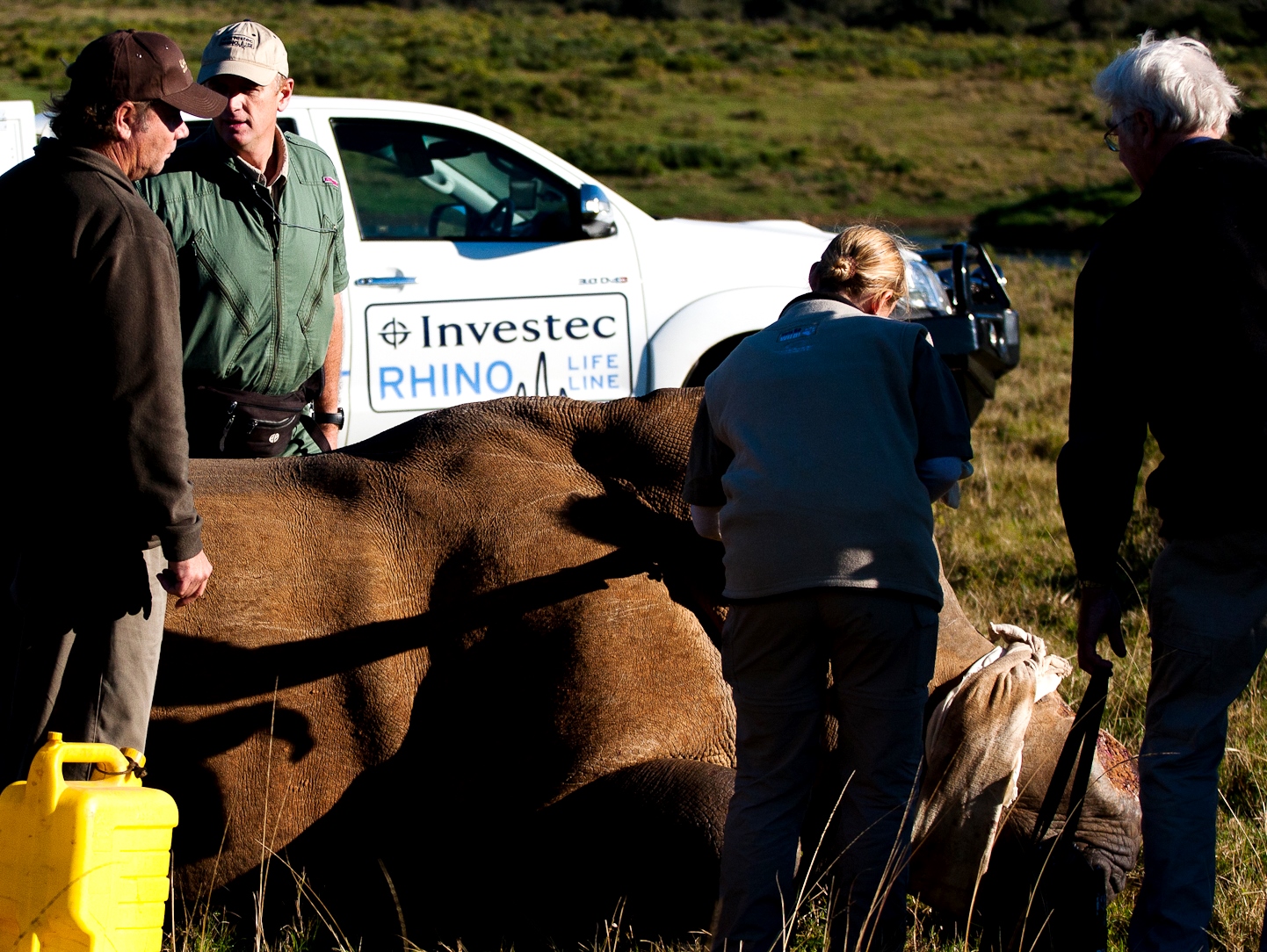 Message from Doctor Fowlds
"As a large group gathered at Kariega once again we were reminded of how many people and organisations have rallied for this special lady. As before, the messages of support come streaming in from around the world in the days leading up to these procedures adding to the weight of responsibility and reassuringly, reminding us that we are not alone in this effort. I am always humbled, when working with Thandi. How privileged we all feel being up close to this magnificent species and more so with her, as her story continues to captivate the hearts of so many people. The goal for this procedure was to clean away the build-up of debris on her facial wound, check for any signs of complications such as infection and assess which of the three skin grafts sites, which had been applied a month before, had worked the best.
 The tracking device fitted courtesy of Chipembere Rhino Foundation, has made monitoring her and finding her on these procedure days a simple task. On this occasion she was darted on the edge of a large open plain and went down in a perfect location. The ground team were on hand to make the necessary adjustments to her body position and the two surgeons, Dr Marais and Dr Lamont began the fifty minute procedure on her face. It was soon decided that more of the "split skin" technique would be applied and a fourth method known as "pinch skin grafting" was added to the surgical effort. This method could not be applied the previous occasion as there was not enough new tissue formation to provide a growth bed for these small 1mm X 4mm fragments of skin to be embedded into. It is hoped that this new skin will add to the 3 small islands of transplanted cells which appear to be growing within the graft area. Her previous healing progress revealed that even from the smallest island of surviving cells, she was able to grow a substantial plate of keratinised tissue over where her back horn used to be. Our hope this time, is that through this ground breaking surgical support, she can do the same over the front horn defect and be able to resist any further damage to her face in the future.
As before blood samples were taken and dispatched to Idexx laboratories who will keep a watchful eye on her internal status as well as culturing the debris on her face to make sure that no infection is present as this could be detrimental to new skin growth. In attendance on this occasion was also the Reserve Protection Agency who have being working on developing, amongst other things, technology solutions for conservation based security for over a year now. Several representatives of the press and a film crew were on hand to take this experience out locally and abroad. The poaching message which Thandi represents has become such an important part of the global fight to stop these barbaric crimes. Whether it be via the media, or through NGO's such as the Wilderness Foundations, "Forever Wild Rhino Protection Initiative" or through thousands of concerned individuals out there, we do seem to be making some progress in alerting the world to this wildlife catastrophe and I urge you to keep active in sharing the reality of Thandi circumstances.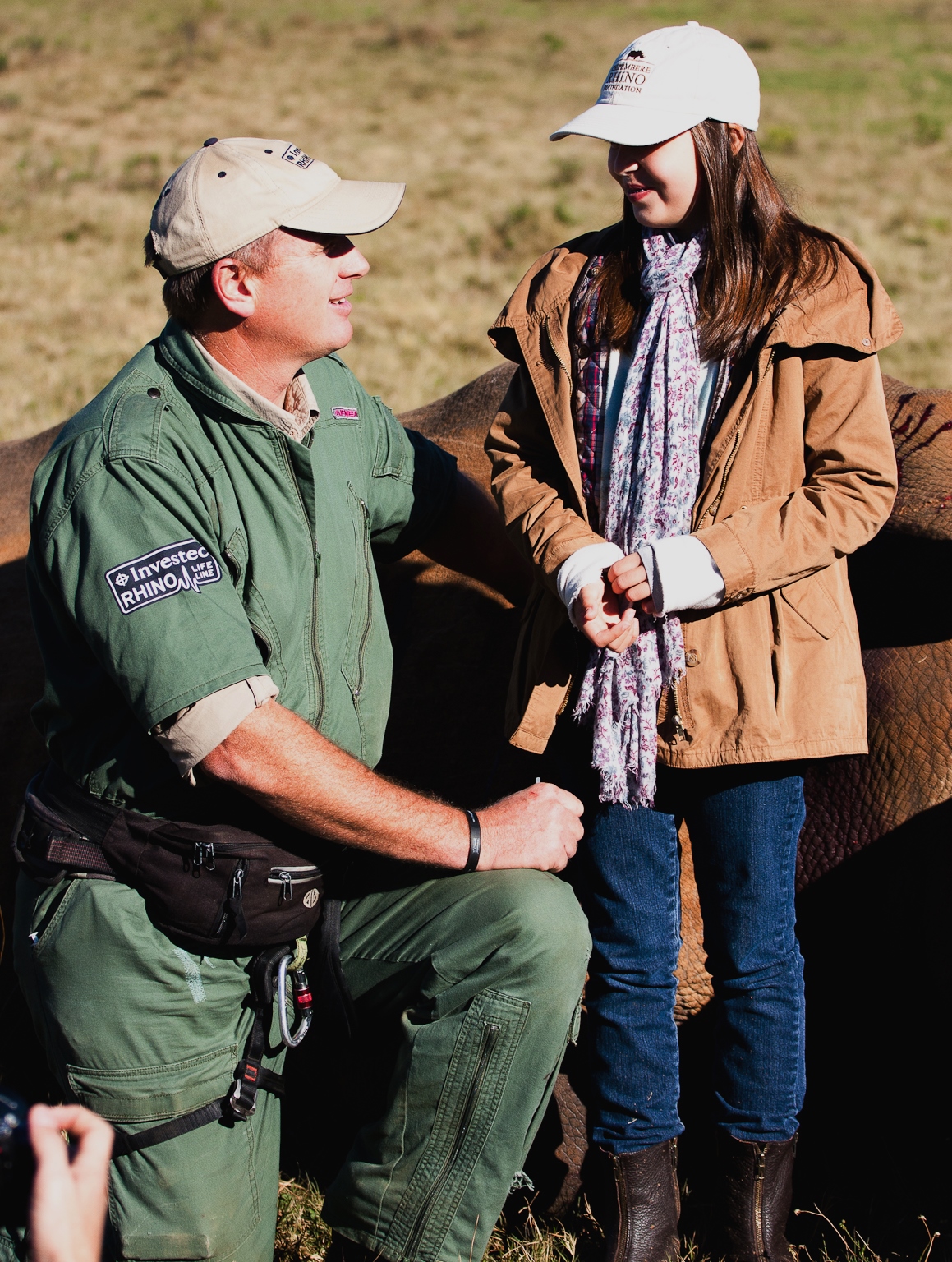 While the surgical team worked on her, I was able to introduce a very special rhino activist to just one of the rhino she has been supporting. Julia Murray, is just 12 years old and lives in Hong Kong. For over a year now, Julia has been raising awareness in Hong Kong for the plight of the rhino, starting amongst her friends and then in her school. Now her inspiring story is attracting all sorts of media attention around Hong Kong and beyond. Apart from sensitising many Asians to the rhino crisis, Julia has raised over R 90 000 which is being used by organisations like the Chipembere Rhino Foundation to support efforts on the ground to protect rhino. She has already been acknowledged by the likes of Dr Ian Player of the Wilderness Foundation, for her efforts and her infectious spirit is a motivating addition to efforts such as these. As I prompted her to share some of her story, I could not help wondering over a life time of benefit just this one young person will generate for animals all over the world. I have no doubt that her being there with Thandi will remain etched in her memories forever and that is an exciting recipe for action. Dr Will Fowlds, Investec Rhino Lifeline"