Spring flowers on Eastern Cape Safari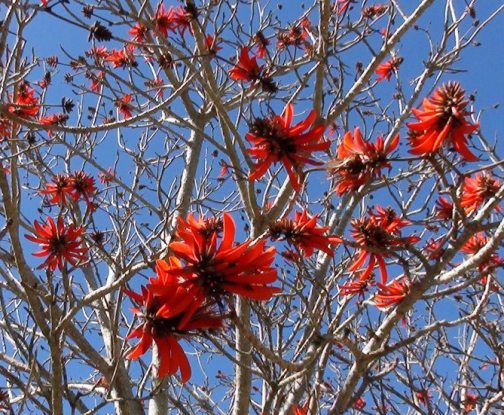 The Coral trees (Erythrina lysistemon) have burst into a colourful mass of red flowers at Kariega, showing that spring is well underway in South Africa. The flowers look even more spectacular on the bare branches of the deciduous trees. The dazzling flowers make it one of the best known and widely grown trees in South Africa.
Erythrina lysistemon is not just a decorative tree; it is also an important component of the ecosystem, providing food and shelter for a variety of animals, birds and insects.
Vervet monkeys eat the flower buds. Kudu, klipspringer, black rhino and baboons graze on the leaves. Black rhinos, elephants and baboons eat the bark and bush pigs eat the roots.
The flowers produce abundant nectar that attracts many nectar-feeding birds and insects, which attract the insect-feeding birds as well. Birds such as barbets and woodpeckers nest in the trunks of dead trees, and swarms of bees often inhabit hollow trunks.
Eastern Cape is fastest growing conservation area
So be sure to keep your eyes open for this striking tree on your next safari in the beautiful Eastern Cape. We are proud that our area is the fastest growing nature and conservation area in South Africa and offers the best in malaria-free, Big-5 wildlife safaris. You are sure to enjoy more than just the beauty of the flowers!
Photo courtesy Kariega guest Rebecca Harker.