Safari Guides Drive Against Extinction
Newly weds Jo and Daniel Haesslich, both safari guides at Kariega Game Reserve, have taken to the road for their honeymoon in a quest to raise awareness about wild animals facing extinction and to raise money for organizations who are fighting to protect them – they are Driving Against Extinction (DAE).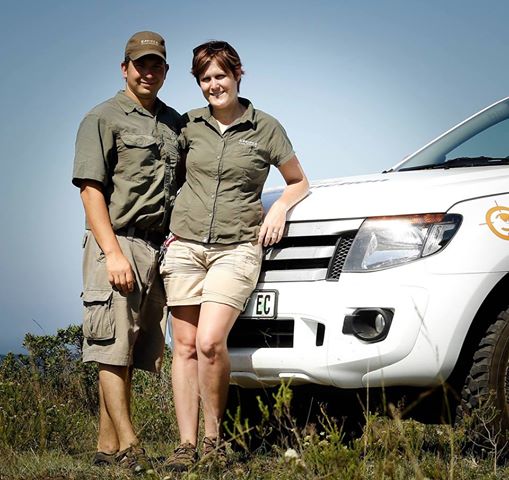 Safari Guides Inspired by Rhinos Thandi and Thembi
Jo and Daniel are passionate about nature and wanted to play an active role in conserving Africa's natural heritage for future generations. Their inspiration to take action came from spending so much time with rhino poaching survivor Thandi and her calf Thembi and working so closely with the organisations and individuals intimately involved in Thandi's courageous recovery.
Money raised from DAE will be donated to four conservation organisations, most of which are focussed on rhino conservation: Saving the Survivors, Thandi's Endgangered Species Association (TESA), Reserve Protection Agency (RPA) and Helping Rhino.
How to Donate
1) Donate via TESA's Just Giving page and be sure to reference your donation DAE.
2) EFT to DAE, ABSA, Branch 632005, Account: 4089094802
Safari Guides Jo and Daniel's Love Story Reads Like a Movie Script
Daniel and Jo started their love affair in the coastal town of Jeffries Bay in 2012. Their story reads a little like a movie script: German foreigner falls in love with his young English teacher. After whirlwind romance he returns to Germany. But, unable to forget her, he returns and reunites with her on a remote safari reserve in the Eastern Cape. They create a life together in the African bush and eventually marry on 30 April 2016! Three days later they take to the road for an epic adventure as they Drive Against Extinction in a quest to save the rhino and other endangered species from extinction...
Congratulations Jo and Daniel, you are a true inspiration and we are so proud that you are part of the Kariega family. Best of luck on your travels and we look forward to sharing their updates.