Safari Big Five to Small Five
Safari visitors to Kariega are always keen to spend time with the Big 5 - elephant, rhino, buffalo, lion and leopard. We agree that this game is spectacular, but we also love the huge biodiversity, variety of antelope, birds, reptiles and insects that live in our wilderness. 
Our safari guides are very likely to introduce interested guests to the lesser known creatures, including the now popular Small 5 - the elephant shrew, ant lion, rhinoceros beetle, buffalo weaver and leopard tortoise. This amazing video captures the hunting antics of one of the members of the fascinating small five.
Do you know which member of the Small 5 creates this pit of doom to catch and kill their prey?
Small 5: Ant Lion Larvae are Dangerous Predator
The ant lion larva is the Small 5 clever and dangerous predator depicted in the video. The larval stage of the ant lion's life can last for up to three years. During this phase the larva digs a pit in dry, loose sand to mainly catch ants, but any insect that falls into the trap will do. Once in the trap the prey is usually doomed.
As captured in the video, once in the pit the ant lion larva bombards it's prey by flicking sand at it and then grabbing it with it's powerful pincers. Once it has it's prey in it's clutches the ant lion larva drags it under the soil where it will suck out all of it's juices.
Small Five: Adult Ant Lion 
The adult ant lion looks very different to the larva. You can see this beautiful member of the Small 5 in the image below.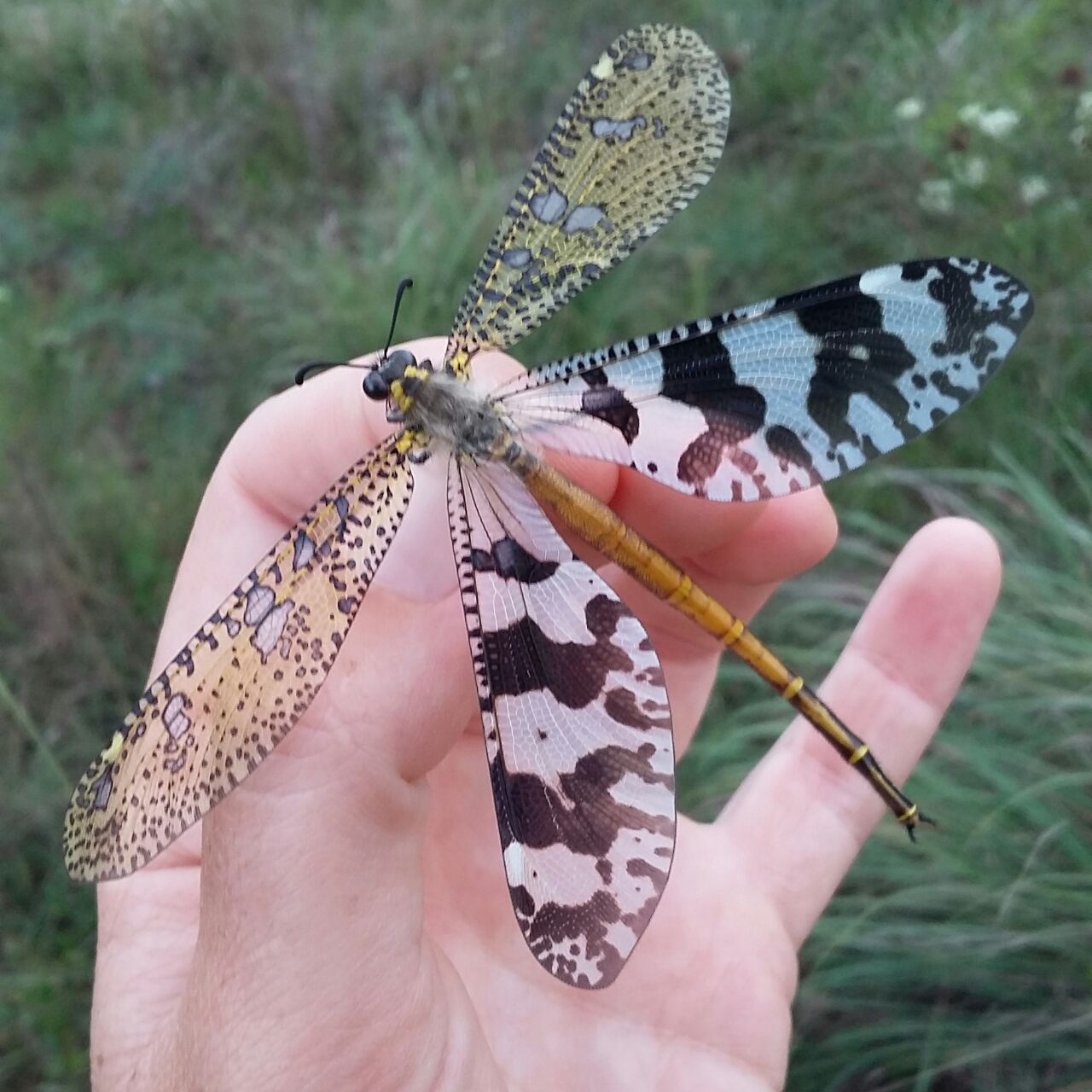 I think we can agree that is quite a metamorphosis!
Ant Lion Larvae Create Cocoons from Silk and Sand
Once the ant lion larva reaches it's maximum size it makes a cocoon out of sand and fine silk. The silk is spun from a spinneret at the rear of it's body. The cocoon remains buried as deep as seven centimetres beneath the sand for approximately one month. Once the metamorphosis is completed the adult ant-lion emerges from the cocoon and works it way to the surface. It takes about 20 minutes for it's wings to fully open and then it flies off in search of a mate. The adult ant lion lives for an average of only 25 days. Ranger Jone was fortunate to find and photograph this one with her guests.
Did you see any or perhaps discuss the Small 5 with your field guide while on safari at Kariega Game Reserve? Perhaps you were fortunate to see the ant lion larva pit of doom or even the adult ant lion? Tell us about your experience in the comments below or on our Kariega Facebook page.