Rooting for Rhino: Inspired by Thandi
Three-Years-on from Tragic Rhino Poaching at Kariega
During March we will celebrate Thandi's amazing recovery and highlight how it has fueled public passion for this species and motivated people from far flung places to get actively involved in helping to save the rhino. We are so proud to publish some of the wonderful achievements and projects that have been inspired by this brave rhino. Our sincere thanks to everyone who has, and continues to fight for our rhino.
Rooting for Rhino: Inspired by Thandi
Rooting for Rhino is a group of concerned citizens who volunteer their time to raise awareness and funds towards fighting the rhino poaching crisis in South Africa. Thanks to Jo Wilmot for providing the following update.
"We responded to Dr Fowlds and team Kariega by joining forces with the Port Alfred Rotary's Early Act Club. The Club accepted our challenge and together in May 2012 we formed the first "Human" rhino at Port Alfred High School to raise funds for conservation education.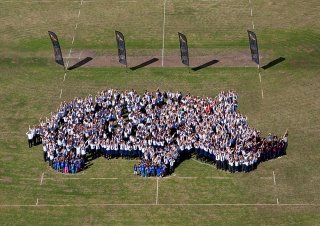 A total of 635 children filled our rhino and Dr Fowlds stood at the tip of our horn. The event raised more than R4,000. This money was put towards the translation of Bongi's Quest into Xhosa. This story tells of a baby rhino who goes on a quest to find out what happened to his uncle's horn and is written by Chris Daniel. The mission to raise a total of R10,000 for the printing of 1,000 copies of Bongi's Quest in Xhosa was successfully achieved later in 2012.
In August 2012, Rooting-for-Rhino challenge was formed when we joined forces with Chipembere Rhino Foundation, the Injection Fund via Wilderness Foundation and Bongi's Quest. Nearly 50 schools from around the globe have been involved and collectively, these children have raised in the region of R108,000 to help protect our rhino.
The Rotary Club of Kenton on Sea Gets Involved in Rhino Conservation
Dr William Fowlds addressed our club and told us the story of Themba and Thandi. When asked how our Rotary Club can help, he said "create awareness" and this we did. Dr Fowlds was invited to our District Conference where we received the support to take the plight of the rhino to the 104th World Convention held in Lisbon. We manned a stand in the House of Friendship and shared the story of Themba and Thandi with about 6000 Rotarians. Our mission was to harness the networking capacity and influence of the Rotary World to help save this species.
A highlight was meeting Dr Jane Goodall who pledged her support in our campaign. Subsequently, RAGES was formed – the Rotary Action Group for Endangered Species and this has just been approved by Rotary International as the very first environmental group within the Rotary world. Our Patron is Dr Jane Goodall. Regular campaigns have grown the support of the action group within Rotary.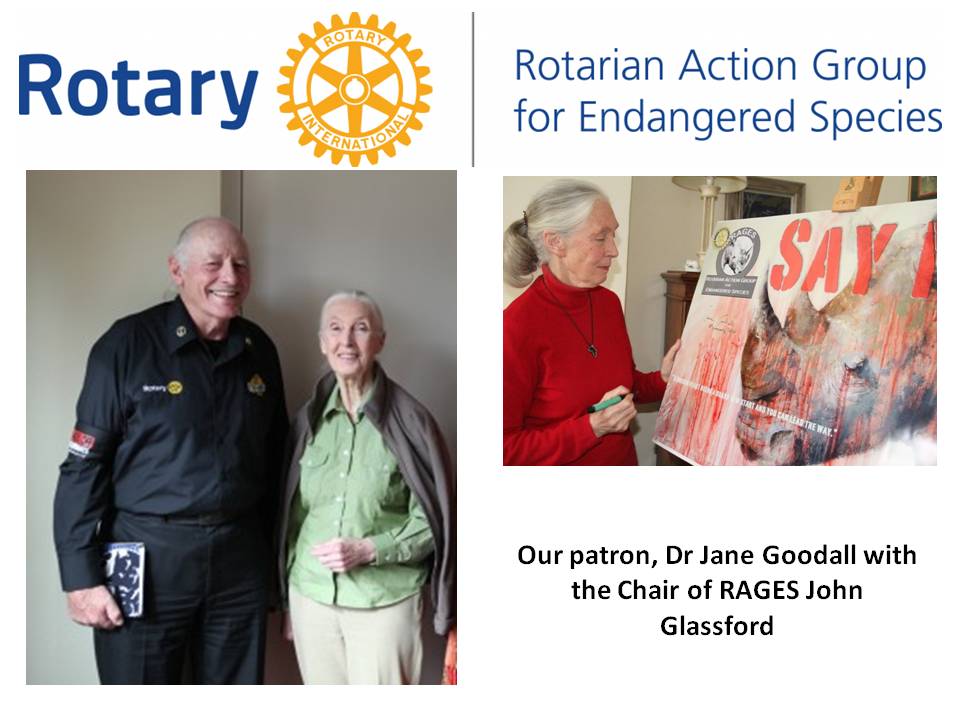 The Kenton Rotary Rhino Project, the rhino flagship project for RAGES, has continued to receive support and clubs as far as America, Australia, Sweden as well as locally have donated funds. Our project has raised R80,000 so far that has been passed on to our rhino partner the Chipembere Rhino Foundation. We have a new Youth project that we are collaborating with the Port Alfred Rotary Club that will fall under the umbrella of this project. We will continue our partnership with Chipembere Rhino Foundation who are making a difference on ground.