Rhino Tears: Inspired by Thandi
Three-Years-on from Tragic Rhino Poaching at Kariega
During March we will celebrate Thandi's amazing recovery and highlight how it has fueled public passion for this species and motivated people from far flung places to get actively involved in helping to save the rhino. We are so proud to publish some of the wonderful achievements and projects that have been inspired by this brave rhino. Our sincere thanks to everyone who has, and continues to fight for our rhino.
"Thandi's story of sheer determination and will to survive represents hope in the face of hopelessness. This story stands as testimony to the worst and the best of human attitudes towards animals." Dr William Fowlds.
Rhino Tears: Inspired by Thandi
Our thanks to Tracy Jeffery for sending an update on how Thandi inspired her to take action for rhino.
"My name is Tracy Jeffery and I am an upcycle crafter who owns a small shop called Kisma Kreative in Grahamstown (near to Kariega). I sell locally produced and handmade items. My shop hadn't been open long when the news of the terrible events came to us from Kariega Game Reserve. I read the updates written by Doctor Fowlds and shared by Kariega Game Reserve, waiting for news of Themba's progress and sightings of Thandi. Thandi and Themba became individual personalities to me and I grew more angry and determined to share the story with others that they might become personally involved too.
Everyone was so angry and sad. I didn't just want complain about what was going on in conversation over coffee. I wanted to do something. Anything.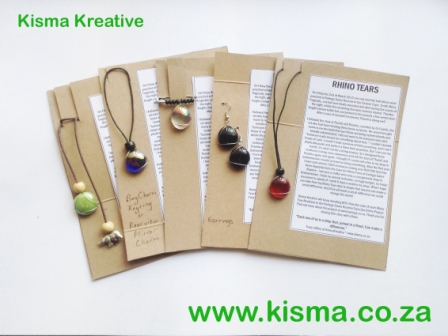 I made the first Rhino Tear necklaces from materials I had lying around in my work room. Something small and simple to put with the story of what had happened at Kariega, about Thandi and Themba. I put the ten necklaces I'd made out for sale in my shop as a sign of solidarity with those who were fighting to keep Thandi and Themba alive and to share the story with those who came through my shop from far and wide.
Every month I took 80% of the funds from sales and made a donation to the Kariega Save the Rhino Fund. I have now done this for nearly three years. 
The Rhino Tear range has grown to include keyrings, bookmarks, pins and bracelets - when materials are available. Other people have started to donate the materials we need to make more items and offering up their time to cut, package and help with assembly. The project has taken on a life of it's own.
Rhino Conservation Projects for 2015
With all the new donations of beads, cords and charms I'd like to create limited edition, designer Rhino Tear lines."
Rhino Tears: Get in Touch
You can find out more about this project by visiting the website or on their Facebook page.