Rhino Friday: Inspired by Thandi
Three-Years-on from Tragic Rhino Poaching at Kariega
Our thoughts go back to that dreadful day on 2 March 2012, now over three years ago, when we found our three rhinos after poachers had attacked them. We think about our unnamed bull that died during the night, the fight for survival and tragic death of Themba, the amazing recovery of Thandi and the birth of her healthy calf.
This painful journey has fueled public passion for this species and motivated people from far flung places to get actively involved in helping to save the rhino. We are so proud to publish some of the wonderful achievements and projects that have been inspired by this brave rhino. Our sincere thanks to everyone who has, and continues to fight for our rhino.
Rhino Friday: Inspired by Thandi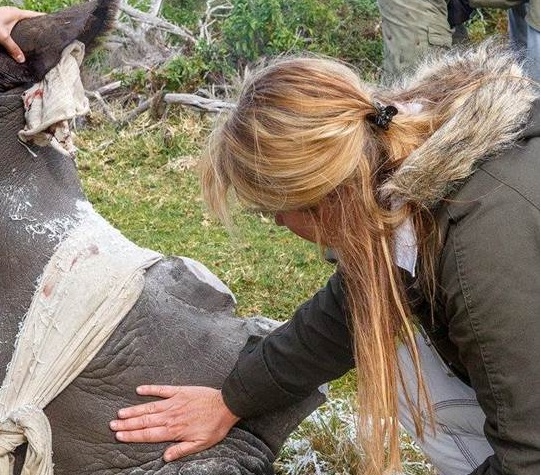 Thanks to Ayesha Cantor for this update. Ayesha is the driving force behind Rhino Friday, the sharing of rhino related information via digital media each Friday.
"As we own a family herd of rhino I am naturally interested in the plight of this species. Following the daily tally and the horrific headlines it is increasingly difficult to remain positive and hopeful that we will eventually overcome the rhino poaching scourge. Witnessing from afar, Thandi's incredible will to survive (including those who worked hard to heal her) and then the absolute miracle of the birth of her calf is all the inspiration and hope that one needs to continue to be a voice for our voiceless rhino.
Rhino Friday Raises Awareness for Rhino Conservation
While I am acutely aware that I am not in a position to make any kind of real difference, the words of Dr Ian Player are what motivate me to continue with each weeks Rhino Friday postings via the Facebook page Africa, this is why I live here.
Dr Player says that what helped him and the work that he did in the 1960's to save the species was keeping the cause alive in the media. Not only does this make more and more people aware, people who may just be in a position to do something, but it also puts pressure on those who are in charge and in a position to stop our rhino from being poached. 
Rhino Friday is a weekly post – it is shared on Facebook and is emailed to an extensive database. The posts vary from current rhino news, court updates re poachers, current stats, interviews with key role players, rhino news etc. I do not raise funds, however, I help promote causes through Rhino Friday, where help is needed.
I have also recently set up a Photographers For Rhino Facebook page. Photographers can upload their beautiful rhino images to this page and NGO's,  NPO's or anyone in need of rhino images for awareness and demand reduction campaigns can select images for free.
Rhino Conservation Goals for 2015
I would like to do more guest blogs and interviews with people who are fighting this daily on the ground. I would also like to get way more photographers on board to build up a really big and useful rhino image database. 
I am open to anyone needing to highlight what they are doing to help rhino – they can contact me and we can discuss how best to further their cause through Rhino Friday. 
Rhino Friday: Get in Touch
You can get in touch with Ayesha via Facebook. Find out more on Africa, this is why I live here and Photographers For Rhino – an image database.