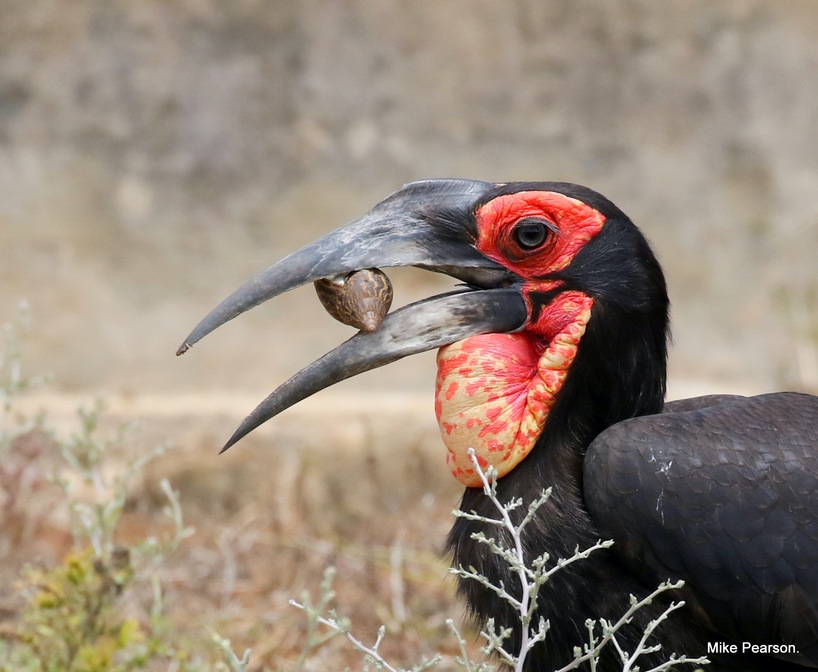 This rare sighting of two southern ground hornbills in the Eastern Cape was recorded at Kariega Game Reserve in early December 2019 by experienced birder Mike Pearson. These birds are listed as endangered on the IUCN Red List in South Africa and there are estimated to be only 1,500 birds remaining in the country. This is mainly because of severe decline in the species' habitat, poisoning, persecution and electrocution.
Our Kariega Game Reserve General Manager Alan Weyer commented: "Southern ground hornbills used to be fairly common in the Eastern Cape but in the last 30 years their numbers have declined and they are rarely seen. These two birds have been spotted at various locations in the area much to our delight. When I was coming out of Settlers Drift last week I saw them right near the entrance. I got hold of local birder Mike Pearson and and we spent about 45 minutes following the pair. The last time I saw one was in 1970/71 when I was at Salem farm school and we had to whitewash the windows to stop the adult bird from breaking them while trying to peck his reflection!"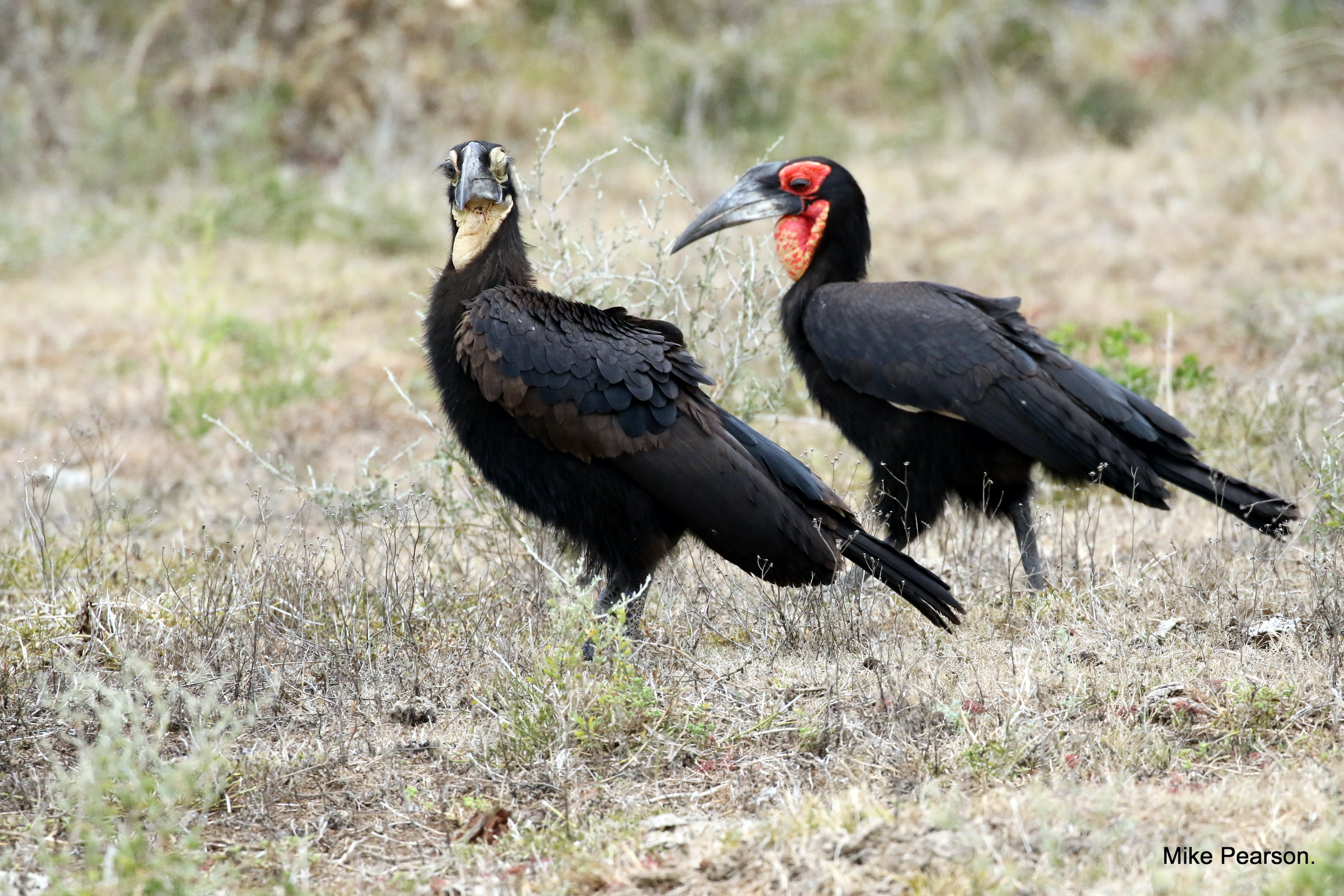 The southern ground hornbill is the largest of the hornbill species. Adults grow to a height of 90-110cm, and males can weight of up to 6 kgs and females around 4 kgs. Adult birds have black feathers except for some white feathers which are only visible in flight. Adult male southern ground hornbills have red bare facial skin and females have a patch of dark violet blue on their throats. Juvenile birds have pale grey to cream facial skin and grey sides on their bills, as can be seen in these images.
The birds are very territorial, with a family group of up to 10 individuals protecting a territory. Southern ground hornbills are monogamous, pairing for the 30–40 years of their lives unless their mate dies. We suspect that this may have been the case with the female southern ground hornbill missing from this small family group.
Southern ground hornbills have long legs and toes, a long tail and a broad wingspan. Their bills are black with a low casque ridge at the base. They usually occur in grassland, savannah and woodland habitats.
Juvenile Southern Ground Hornbill: Rare Sighting in Eastern Cape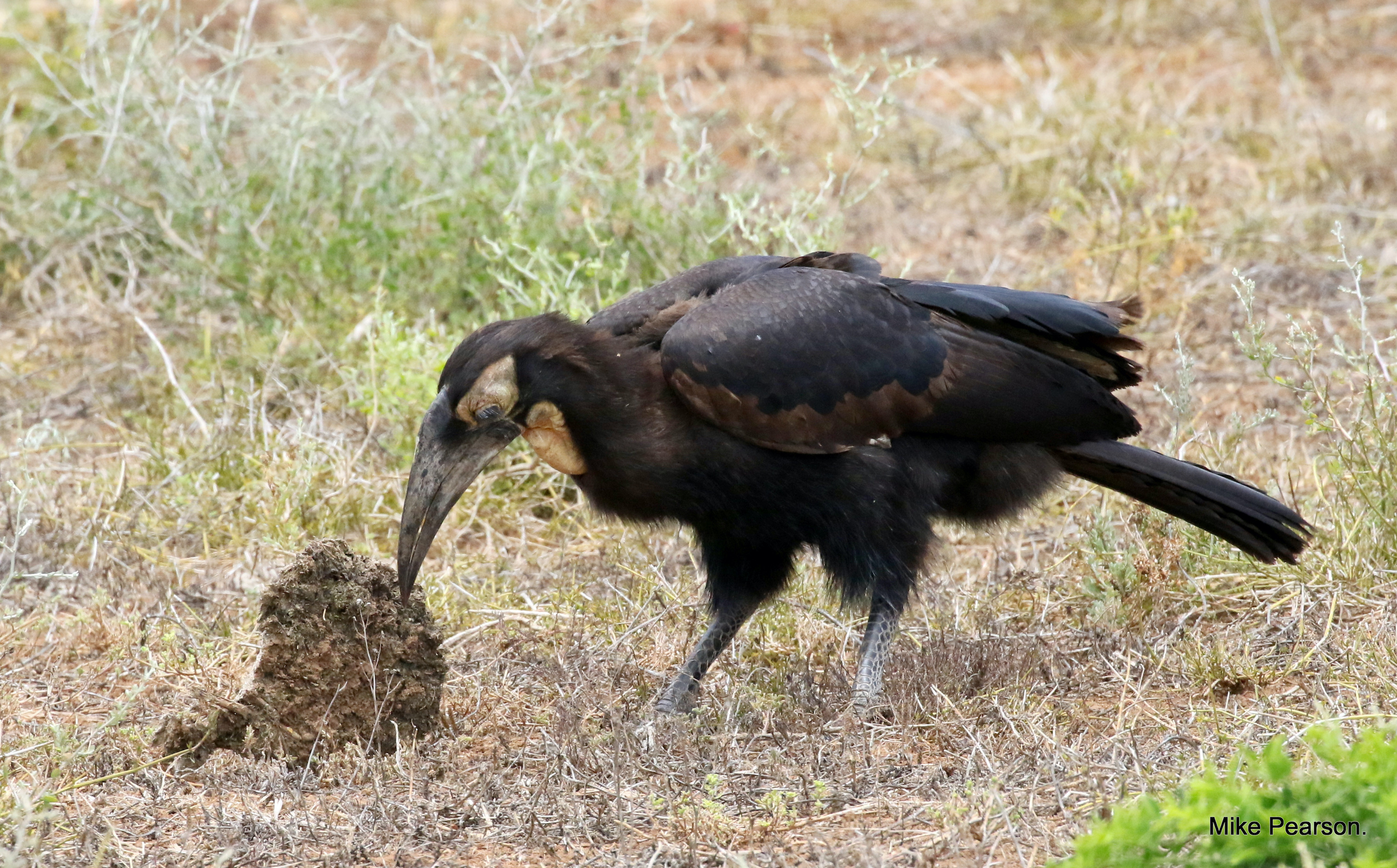 Southern ground hornbills are one of the slowest breeders in the bird kingdom, producing only one chick approximately every nine years. Mike Pearson did some work in the Kruger National Park documenting a group of hornbills and they only raised one chick in 12 years.
These hornbills are co-operative breeders, with one dominant breeding pair in the group and the rest of the birds as helpers. Although the breeding pair often lay two or three eggs, generally only one chick survives. The older chick competes with the younger chick for food, and the younger chick dies of starvation. Southern ground hornbill conservation projects remove and rear the second-hatched chicks and then release them into areas where they have become locally extinct but the threats have been resolved.
Southern ground hornbills reach maturity at about eight years of age. Juveniles are dependent on their parents for up to one year and will often stay with them for several years before leaving, if at all.
Southern Ground Hornbills Feeding in Eastern Cape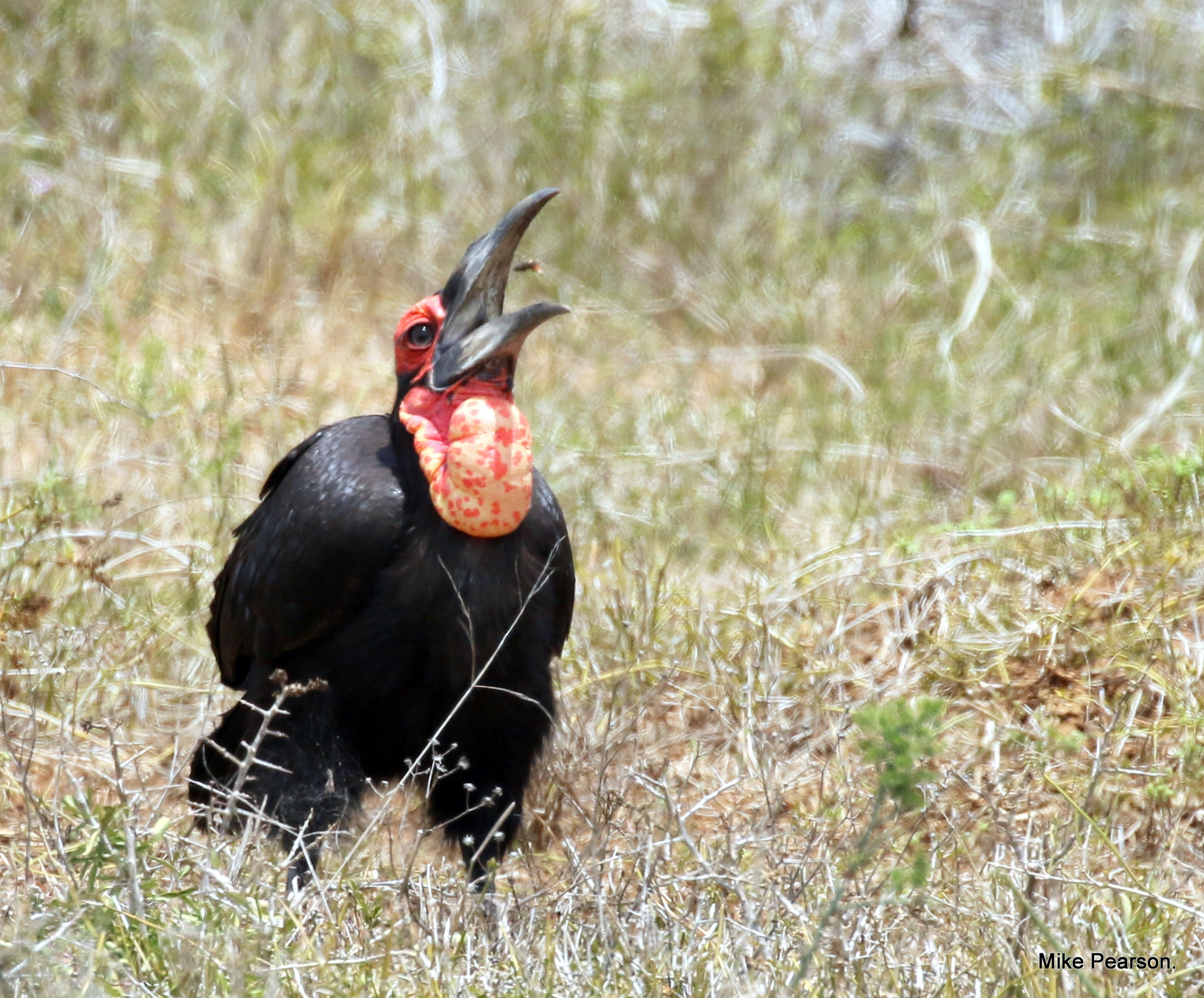 Southern ground hornbills are omnivores and eat reptiles, frogs, birds, snakes and large insects. The adult can be seen in these images feeding on a large spider and a snail. These hornbills spend most of the day walking along the ground looking for food and will very rarely be seen hunting in the air.
Read more interesting facts about hornbills and find out more about the two species that are commonly seen in the Eastern Cape and at Kariega Game Reserve, namely the crowned hornbill and the trumpeter hornbill.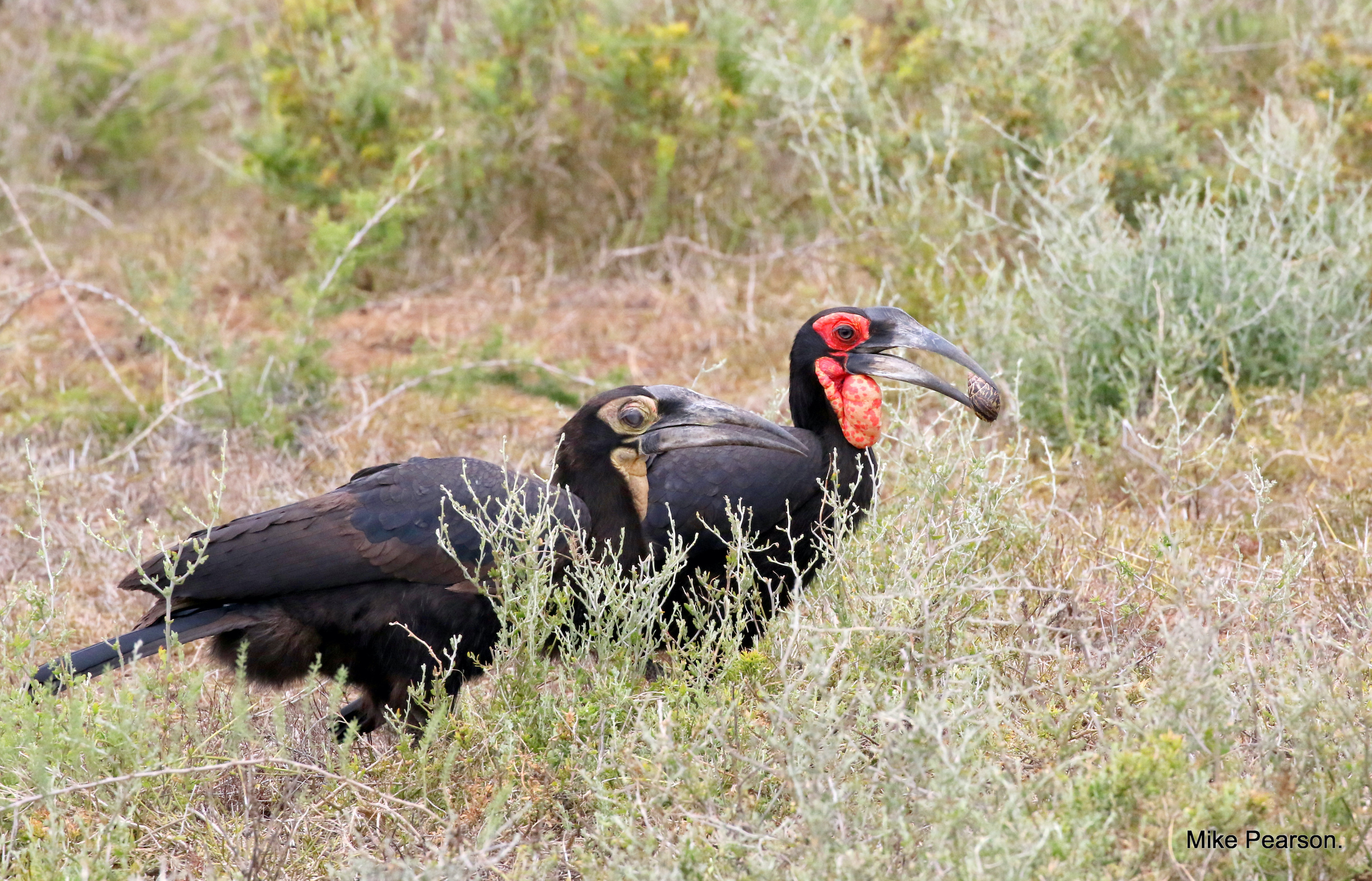 If you have enjoyed a rare sighting of southern ground hornbills in the Eastern Cape please contact us on foundation@kariega.co.za or leave a comment below to let us know more. You can also connect with us on Facebook, Instagram, Twitter and YouTube. Subscribe to our blogs to make sure you never miss our articles and stay up to date with what is happening at Kariega Game Reserve.
Images courtesy of Mike Pearson.