Hippo at Kariega Game Reserve
At Kariega Game Reserve in the Eastern Cape, safari guests are often lucky enough to see a herd of hippo in the river, their heads poking our of the water as they stand in the cool river. Hippo spend most of their days resting in the water, leaving only at night to feed at their preferred grassy locations.
Sometimes guests will be lucky enough to spot a hippo or two emerging from the water at twilight, and other times they might be lucky enough to witness the infamous jaws of the hippo open into a threatening "yawn". The characteristic "yawning" serves as a warning to back off. Males also use their teeth and mouths in territorial fights.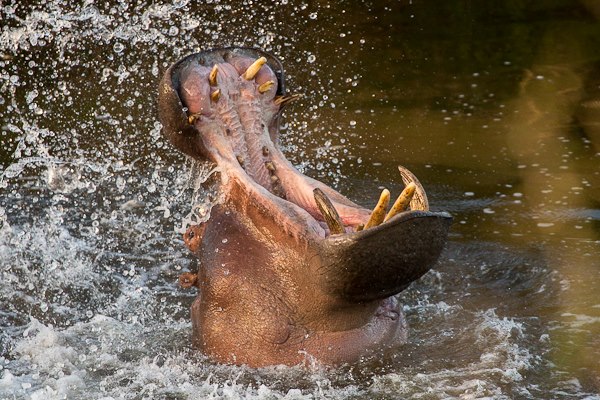 This image was taken by ranger Brendon Jennings on Kariega Game Reserve, with the following caption "A hippo demonstrating why they demand the respect they deserve - they can open their jaws up to 130 degrees!"
Too true - hippo are considered the most dangerous animal in Africa, and are notoriously aggressive. They are also easily able to outrun a human on land!
If you have anything you would like to share with us, please feel free to leave your comments here or on our Facebook page. You can also contact us on lisa@kariega.co.za.