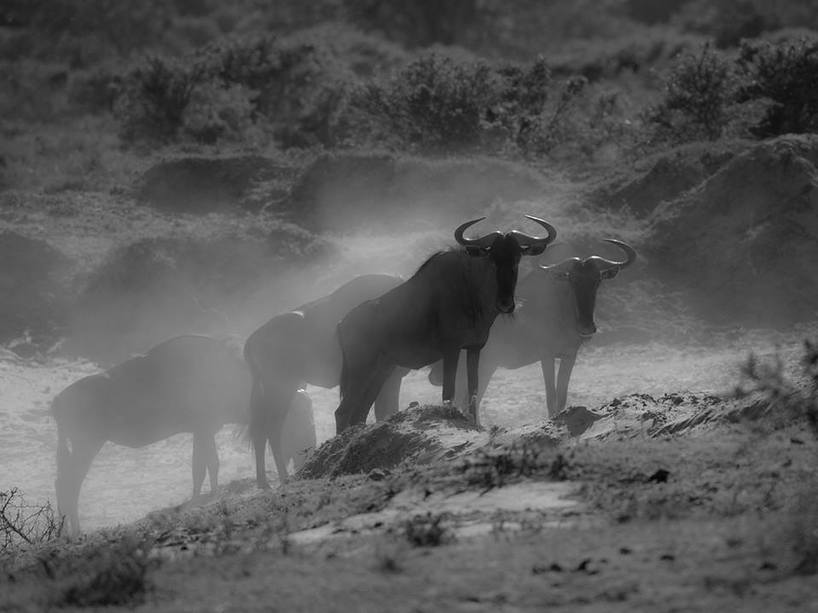 Our photo this week was taken by Kariega guest Pär Bertilsson. We think that there is something magical about this black and white image of wildebeest with the dust around them. Thank you to for capturing this moment and sharing it with us on our Kariega Facebook page.
Dusty Group of Blue Wildebeest
You'll be sure to spot groups of blue wildebeest while on safari at Kariega Game Reserve. There are two collective nouns for a group of wildebeest - an implausibility and a confusion. We like the latter! Please tell us what you think in the comments below.
There are two species of wildebeest - black and blue. They are not named after the colour of their hair as you would think. There are a few differences between them, the main being is the shape of their horns. The blue wildebeest's horns go out to the side before curving up and the horns of the black wildebeest go forward before curving back up.
Blue wildebeest undertake massive migrations in some areas of Africa. The most well known being in East Africa where over a million animals move from the Serengeti plains to the Masai Mara and back again. Black wildebeest do not migrate.
The birthing season of blue wildebeest is between January and early March each year. Plan your safari between these dates if you'd like the chance to see mothers giving birth or new little ones.
Thank you to guest Pär Bertilsson for capturing this lovely photograph. If you photographed blue wildebeest during your Kariega safari please upload them to our Kariega Facebook page or tag us on your photo on Instagram.