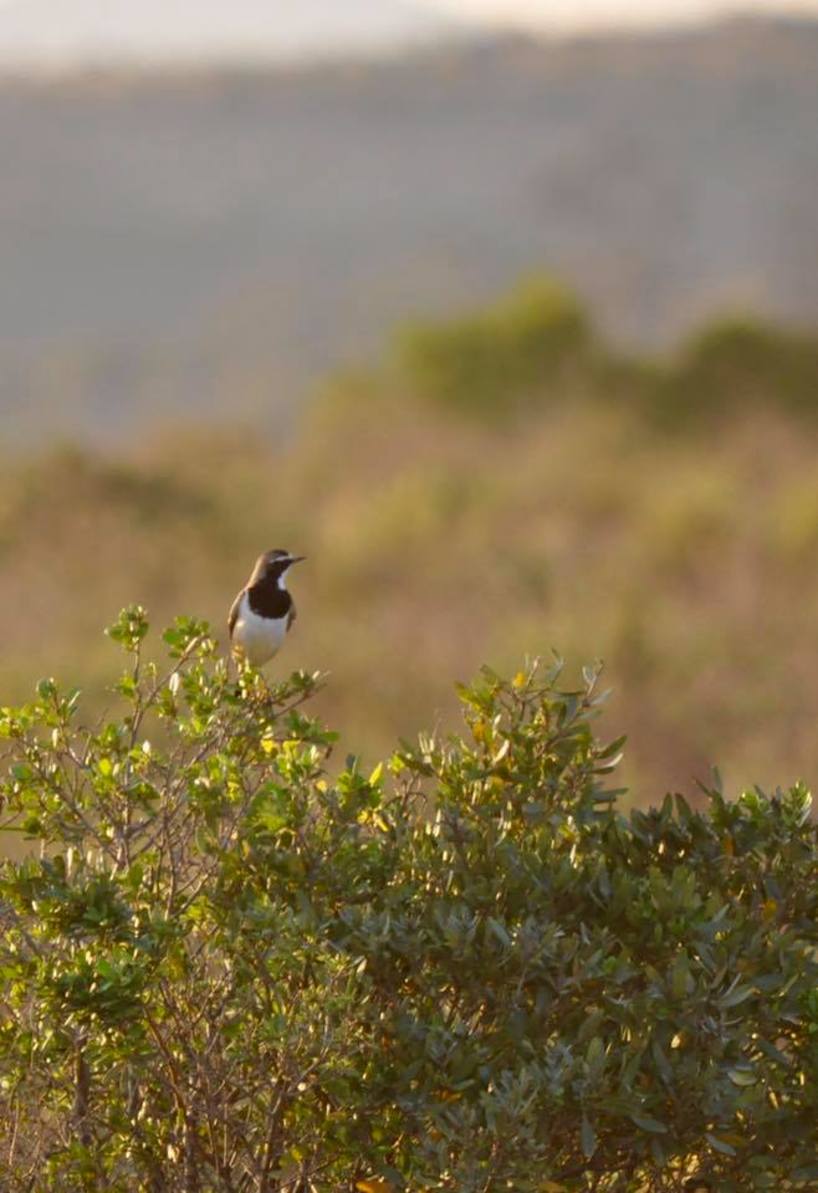 Kariega Game Reserve offers excellent Big 5 game viewing in the malaria-free Eastern Cape. The chances of coming across lion, enjoying close and peaceful encounters with elephant and watching other flagship species such as rhino and Cape buffalo are relatively good. However, the chance of seeing (or photographing) a capped wheatear are very slim! Until recently this little bird had never been spotted on the reserve.
Capped Wheatear - Rare Bird Sighting
The image of the capped wheater was photographed by guest Hannah Lord while out on safari with field guide Cleo. She comments: "This little guy caused so much excitement on our visit to Kariega. It was so lovely to see the rangers (especially our wonderful guide Cleo) get so passionate about this tiny little bird as apparently the species had never been spotted on the reserve before. So glad I could capture the moment!"
Indeed, this is the first time we have recorded this striking bird at Kariega. The identifying features in adults are their black caps, cheeks and breast bands along with white eye stripes and throats. It is a small bird of up to 18 cm long and usually weighs up to 30 grams.
Capped wheatears are common in east and southern Africa but are not usually found in south-eastern South Africa where Kariega is located. They are most often spotted in sandy habitats and areas with short grassland.  They feeds mostly on insects, especially termites and ants. 
The birds are solitary and monogamous. Their nests are made of straw, grass, and leaves in a hole in the ground or in a termite mound. 
Bird Watching at Kariega Game Reserve
Kariega Game Reserve is a great location for bird watching, being home to two abundant rivers and a pristine, untouched landscape. There are a myriad of exciting bird species that are likely to be spotted including the powerful crowned eagle, charismatic secretary bird, hulking martial and nimble fish eagles.
Download our list of bird species found at Kariega Game Reserve. We'll need to add the capped wheatear!
Please share your most interesting or enjoyable interactions with birds while on safari at Kariega in the comments below, on our Facebook page or post your images tagged with #kariegagamereserve on Instagram.