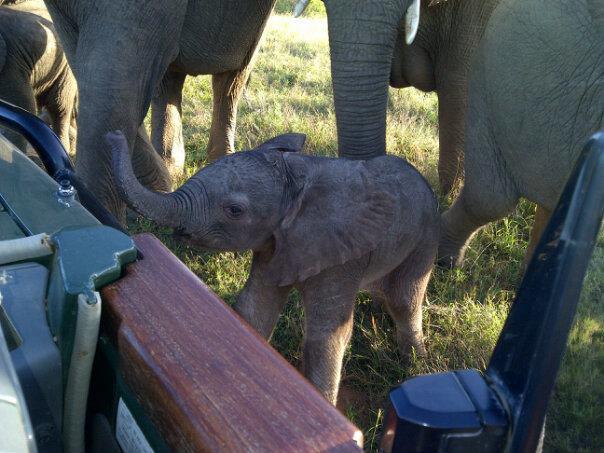 On 21 February 2013 we found out that our elephant herd had increased by one.... Some of our guests were lucky enough to experience this awesome moment as the still wobbly calf tried to drink from the safari vehicle!
The gestation period for elephants typically lasts approximately two years and the interbirth intervals usually last four to five years. Births tend to take place during the wet season. Calves usually weigh at least 100 kg when they are born.
Kariega is proud to support the conservation of African elephant. Southern Africa remains a stronghold for African elephant populations, however overall, the species is threatened by illegal hunting for meat and ivory, habitat loss and human-elephant conflict. 
A report released at the March 2013 Convention on International Trade in Endangered Species of Wild Flora and Fauna (CITES) meeting in Bangkok, Thailand, estimates that 25,000 elephant were killed for their ivory during 2011. Read more in the report "Elephants in the Dust. The African Elephant Crisis."
This photograph was taken by Kariega Game Reserve ranger Brendon Jennings. If you have anything you would like to share your photos with us, please feel free to email lisa@kariega.co.za or post them on our Facebook fan page. We have a monthly photo competition which we encourage you to join too.