Kariega Game Reserve is a top Eastern Cape birding destination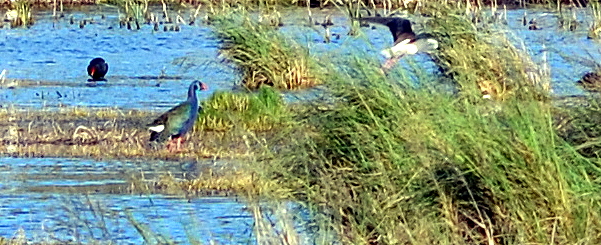 Kariega is home to approximately 280 species of birds. We were particularly excited to see a new resident this week when our field guide Ryan de Beer and his guests spotted an African purple swamphen (Purple gallinule). Ryan comments that "It was a good find for us as its not very common here in the Eastern Cape. We also managed to find a Red Chested flufftail and will try to get a picture next time!"
The African purple swamphen is usually found in freshwater or brackish ponds, marshes, swamps and seasonal wetlands. When breeding the male has an elaborate courtship display, holding water weeds in his bill and bowing to the female with loud chuckles.
Kirsty Goepel, a recent guest at Kariega River Lodge commented, "The birdlife at Kariega alone is worth the trip, I especially enjoyed seeing the kingfishers fishing.It was my all time favourite holiday!"
Have you seen any interesting birds during your visit to Kariega? Would you like to know more about our many bird species? Add your comments below, post your pictures and questions on Facebook, Twitter or email us at lisa@kariega.co.za.