African Fish Eagle on Eastern Cape Safari
Nothing says African safari more clearly than the evocative call of the African fish eagle. Having spent many childhood holidays on the shores of Lake Malawi I was thrilled to discover these majestic birds perched in the treetops along the banks of both the Kariega and Bushman's rivers in Kariega Game Reserve in the Eastern Cape.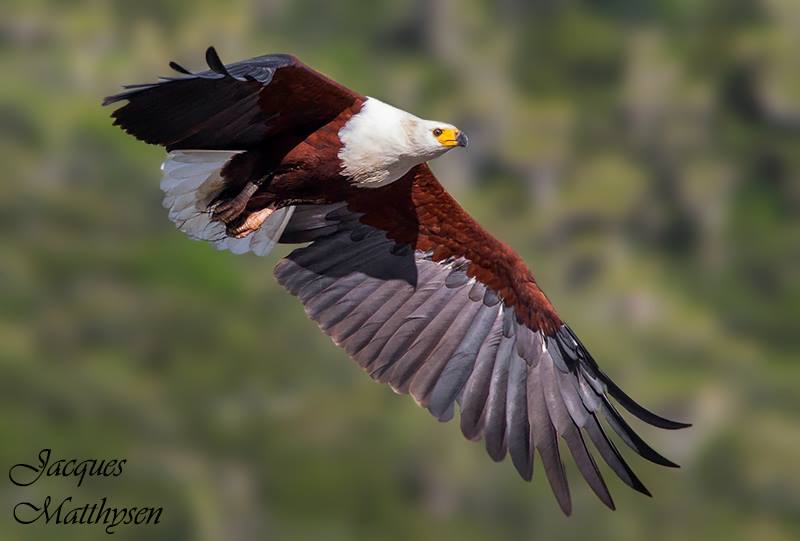 The African fish eagle is a large bird of prey with a wingspan of up to 2.4 m (7.8 ft). It is perhaps best recognised by its striking white head, breast and tail. Fish eagles are usually found living in pairs in scruffy nests along the banks of large bodies of open water. Their dramatic calls form part of their breeding display. Arguably one of the most thrilling safari sights is to see one of these majestic birds swoop down and seize a fish.
River Trips for Kariega Safari Guests
Kariega Game Reserve is home to a number of nesting pairs of these remarkable birds. They can be seen on a trip down the Kariega River on the Kariega Queen. This experience is included in the safari package for all Kariega guests. You may also prefer to seek out the birds in a canoe as you float and paddle down the river.
Guests at Settlers Drift Lodge have the chance to see fish eagles on one of their boat trips on the Bushman's river. If you choose to stay at River Lodge, you may also be fortunate enough to spot (and hear) them from the riverside decks at the lodge, also on the Bushman's River.
Have you been delighted by the unmistakable call the African fish eagle at Kariega? Please send your pictures to bronwen@kariega.co.za or post them on our Facebook page. Our thanks to Kariega's specialist photography guide and ranger Jacques Matthysen (Matt) for the fabulous picture.