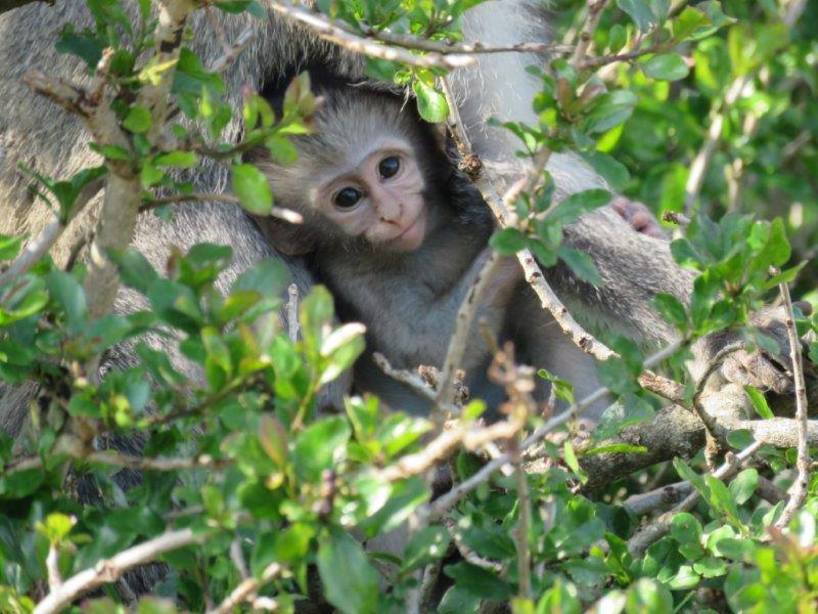 This adorable photo of a baby vervet monkey cuddling with it's mother was taken by guest Lisa van den Blink while on an Eastern Cape safari at Kariega Game Reserve.
Although vervet monkey's have distinctive black faces, their babies are born with a pink face that takes three or four months to darken and acquire the adult coloration. The baby monkey spends the first week of it's life clinging to its mother's stomach as depicted by this amazing photo. This baby vervet monkey is only a week old!
Vervet Monkey Mothers Closely Bonded to Babies
Vervet monkey mothers are very closely bonded to their babies. This intimate relationship is very evident at birth and during infancy but it is believed to endure a lifetime. The suckling period lasts approximately four months followed by the weaning period which begins as soon as the baby is able to feed itself. Once the monkey is one year old they are fully weaned, but still remain in the care of their mother and close family members.
Did you see a vervet monkey on your Eastern Cape safari at Kariega? Tell us your story on Facebook.