Ogres of Greed donates to Kariega Rhino Project
Generous Donation Received For Kariega Save the Rhino Project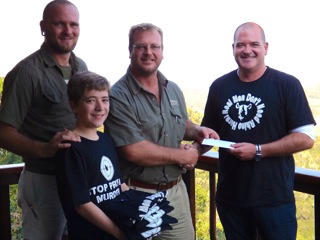 It was a great day when the author of the children's book Ogres of Greed made a substantial financial donation to the Kariega Foundation Trust for for the Save the Rhino Project . Gerard Victor completed this book in 2006 and since June 2013 a portion of every book sold has been put together to give to the Kariega Save the Rhino Project. We are incredibly grateful for this generous donation.
Gerhard visited us at Kariega Game Reserve and spent two hours with our rangers trying to locate Thandi the Rhino. He gained a new perspective on the ever-elusive white rhino as Thandi was very hard to find hiding in the bushy undergrowth. Kariega ranger Rudi Van Niekerk could not get closer than about 100m and Gerhard was astounded that 2 tons of rhino can hide in a bush so well. 
Along with the financial donation, Gerhard also donated t-shirts to the Kariega team with the slogan "Real Men Don't Need Rhino Horn." This was really appreciated by the catering staff and rangers.
Gerard has pledged to continue to donate to the Kariega Save the Rhino Project as he feels that local talent should continue to support local causes. 
In addition to this support to Kariega Rhino Project, funds from the book have also been donated to the two rhino ambulances commissioned by Outraged SA Citizens Against Rhino Poaching (OSCAP). For more details on these ambulances visit www.oscap.co.za.
Books, t-shirts and other rhino items can be ordered online on www.argon-blu.com or an email can be sent to soapofhope@argon-blu.com. 
Thanks again from all of us at Kariega to all those who made this donation possible.