My Rhino: Inspired by Thandi
Three-years-on from tragic rhino poaching at Kariega
Our thoughts go back to that dreadful day on 2 March 2012, now three years ago, when we found our three rhinos after poachers had attacked them. We think about our unnamed bull that died during the night, the fight for survival and tragic death of Themba, the amazing recovery of Thandi and the birth of her healthy calf.
During March we will celebrate Thandi's amazing recovery and highlight how it has fueled public passion for this species and motivated people from far flung places to get actively involved in helping to save the rhino. We are so proud to publish some of the wonderful achievements and projects that have been inspired by this brave rhino. Our sincere thanks to everyone who has, and continues to fight for our rhino.
"Thandi's story of sheer determination and will to survive represents hope in the face of hopelessness. This story stands as testimony to the worst and the best of human attitudes towards animals." Dr William Fowlds.
My Rhino: Inspired by Thandi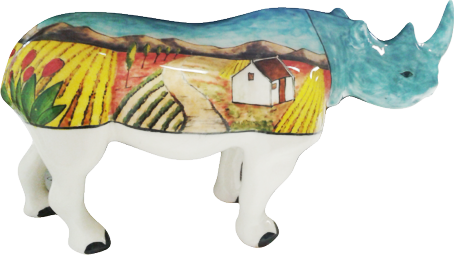 My Rhino is an anti-poaching awareness and fundraising initiative that sells beautifully crafted ceramic rhinos, with the proceeds going towards rhino conservation. The organisation was founded by Heidi and Nicholas Snaith, with Alan Ford as its patron. Their aim is to take the My Rhino brand internationally, and create a global consciousness and awareness about the beauty and plight of these beautiful African creatures.
Our thanks to Nicholas Snaith for this update on their project.
"Rhinoceroses once roamed the plains and forests of Africa in their hundreds of thousands. Today they teeter on the brink of extinction. The name 'My Rhino' was selected to increase people's connection to this beautiful animal, making the rhino not just any rhino but their own rhino. Based on the same concept as the Cow Parade and Elephant Parade, My Rhino has hand decorated and painted rhinos by well-known South African artists.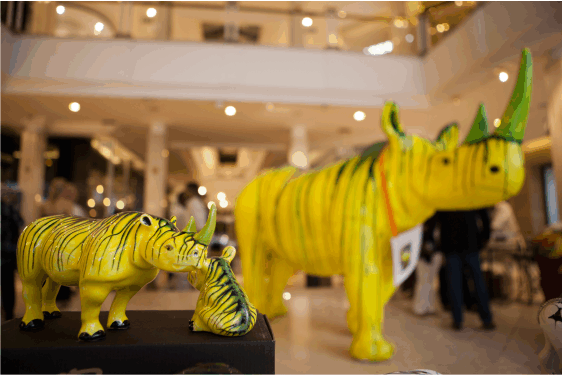 My Rhino has used selective designs that encapsulate the essence of Africa, love and emotion, such as the rhino with words scribed on its body. Four of the five ceramic rhinos have been sculpted my Marina Walsh, where she has taken exact proportions of the rhino into consideration, from body to the weight of the animal, making it as close to a replica as possible.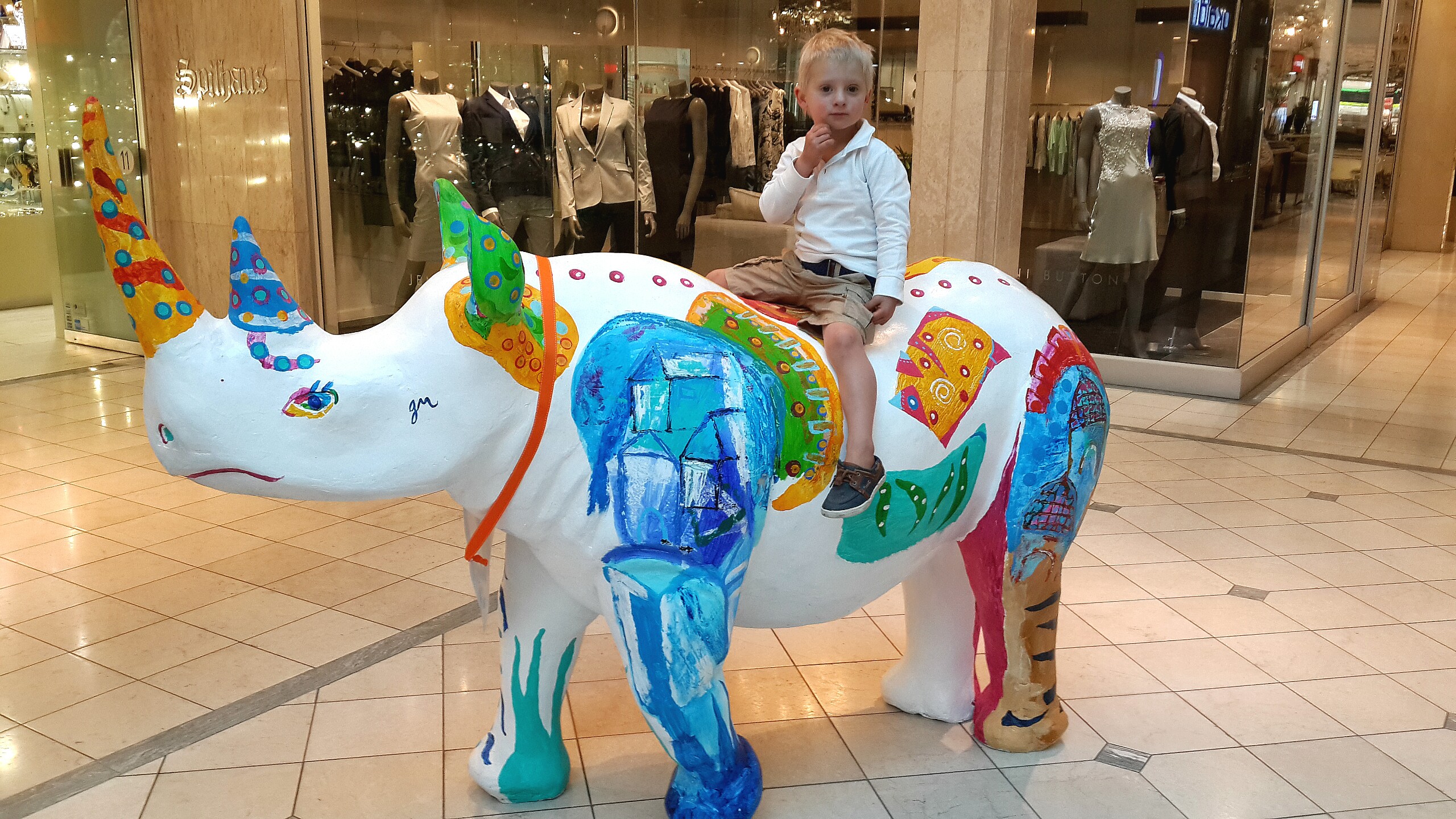 A limited edition range was created and promoted at once off events and prestigious exhibits. The My Rhino brand has worked hard to increase awareness globally through as many distribution channels locally and internationally, as such more people can become further aware and be able to connect to such a wonderful animal.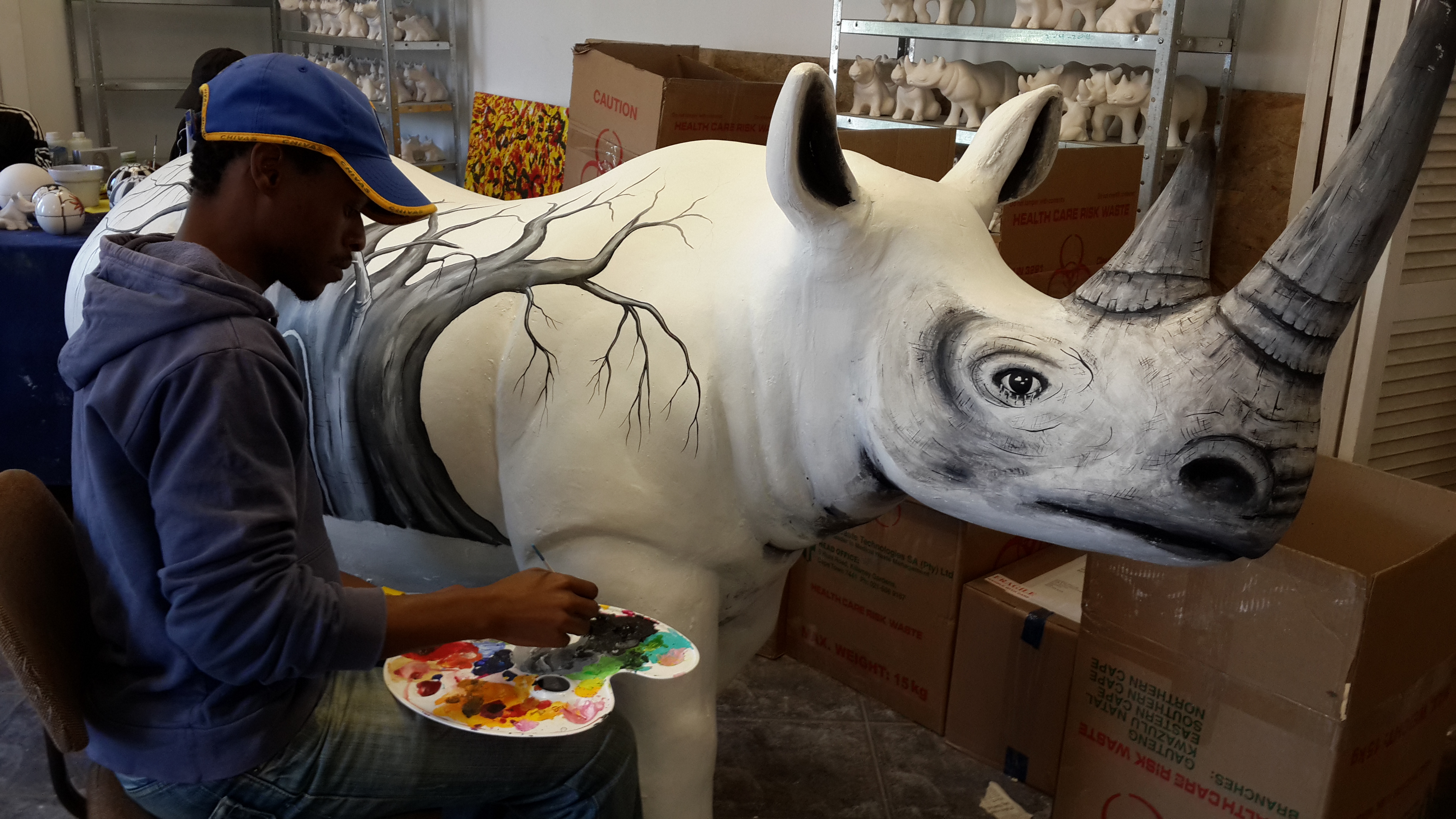 My Rhino has donated to the Endangered Wildlife Trust and Kariega Foundation, making this not just an awareness program but also a fundraising initiative. Retailers are also encouraged to donate further funds to a rhino conservation organisation of their choice. My Rhino exhibits ceramic rhinos in Cape Town and Johannesburg on a regular basis.
Last year My Rhino raised R43 000 for the Endangered Wildlife Trust.
Rhino conservation projects for 2015
On 6 March 2015 eight-year-old Alyssa Carter and Clement Mkhize will paint a rhino for rhino conservation. Alyssa has already raised close to R300 000 for rhino conservation and her rhino will also be auctioned off in our event in October at Hyde Park Corner Johannesburg.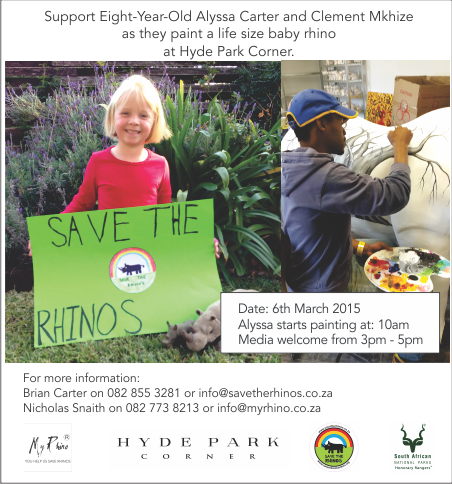 The October 2015 event will also involve the auction of eight life size fibreglass rhinos at Hyde Park Corner to raise funds for rhino conservation. We are looking for artists to paint these large rhinos in aid of rhino conservation. We also need corporate sponsors to sponsor them for R25 000 each so we can produce the large rhinos for the event.
My Rhino: Get in touch
You can find out more about My Rhino by liking their Facebook page and visiting their website.
You can also email Nicholas Snaith or call  082 895 1409 for any enquiries.