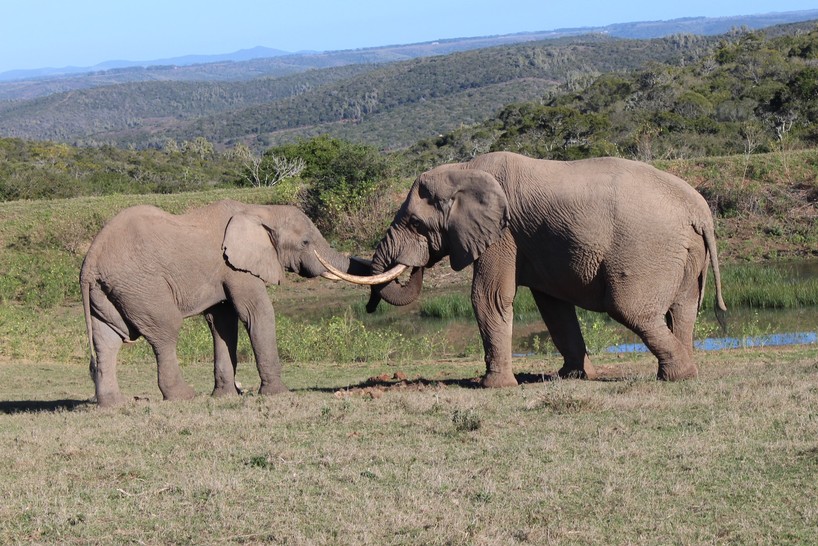 Denise Grey and her husband travelled from the UK to enjoy a holiday in South Africa, including a Kariega safari. We were delighted to receive this wonderful story about their stay, along with some pictures. We love how Denise captures her memories of their Kariega safari and their holiday at our Main Lodge.
"In June 2017 my husband and I travelled to South Africa. The home of my mother's birth. I wanted to experience what she would have seen in this beautiful country.
The journey was long and arduous. We caught a train from Workington in Cumbria to Carlisle. Then another train from Carlisle to Manchester to catch a flight the following day to Heathrow Airport. The next journey was the longest, but it was overnight. It took eleven hours from Heathrow to Johannesburg. I have to admit to not being able to sleep so I just watched films all night!
We landed safely and eventually managed to get outside to be greeted by a beautiful sunny day. Our luggage was being transferred to our next flight to Port Elizabeth. We took the opportunity to enjoy the fresh air for an hour before we had to go back into the terminal and go through the rigmarole necessary to board our last flight.
Port Elizabeth greeted us with more sunshine and I took a deep breath. We had been travelling for twenty-four hours and I should have been exhausted but this new country was so magical. We were met at the arrivals by our guide who was going to drive us to Kariega Game Reserve. The trip took almost two hours. It passed very quickly as the driver chatted to us and explained all the interesting sights on the way."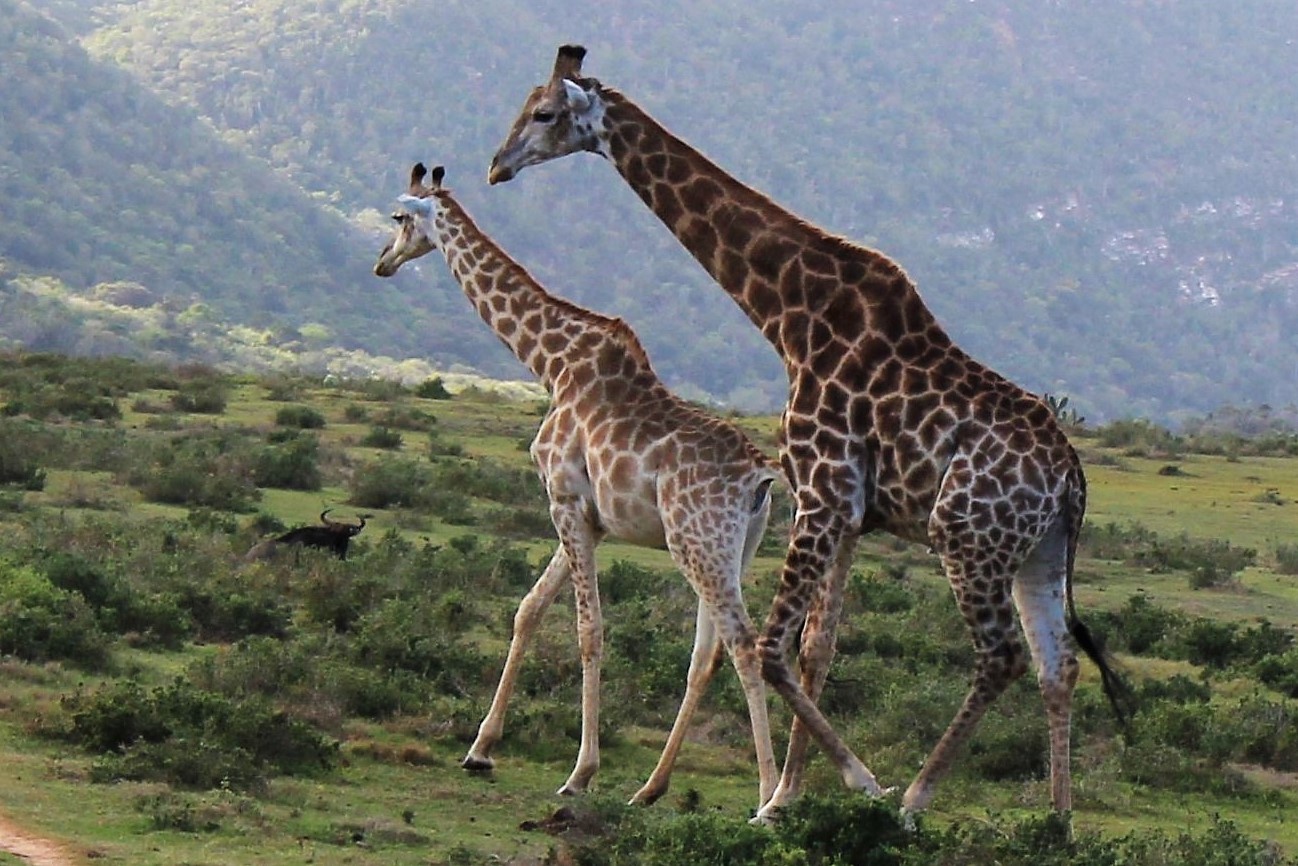 "At last we arrived at Kariega Game Reserve and we were met by the ranger who was going to be our guide during our stay. He was a young man by the name of Nick. Nick showed us to our Lodge. I could not believe how big and luxurious it was. We had three bedrooms all ensuite, a kitchen, living room with a log fire and a beautiful veranda with table and chairs and a view over the countryside.
It was mid-afternoon and Nick asked if we wanted to go out on the evening safari. We declined the offer as we were now exhausted. Nick showed us where the restaurant and other facilities were. He said he would see us later and then he went off to meet his other guests. We spent the next few hours choosing which bedroom to use, unpacking and then having forty winks. I have never stayed in such a gorgeous place before. The view from the veranda was breath-taking.
We went to the shop which was full of marvellous things and I knew that there were definitely some of them that would be coming home with me!
There was a gym and a pool. The restaurant had a bar attached, so we had a drink before the evening meal was served. We sat outside overlooking even more fields, but unlike England, these had a few giraffes wandering around!
At the evening meal we saw Nick again, also the other visitors who would join us in the morning for our first safari. We would all meet at 6.30am in the restaurant for a hot drink and snack before leaving on our adventure. On our return a few hours later we would be served a hot breakfast.
Let me explain a few things. I am a pensioner and I have got used to getting up in the morning at my own pace! So rising on our first morning for our safari was a definite struggle for me, but it turned out to be well worth the effort. We went for our early hot drink and croissants, then met our ranger, Nick, who was waiting outside the restaurant in the land cruiser.
Being of advancing age I can not remember each separate safari. However I took over 300 photos, some of which I am recording for your enjoyment.
I do remember our toilet stops that were in a copse in the middle of nowhere and the fact that Nick checked it first for lions or other inhabitants before letting us relieve ourselves, which was slightly worrying. I often thought 'what would we have done if Nick hadn't come back'!
Nick treated us to wine and nibbles on many an evening before returning to our camp. We were really spoilt.
Our evening meals were a treat with a wide choice of dishes, cooked to perfection and served by the friendliest people I have ever met. One evening we were even treated to a fantastic barbeque near the pool. We also went on an evening cruise on the Kariega river – with drinks and nibbles of course!"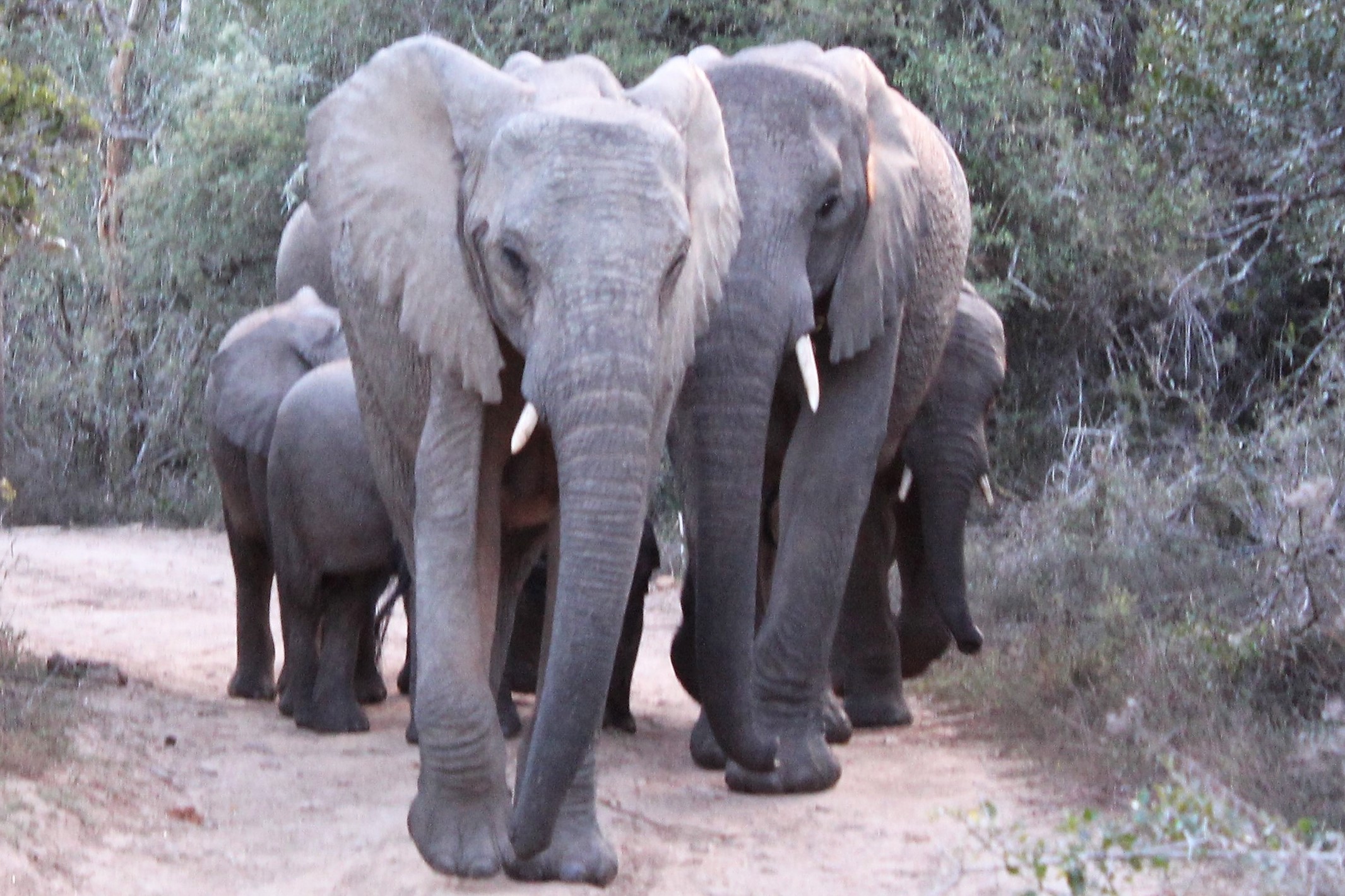 "For our last safari Nick asked what I would like to see and I told him 'lots of elephants'. As usual Nick did not disappoint. We were surrounded by at least fifty elephants, different ages and sizes. They were wandering around eating off the shrubs and trees and obviously not in a hurry. Elephants were behind us, next to us and in front of us. We just had to move at their pace which meant we were late back for our evening meal. It was definitely worth the delay.
Our time at Kariega was fantastic. The staff really looked after us, they were so friendly and they seem so happy. The meals were five-star. Our accommodation was better than I have ever been to before.
Besides all my photos I bought some keepsakes from their shop that have pride of place in my home.
I will never forget my time there. A big 'Thank You' to everyone who made our stay so memorable."
Share Memories of your Kariega Safari
Did you enjoy an amazing Kariega safari? Would you like to share your memories with us? If so, please email us on kim@kariega.co.za or share your stories, photos and videos with us via Facebook, Instagram, Twitter and YouTube. You are welcome to post any questions or comments below.