Another month has flown by here at Kariega Game Reserve and as always, it was filled with incredible adventures! We never prepare ourselves for a 'normal'/'planned' day here, because literally ANYTHING can happen!
Special visits from animals at the volunteer house this month include warthog babies in our yard, the elephant herd, lions having a peek through our gate and last but not least a swarm of bees! Volunteers just love the saying we have here: T.I.A – This Is Africa. We can never prepare for things that the African bush will throw at us.
We started a new project on the reserve – planting of the so-called 'miracle' tree of the century: Spekboom. This plant is AMAZING! Each hectare of Spekboom could capture 4.2 TONS of carbon yearly and will also increase the carrying capacity of the reserve. A hectare of Spekboom is about 10 times more effective at carbon fixing than any tropical rainforest! To date it's one of the most successful carbon sinks in the world. Volunteers are taking Spekboom cuttings from trees on the reserve and spreading it to other areas of the reserve. Words from volunteers that have been involved in this project include: "Saving the world one Spekboom at a time" and "it feels like I'm fighting global warming hands on". At the moment we've planted 4560 Spekboom trees on the reserve and loving every moment of it!
Below some of the volunteers help with removing an elephant collar.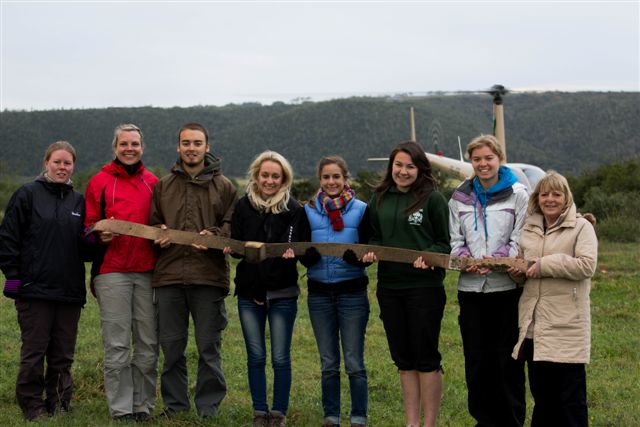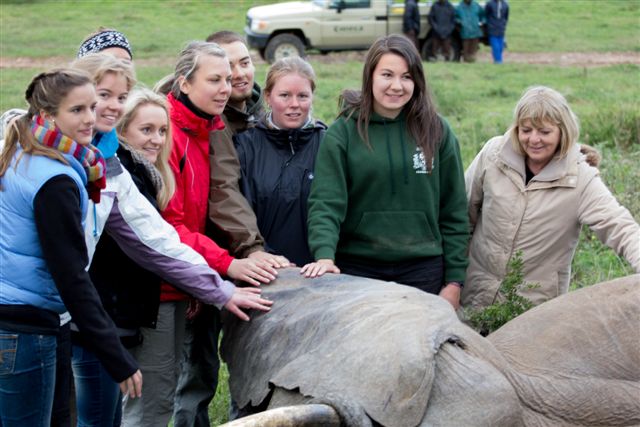 The reserve has become the new home of various species over the last month. Volunteers have been part of releases of Blesbok, buffalo and rhino. It's always amazing seeing animals take their first steps on the reserve! Volunteers are always given the task of monitoring the state of these new arrivals and to make sure that they are settling in just fine on the reserve.
Our two Servals that have been in the reserve's temporary bomas for a few months have finally been released onto the reserve and we are thrilled to say that they are settled in and healthy. Guests have had very frequent sightings of the two and they are a great addition to the extensive wildlife list of the reserve.
Another unexpected addition to the wildlife list is at least 2 Spotted hyena that have moved into the reserve and sightings have been fairly often. We are welcoming the two with open arms and really hope they stay in the area.
Lastly, volunteers were part of an amazing once in a lifetime experience by joining a lion capture and relocation. They got up close and personal by helping with the finding, carrying, relocation and waking up of the two sub-adult lions on the reserve. What an unforgettable experience!
We are waiting in anticipation for what the next month will bring. One thing is for sure…it will definitely be filled with lots of memories and adventures! Come join us…
Azél Crous
Kariega Game Reserve: Volunteer Coordinator